Cosmic Fluff
BYOB
by
Drew Beechum
| Jan 2016 | Issue #108
Illustration by Ellen Crenshaw
Recently, due to the effects of a prolonged diet, I've been craving that most New England of peanut butter concoctions—the Fluffernutter—the quasi-official lunchroom staple of Massachusetts. It normally consists of spongy white bread spread thickly with peanut butter on one slice and marshmallow crème or "fluff" on the other. Smash them together, shove in face, run around in a sugar induced frenzy. Rinse and repeat until you've survived childhood with minimal scarring.
Since I'm no longer in short pants though, how do I make a Fluffernutter beer? We want to invoke peanut butter, bread and marshmallow gooiness. The first two are easy: PB2 soaked in strong alcohol, and toasted malts like aromatic on a base on Munich.
Now, what the heck is the flavor of marshmallow? Since the Egyptian dynasties, the roots of Althaea officinalis (aka marsh mallow) have been used for their mucilaginous properties to soothe stomachs and throats. Odds are you've never had a plant-based marshmallow though. The confections we know are a French invention of whipped sugar, vanilla and gelatin. Fluff (with a capital "F") was invented in 1917 in Somerville, Mass., ergo the New English fascination.
How to translate that into a beer without making a sticky mess? Vanilla extract, for starters. We'll also use the thickening power of oats, flaked along with Golden Naked Oats, which provide an added sweet kick. And we'll keep the bittering low to aid in a sweeter perception with a neutral, clean yeast strain to promote our interesting flavors. Fluff-o-licious!
COSMIC FLUFF
For 5.0 gallons at 1.064 OG, 14 IBU, 9.8 SRM, 7.1% ABV
Malt
6.0 lbs domestic two-row
4.0 lbs Munich malt
1.0 lb flaked oats (ideally toasted in an oven)
1.0 lb Simpsons Golden Naked oats
0.5 lb biscuit malt
0.5 lb British medium crystal
0.5 lb lactose (added to boil kettle)
Mash
Rest for 60 minutes at 154°F.
Hops
0.25 oz Magnum| 14% AA | 60 minutes
Yeast
Wyeast 1275 Thames Valley Ale
Extras
12 oz PB2, blended with 6 oz of 150-proof neutral spirits one week ahead. Add to kegged beer, sit for two weeks, transfer to clean keg.
0.5 oz vanilla extract, added to second keg. ■
Previous:
German Porter: Part One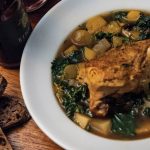 Next:
Viking-Style Chicken Stew with Beer