Beer News
News
by
BeerAdvocate staff
| Sep 2008 | Issue #20
By Todd Alström, Jay R. Brooks, Bryce Eddings, Donovan Hall and Jeff Holland
New Ventures for Brick Store Pub
The Brick Store Pub in Decatur, Ga., announced that they have secured a lease on the former gas station around the corner from their current location, where they will open a gastropub focused on seasonal food from local producers and small purveyors, paired with unique beers, wines and spirits from around the world. The new pub is slated for a November 2008 opening and will be called Leon's Full Service.
Meanwhile, the original Brick Store Pub has been stockpiling Barleywines and Quads in the former bank vault underneath an adjacent building, as part of their new cellaring program. Future plans include a tasting room inside the vault for special occasions and periodic vertical tastings. Partners Dave Blanchard, Mike Gallagher and Tom Moore were inspired to begin the program during a trip to Belgium a few years ago. "Kulminator and De Heeren van Liedekerke had these amazing lists, and we said, 'We have to do this,'" explains Blanchard. "Hopefully this adds a little mystique to what we do and keeps us on the radar." [JH]
Weed Fought the Law
Nearly 300 miles north of San Francisco sits the sleepy town of Weed, Calif. When Vaune and Barbara Dillmann built Mount Shasta Brewing there, they named their Amber Ale after the town's founder, Abner Weed. As a promotional gimmick, they put "Try Legal Weed" on the crowns. The Treasury Department's Alcohol and Tobacco Tax and Trade Bureau, the federal agency that approves alcohol labels, rejected the phrase, citing that it made reference to illegal drugs. Weed appealed the decision, but the bureau refused to change their ruling. In April, the media began covering the story, and the brewery received over 1,200 phone calls and letters, all of them supportive. In early August, Weed Ales got a registered letter from the bureau, reversing its earlier decision: "Based on the context of the entire label, we agree that the phrase in question refers to the brand name of the product and does not mislead consumers." In a letter to supporters, Dillmann summed up his battle. "Weed fought the law, and Weed won." [JB]
Smuttynose Brewing Company Finds a New Home
After years of trying to find a location to expand into, the brewery that arguably put Portsmouth, N.H., on the beer geek map has found a new home at 105 Towle Farm Road in the nearby town of Hampton. The low-profile, 42,000-square-foot brewery (from 25,000) will strive to achieve Leadership in Energy and Environmental Design certification by applying green standards and efficient use of the space, while preserving mature tree growth and an old barn, which will house a restaurant. President Peter Egelston told local press, "This location is where we were meant to be all along." [TA]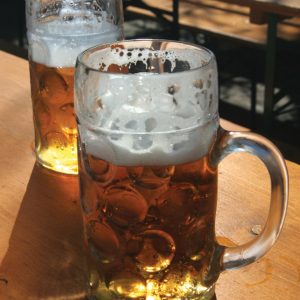 Serving Beer in Liters is a Crime
Many take pours for granted, though some might complain about a short pour now and then. But for a Polish pub in the UK, it wasn't the patrons they had to worry about. According to the UK press, the Trading Standards has threatened Kuchnia Polska and its owner, Nic Davison, with a 2,000-pound fine for serving Polish beer in metric liters instead of imperial pints—like they would in Poland.
Although most current standards for goods have switched to metric, and the EU has been urging Britain to change its imperial ways, the Trading Standards is citing 1988 Weights and Measures legislation that deems the serving of draft beer in liters to be illegal. Davison told reporters: "This is nonsensical. It's barmy and ludicrous. Some jobsworth in the Trading Standards department has gone mad … It just shows the law is stupid." [TA]
Star Hose Brewery to Open in Historic N.Y. Firehouse
The North Fork of eastern Long Island, N.Y., is known primarily for its wineries, but Richard Vandenburgh, a homebrewer, and John Leigey think they've found the perfect spot for a microbrewery. Greenport is home to a historic building that once housed the Star Hose Company Fire Department. Vandenburgh and Leigey plan to unveil the Star Hose Micro-Brewery and tasting room in that space next summer.
The planned brewery will produce between 100 and 500 barrels per year. "We plan to keep it small," said Vandenburgh. "We want to serve the local area and be part of the community." The current plan is to brew two signature beers, a Pilsner (probably Bavarian style) and an American IPA.
Asked if he planned on doing the brewing himself, Vandenburgh said, "No, we are looking to hire a professional brewer to help with the design and brewing of the beer." Dust off those resumes. [DH]
Elysian & New Belgium Collaborate
Proving that US craft brewers are as innovative in their approach to doing business as to brewing beer, Elysian Brewing Company in Seattle, Wash., and New Belgium Brewing in Fort Collins, Colo., have entered into an unprecedented brewing partnership. The "artisanal collaboration" will allow each brewer to make their beer at the others' facility while remaining wholly independent.
Under the arrangement, Elysian will be able to brew bigger batches and meet their increasing distribution needs, while New Belgium can look to further brewing innovations with small-batch creative and experimental beers.
Kim Jordan, CEO and co-founder of New Belgium, says that more deals like this are likely. "We think there is new space in the craft segment for opportunities to partner more formally with other brewers." [BE] ■
Previous:
Are You "Trading Down?"
Next:
The Changing Face of American Beer