Beer News
News
by
Jim Landry
| Oct 2009 | Issue #33
Got Beer?
According to a recent study published in the journal Nutrition, those looking to keep osteoporosis at bay in their older years should drink more than just milk. The study, which examined 1,700 women with an average age of 48, found that those who drank beer had stronger bones than those who didn't.
Data was gathered by asking about their drinking habits, and then examining the bones in their hands using an ultrasound scan. The hands were examined because they are usually among the first areas to be affected by the bone-weakening affliction.
The ultrasounds revealed denser bone structure in the hands of those who drank beer than those who didn't. The study also showed that those who drank less than a pint per day were affected similarly to those who drank more, so even occasional drinkers will maintain healthier bones.
Beer is so beneficial because it's a great source of silicon, which is an important mineral in retaining bone strength and promoting new bone formation.
Forget Cats & Dogs—It's Raining Beer in Georgia
Bringing a whole new meaning to "when it rains, it pours," Atlanta-based 5 Seasons Brewing Company has begun brewing their beer with 100 percent harvested rainwater, and could very well be the only brewery able to make that claim right now.
The entire process is made possible by a unique partnership between 5 Seasons and RainHarvest Systems, situated in nearby Cumming, Ga. Using RainHarvest's rainwater catchment systems, 5 Seasons has crafted a limited-edition brew to help promote awareness of rainwater harvesting.
In an official statement, RainHarvest president Randy Kauk says, "We are extremely excited with our new partnership with 5 Seasons Brewery. … We believe it uniquely demonstrates the broad array of applications where rainwater can be used instead of chemically treated drinking water; plus it is a great way to create public awareness of rainwater harvesting."
5 Seasons also states that all future brews will be made entirely with harvested rainwater, making them the first brewery to exclusively use rainwater in their beers.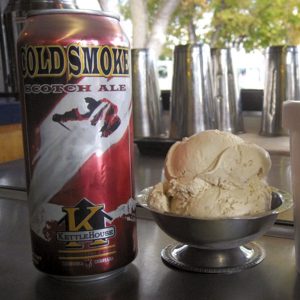 We All Scream for Beer Ice Cream!
Some of the world's favorite treats have been the result of unlikely food combinations. The peanut butter cup, s'mores and now—brace yourself—beer-flavored ice cream.
The ice cream is the result of a longtime partnership between Big Dipper Ice Cream in Missoula, Mont., and Kettle House Brewing Company. The owners of each company grew up together, began their businesses at the same time (back in 1995) and even shared retail operating space for their first year, which enabled Big Dipper owner Charlie Beaton to experiment with beer flavors.
Beaton elaborates to BA via email, "Since [there was] a variety of brewers malt extract around, I started putting it in my ice cream." He experimented with several different brewers and varieties throughout the years before trying Kettle House's Cold Smoke Scotch Ale. "Cold Smoke works really well because of the darkness of the beer and the flavor."
Suzy Rizza, co-owner of Kettle House, tells BA via email, "Cold Smoke is a very popular beer in Missoula. … It took some fine tuning, but it's a very malty and flavorful ice cream. The great things about this partnership are almost too many to mention … locally brewed and locally scooped!"
It's Something Called "Profitability"
It's a basic business problem, really—when sales drop, how can a big company maintain profit? One solution is to raise prices, which is just what AB-InBev and Miller-Coors are doing this fall.
Sales of both companies' most popular brands, which include Bud, Miller, Blue Moon and numerous imports like Killian's and Stella Artois, have suffered throughout the economic recession. According to the Beer Institute, shipments from brewer to distributor dropped 1.3 percent and shipments from distributor to retail have dipped 0.9 percent throughout the first half of 2009, which is the sharpest decline in over a decade.
The increases will impact different consumers in different ways. Both companies, which control a combined 80 percent of the beer market, have stated they plan on increasing prices on a by-market, by-brand basis. That means, for example, people in Denver could face a steeper price increase for Bud than people in Boston, and Bostonians could end up with a bigger increase on Blue Moon than other regions.
According to the federal government's Consumer Price Index, the price of beer in general has been on the rise. As of July, the average price of beer was around 4 percent higher than it was the year before. ■
Previous:
Drinking From the Source
Next:
What Would Fritz Do?