Epic Ales
From the Source
by
Sean Lewis
| Jan 2011 | Issue #48
Brewers are always talking about flavor. Ask one what his beer tastes like, and be prepared for a detailed account of floral notes traipsing past caramel undertones with a hint of pine and rye toast on the finish. Or, some may take a more simplified approach and tell you that it's hoppy or malty. However a brewer chooses to describe his beer, he probably won't use the word "umami" … unless that brewer is Cody Morris.
Morris is the man behind Seattle's Epic Ales, where he is more interested in pushing the boundaries of what beer can bring to the dinner table rather than brewing to traditional styles and expectations. "There certainly is a place for umami in beer, and I think people like umami in beer more than they realize," Morris said.
Morris, who started his brewing career in his kitchen, acknowledges that most beers prefer to stick to the familiar camps of "sweet" or "bitter," but he's not shy about introducing interesting ingredients in order to craft a beer that stands well on its own and makes a perfect complement to a meal as part of a complete culinary experience. It's why he isn't afraid to add a touch of salt to the kettle, and why he is proud to use a word to describe his beer that most people reserve for bacon or mushroom soups.
Brew Pub Sans Food
Although Morris considers himself to be an amateur foodie, he admits to knowing nothing about the restaurant business. So instead of opening up a brewpub, Morris decided to go the route of the nanobrewery.
"It was a deliberate choice not to start a brewpub at first," Morris said. "I was pretty intimidated by trying to start a restaurant and brewery at the same time. I decided very quickly not to do an actual brewpub. Mostly, I was hoping to find somebody who had a lot of restaurant experience and team up with them."
However, Morris did not want to abandon the idea of pairing his beers with top-notch food. Knowing his own strengths and weaknesses, he leaves the worrying about the food to the experts, and is able to focus his energies and attention on the beer. The result of this approach is frequent brew dinners with Seattle restaurants that feature Epic Ales as a fine complement to the dishes served up out of the kitchen.
Part of this outreach is to increase his market share, but Morris is also interested in changing the terms of the discussion about beer.
"I think for a long time people have, and I think the vast majority of Americans still [do], view beer as sort of the proletarian swill that you drink at a baseball game," Morris said. "There certainly is that aspect of it, but you can and it's a lot of fun to pair your beer with your food. I think Americans are becoming more interested in food beyond just caloric value, but we're actually getting more into aesthetic tastes. It's fun to get the beer people more into food and the foodies into beer."
Morris plans to upgrade from his tiny one-barrel brew system, but for now there are no plans to make the jump to an actual brewpub. Instead, he envisions a tasting room that bends the boundaries between tap room and tapas bar.
"It would be great to have more beer, but I would also like, going back to the food thing, to be more deliberate about that," Morris said. "One of my things I would love to have is a happy hour where instead of getting a buck off the beer you get a small plate to accompany it."
One-Man Act
Morris became possessed by brewing and brewing techniques while working in a homebrew shop. He was constantly turning through brewing book after brewing book, reading about the intriguing and experimental techniques that add to much of the appeal of homebrewing.
"I was a ridiculously full-blown beer obsessive for a few years," he said. "A lot of it was a self-taught obsession. I always love to meet professional brewers too and to pick their brains. It's something that always interests me."
The result was an extensive knowledge of experimental and traditional practices. Rather than a simple mash and sparge routine, Epic Ales employs a multi-decoction mash at a relatively low temperature and extended time. The low mash temperature allows for very dry beers, while the decoctions—as well as the use of some unmalted grains in some beers—add to the mouthfeel.
And if something goes wrong during this complicated process, Morris knows exactly who to blame. He is the company's only employee, and handles every aspect of the business. Although his sole proprietorship allows him the freedom and creativity he needs, it also leaves him wanting at times for critical feedback.
"I look occasionally on those various review sites to see what people are thinking of the beer," Morris said. "I like getting notes and what to tweak. I have my taste buds, but I know my taste buds are more intense than most so there's a lot of flavors that I like that others don't at all."
What Do You Mean, "No IPA"?
The popular beer media has most of us conditioned to respond to certain phrases and terms. When we hear "Pacific Northwest brewery," our mouths salivate like Pavlov's dogs at the thought of tongue-ripping hop bombs. So it comes as a bit of a surprise to see that Epic Ales doesn't brew an IPA—not even as a seasonal.
"That's your cheeseburger of the brewery, a lot of people judge a brewer by his IPA, but luckily, it's a pretty diverse market out here," Morris said.
"Most of the brewers around here focus on doing clean, classic West Coast, English-American ales. IPAs really are the supreme beer … so there's lots of guys making excellent IPAs, which gives me the room to not make an IPA and do something different."
Rather than follow the crowd, Epic Ales produces beers that bring something unique to the marketplace. For example, Morris' flagship brew is Terra-Saurus, which is described on Epic Ales' website as a dark, earthy beer with "massive umami notes lurking throughout its labyrinth of flavor." The beer is brewed with shiitake mushrooms and fermented with sake yeast—as all of Epic Ales' beers are—and stands alongside variations of Saisons and Witbiers brewed with peppers, herbs and spices.
Morris realizes that he is in danger of alienating drinkers by combining strange ingredients—as he does in the seasonal Beatrice that uses both Szechuan peppercorns and cinnamon—so he tries to find harmony in his creations.
"For me, it's generally, I want to showcase a flavor profile that isn't commonly found in beer," Morris said. "Most importantly, I want it to be balanced enough that it's still identifiable as a beer and not a gimmick."
With its tiny size and avant-garde approach to brewing, Epic Ales probably isn't going to be cracking top-10 lists for many folks on internet reviewing forums. But that isn't going to stop Morris from experimenting with brewing and fermentation techniques and helping Americans redefine the concept of craft beer.
Brewhouse
Two 55-gallon stainless-steel pots by Blichmann Engineering for the mash tun and brew kettle. The strike water is heated by an in-line water heater that heats filtered city water. The decoction mashing and boil are achieved by a 5,000-watt submersible heating element.
Five 42-gallon conical fermenters made by Blichmann Engineering.
What's on Tap
Terra-Saurus: A unique-tasting beer brewed with shitake mushrooms and sake yeast to bring out a savory, or umami, flavor.
Solar Trans Amplifier: A Belgian Wit brewed with chamomile and ginger rather than the traditional orange peel and coriander.
Scarlhet: Contains a grain bill similar to an English Mild, but brewed with rye as well as cumin and caraway to create a beer that pairs well with chili.
Beer De Gourd: Made with four different types of gourds, Epic Ales adds a twist to this seasonal beer by adding a touch of ginger in the mash along with Vienna malt for the enzymatic base.
Beatrice: Epic Ales' take on the Eastern European Kvass, this spicy ale contains Szechuan peppers and cinnamon for a tart and dusty flavor. This beer is intended to work equally well on its own or used in cooking as an addition to barbecue sauce.
Project 1: Epic Ales' biggest beer (with 8 percent ABV) is also one of the driest, at a final OG of below 1.010. The booze comes out, but is balanced by the addition of unmalted adjuncts, like rustic strains of barley and roasted malts.
What He Said
"One review will say, 'It's the most amazing, creative beer I've ever had.' Another will say, 'This is the worst fucking beer ever.' I see it every time I'm in my tasting room, some beers people absolutely love and there are others that people absolutely hate. To me, it's cool. It's better than people being indifferent to your beer." —Epic Ales brewmaster and founder, Cody Morris ■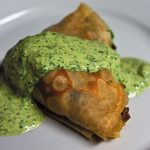 Previous:
Beer Crêpes: A Pancake By Any Other Name
Next:
The People Have Spoken