Ringneck Frambozen
| The Brew Kettle Taproom & Smokehouse / Production Works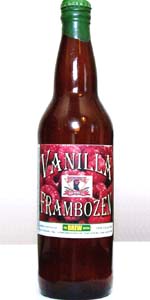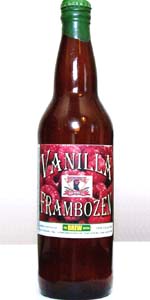 BEER INFO
Brewed by:
The Brew Kettle Taproom & Smokehouse / Production Works
Ohio
,
United States
thebrewkettle.com
Style:
Fruit and Field Beer
Alcohol by volume (ABV):
not listed
Availability:
Winter
Notes / Commercial Description:
No notes at this time.
Added by UDbeernut on 02-11-2006
HISTOGRAM
Ratings: 12 | Reviews: 6
Reviews by jfstilling:

3.52
/5
rDev
-10.4%
look: 3.75 | smell: 3.5 | taste: 3.5 | feel: 3.5 | overall: 3.5
More User Reviews:
3.77
/5
rDev
-4.1%
look: 3.5 | smell: 4 | taste: 3.5 | feel: 4 | overall: 4
Bottle: Poured a light clear amber color ale with a good size foamy head with good retention and minimal lacing. Aroma is a nice enough mix between some vanilla and some raspberries. Taste is a well balance mix between some raspberries (real no syrup) with some distinctive notes of vanilla and a good medium sweet malt backbone. Full body with some good carbonation and no discernable alcohol. I wasn't sure the mix between vanilla and raspberries would work but I was quiet impressed.
486 characters

4.36
/5
rDev
+10.9%
look: 4.5 | smell: 3.5 | taste: 4.5 | feel: 4.5 | overall: 5
Bottle I bought at the brewery says Vanilla Frambozen but this is the same beer. Brewery beer list says this is 7% ABV and 17 IBUs.
Brown colored beer with tan head, when held up to the light there is a distinct red color.
Smell is sweet with a strong raspberry aroma vanilla less so but it is there. Faint herbal hops, this is a fruit beer after all.
Taste starts out neutral and herbal with a good raspberry flavor, not overpowering at all. Strong herbal hop bite in this beer keeps the sweetness firmly in check, strange since this is only 17 IBUs.
Mouthfeel is good.
Super drinkable, the glass practically disappeared before I noticed it. It is the herb bite that makes this one especially drinkable.
709 characters
3.95
/5
rDev
+0.5%
look: 4 | smell: 4 | taste: 4 | feel: 3.5 | overall: 4
Pours a nice rich red color with very little of a light tan head.
The smell reminded me a lot of some of the old Shasta cola I used to drink, put me in mind of the black cherry, although it's really the raspberry that is most pronounced.
I have very little experience with this style of beer, but I did like the taste of this one. The fruit is very much in evidence, but it doesn't overwhelm. It is a bit like drinking a fruit flavored soda, although there is just a touch of spice there, and the hops really come through at the end. Not an overly complex beer, but a nice tasting one.
The feel was helped a lot by the carbonation, it made the beer come alive in my mouth. Other than that, fairly ordinary.
I did like this one quite a bit. I think this would be the perfect beer to enjoy on a hot summer day, it has a nice cooling effect, and would be even more refreshing. It's a bit chilly as I am drinking it, but I can really see myself enjoying it even more on a hot day in the middle of summer. Worth a taste.
1,020 characters

4.25
/5
rDev
+8.1%
look: 4 | smell: 4 | taste: 4.5 | feel: 4.5 | overall: 4
Appearance: pours a rasberry amber color with 1/4" of head that reduces to lacing
Smell: Vanilla and rasberry hints
Taste: hop spice comes through with the right amount of rasberry and vanilla flavors. This is a very subdue fruit beer.
Mouthfeel: very smooth with slight carbonation
Very good fruit beer for the fall/winter
336 characters

3.75
/5
rDev
-4.6%
look: 3.75 | smell: 3.75 | taste: 3.75 | feel: 3.75 | overall: 3.75
4.32
/5
rDev
+9.9%
look: 4 | smell: 4.5 | taste: 4.5 | feel: 4 | overall: 4
22 oz bottle, dipped in green wax purchased at brewery. Like previous review, label says Vanilla Frambozen and pictures plenty of raspberries. Nice presentation.
A: Pours a dark amber/brown color, very clear and strong highlights of red against light. Very retentive tan head with little lacing.
S: Strong and rich smell of fresh raspberries are the dominant aroma, as expected. Predominantly sweet, yet a slight tart edge, enhanced by a light hop aroma. The sweetness of the aroma is also enhanced by the smell of vanilla near the end. Very nice and balanced.
T: Tart raspberry flavor, softened by sweetness of vanilla and a surprisingly strong hop bite at finish. Alcohol is warming and present in finish. Nicely balanced and flavorful, not quite as tart as other raspberry beers from vanilla.
M: Lighter side of medium body with medium carbonation. Perhaps a little heavier and fuller bodied than a nice fruity summer beer should be, this is a little more of a warmer that would be nice in cooler months (though certainly takes nothing away from the beer). Aftertaste isn't particularly clean, leaving a hoppy, herbal taste.
D: Very happy I took the chance and picked up a bottle of this and now wish I had grabbed a few more when I had the chance. Perfect beer to split the bomber with someone, though something I wouldn't necessarily enjoy finishing myself. Definitely worth checking out if you get the chance.
1,419 characters
3.88
/5
rDev
-1.3%
look: 4.5 | smell: 4 | taste: 4 | feel: 3.5 | overall: 3.5
A - Pours brown with some hints of red. An average pour gave up an inch and a half of tightly packed tan head. Retention is amazing. Might as well pour this one and make a sandwich. It will take as least that long for the head to recede to a nice thick cap. A very good job on the appearance. Some lacing remains.
S - Tart rasperry and cherry get things going. Some hard candy and caramel come in at a more distant background. The nose is very light and simple. No matter the effort, I could not get anything else from this brew. It is pleasant but just too simple.
T - Raspberry also dominates the flavor but lets some other flavors peak through as well. Caramel has a pretty big showing directly behind the fruit. Some butterscotch barely perceptible towards the end. I'm picking up some vanilla smoothness but not very much. Alcohol pops in at the very end to add some heat but not much at all.
M - Lighter bodied with a tad much in the carbonation department. Finish is tart and candy-esque.
D - Drinkability is not bad. Fruit is at a nice level in this brew. It does not completely overtake the beer and allows for a little complexity. Carbonation should be toned down a bit but that isn't a deal breaker in my book. Alcohol hides well behind everything else that is going on. Worth a try if you are ever at the Brew Kettle.
1,335 characters
4.1
/5
rDev
+4.3%
look: 4 | smell: 4 | taste: 4.25 | feel: 4 | overall: 4
Ringneck Frambozen from The Brew Kettle Taproom & Smokehouse / Production Works
Beer rating:
3.93
out of
5
with
12
ratings