15 Feet
| Off Color Brewing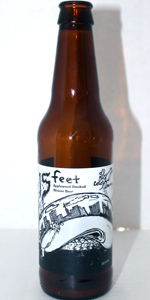 BEER INFO
Brewed by:
Off Color Brewing
Illinois
,
United States
|
website
Style:
Smoked Beer
Alcohol by volume (ABV):
3.20%
Availability:
Rotating
Notes / Commercial Description:
We brew this beer with 100% applewood smoked wheat to drink during brew days. Small so we can drink all day, but alluring enough to hold our attention. The only problem is no one makes applewood smoked wheat malt so we have to smoke it ourselves...which lengthens our brew day...so we need more beer. It's a vicious cycle of spicy hops punctuating sweet, ephemeral applewood smoke. And if you don't want to drink it, fine. We'll drink it all ourselves.
Added by MasterSki on 09-03-2013
Reviews: 7 | Ratings: 39

3.95
/5
rDev
-1%
look: 4 | smell: 4 | taste: 4 | feel: 3.5 | overall: 4
12 oz. bottle, no bottled on date present. A new one from Off Color Brewing, this one a self-proclaimed "Polish Style Grodziskie" 3.50% abv listed. 'Applewood smoked weisse beer'. 'Malts: Applewood smoked wheat. Hops: Nugget, Sorachi Ace. Requisite ingredients: Water'.
Poured into a Duvel tulip glass.
A - Pours a pale yellow body, steady streams of slow rising carbonation. A light airy appearance with about two fingers of soft fluffy white head with excellent staying power. Excellent fluffy lacing left behind.
S - Huge liquid smoke aromatics. The Applewood smoked wheat comes through ridiculously well. Soft muddled notes of crisp citrus & wheat in the background. Muted notes of tartness / yeast, but the authentic applewood smoked wheat dominates.
T - Taste follows the nose: soft muddled citrus and crisp wheat, but the authentic liquidy Applewood smoke dominates. As others have noted, incredible depth of flavor for such a low abv beer. Crisp notes of apple / cider & wheat emerge further as the beer warms toward room temp.
M - Feel is smooth, crisp, & clean. Light-bodied and extremely easy-drinking. Some residual smoke flavor left behind obviously.
Overall, an excellently hand-crafted stab at the style. One of the lightest and most sessionable, flavorful takes on a smoked beer in any style, from any brewery, that I have tried. Highly recommended.
Off Color Brewing 15 Feet -----4/5.
★
1,410 characters
3.92
/5
rDev
-1.8%
look: 4.25 | smell: 4 | taste: 4 | feel: 3.5 | overall: 3.75
Polish-style Grodziskie.
Pale hazy gold, soapy lacing, patchy surface skim.
Nice applewood smoke aroma as it sits in the glass, not too overpowering. Minerally twang of wheat.
Taste is tart with a hint of smoke and floral lemony tea notes of Sorachi Ace . Carbonation is coarse and rapid, gives it a harsh soda feel momentarily, somewhat overcharged. Scrubs the palate, makes a good pairing with cheese and charcuterie. Overall it's an interesting beer, a successful revival of an obscure style. The high carb level was a little distracting though.
Review #4000
★
563 characters

3.94
/5
rDev
-1.3%
look: 3.75 | smell: 4 | taste: 4 | feel: 4 | overall: 3.75
Bit murkish tan/brown. Smells exactly like a kielbasa, which would have been incredibly odd had I not had anything from Aecht Schlenkerla before. Still pretty strange, the flavor was very much like kielbasa without the salt, little bit of wheat base. Probably do pretty well alongside some food.
★
298 characters

3.55
/5
rDev
-11%
look: 3.5 | smell: 3.5 | taste: 3.5 | feel: 3.5 | overall: 3.75
Incredible stuff. Sessionable as hell, with glorious notes of vivid applewood and concomitant mellow smoke. The wheat keeps it light and drinkable, accentuating the beer's impressive subtlety.
Stellar work from Off Color, and a beer I'd buy by the 12 pack if I could. For my money, perhaps in the top 5 of American-brewed smoked beers. A must-try, with mind boggling depth of flavour and nuance at such a modest ABV.
Low B
★
424 characters
4.34
/5
rDev
+8.8%
look: 4.5 | smell: 4.25 | taste: 4.25 | feel: 4.5 | overall: 4.5
A- Big billowy white head on a cloudy dull hay colored body. Spotty lacing throughout.
S- Sweeter smoke, maple.
T- Smoked wheat malts take center stage here. Great taste. Low 3.5% ABV combined with superior flavor makes me what to chug this.
M- Full-bodied mouthfeel, soft carbonation.
D/O- This is something that I would drinking a ton off if always available to me. Well done Off Color!
★
392 characters
4.01
/5
rDev
+0.5%
look: 3.75 | smell: 4 | taste: 4 | feel: 4.25 | overall: 4
Really refreshing, with a great smoke flavor. Does not taste like a typical wheat beer, and not just because of the smoke. However, it is delicious and I will definitely buy more.
★
181 characters
4.22
/5
rDev
+5.8%
look: 4 | smell: 4.5 | taste: 4 | feel: 4 | overall: 4.5
First off, the label art is hilarious. The Off Color brewery mouse filled with Napoleon complex and that Bitches the Cat won't kill is the real reason the Chicago fire happened and he or she or it is 15 feet from stardom dreaming, or is it real?
Another nearly lost historical style that beer evangelists like Randy Mosher, Michael Jackson and Ron Pattinson have written about is being recovered and Americanized by Off Color.
Now to review.
Poured into a perfect pint glass.
Healthy pop upon opening and a hazy straw blond pour with slightly higher carbonation which follows into campfire smoke, some band-aid, and perhaps a slight twinge of Sorachi in the nose.
As their homesmoked malt is the star of the show on the grain bill. This Americanized Grodziskie is all about the smokiness, and should make a nice colder weather drinker for those who appreciate drinking camp fire.
Unlike the brewery mouse. It probably plays really well with the appetizer portion of the menu where you can use it to chase mustards, cured meats, cheese and the like.
Definitely a polarizing beer and one that fits right in with Off Colors m.o.
★
1,136 characters
15 Feet from Off Color Brewing
3.99
out of
5
based on
39
ratings.