Oude Fermier

Side Project Brewing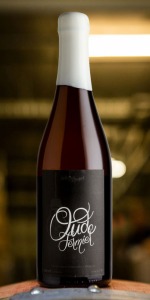 Rate It
Beer Geek Stats
| Print Shelf Talker
Style:

ABV:

7%

Score:

100

Avg:

4.78

| pDev:

5.23%

Reviews:

14

Ratings:

From:

Avail:

Retired (no longer brewed)

Wants

Gots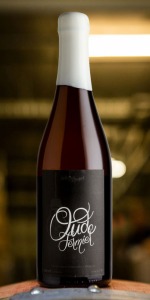 Notes: Oude Fermier started as Saison du Fermier, but after being barrel-fermented in Chardonnay barrels, it was aged for a total of 12 months in the barrel with wild Missouri yeast and bacteria before bottling. Once bottled, it was conditioned for another 6 months before release.

Blend #2 spent 24 months in oak chardonnay barrels before being bottle conditioned for 8 months.

WhaleSlayer85 from Illinois
4.75
/5
rDev
-0.6%
look: 4.75 | smell: 4.75 | taste: 4.75 | feel: 4.75 | overall: 4.75
Pours straw. White head dissipates quickly, but a thin layer of head throughout. Nose is oak, grass, must, lemon zest. Pillowy light mouthfeel, notes of dry grasses, straw, dry, not overly tart. Wow, this is extremely well done.
Aug 04, 2018

Luscious_Malfoy from Illinois
4.84
/5
rDev
+1.3%
look: 4.5 | smell: 4.75 | taste: 5 | feel: 4.75 | overall: 4.75
blend #2 poured from a 750mL bottle into a stemmed bulb glass. pours a hazy, golden yellow with fluffy bright white head. smell is absurd chardonnay and oak plus barn funk and some acidity. taste is similar with great amounts of chardonnay oak barrel character. sourness has mild out a bit on this from the first time having it. it's got a decent amount of funk on it too, which i don't associate as much with SP saisons. it's amazingly complex. mouthfeel is full, dry and perfectly carbonated. it's definitely got that old saison carb going on, which is to say perhaps not as much as one would normally expect from the style. definitely my favorite saison i've ever had, and really one of my favorite SP beers i've ever had. so ridiculously complex due to the extended aging. this is the pinnacle of SP saisons.
Aug 04, 2018

Fireman_RK from North Carolina
5
/5
rDev
+4.6%
look: 5 | smell: 5 | taste: 5 | feel: 5 | overall: 5
Blend #1 - Thanks, Michael for the opportunity
L: Warm apricot and honey hues with a generous fluffy white head and phenomenal retention
S: Oak, hay, green apples, and a mild funk
T: Buttery chardonnay, granny smith apple tartness, and an understated minerality
F: Soft, smooth, and light with an ever so moderate crisp finish
O: Extraordinary. This beer is a testament to the limits and heights that beer can reach. In short, the range of complex flavors, pillowy soft mouthfeel, and decadent profile propel Oude Fermier into a category of its own. This beer was something of a white whale for me as it represents #250 in my quest to finish the Top 250 list and it was certainly a high note for me to end the list. I'm humbled to have had the pleasure of trying this one - truly an exemplary beer and one of the best in the style
Aug 18, 2017

PDXAmbassador from Florida
5
/5
rDev
+4.6%
look: 5 | smell: 5 | taste: 5 | feel: 5 | overall: 5
Maybe my only 5? Up there in the best three to five beers I've ever tasted. Perfect carb, lingering head. Incredible complexity, balanced funk, the best soft pillowy mouthfeel of anything I've had from SP. And sweetness -- a floral, oaky, fruity sweetness that floats through every sip. This is SIGNIFICANTLY better than SdF b3 and better even than Tete. An breathtaking beer.
Jun 06, 2017

YodersBeerEmporium from Iowa
4.81
/5
rDev
+0.6%
look: 4.75 | smell: 5 | taste: 4.75 | feel: 4.75 | overall: 4.75
An amazing brew! Very lucky to have friends around the beer community that can get me things like this when I just "have to try it"! Definitely feel like the Chardonnay barrels come out in the final flavors here and I would be interested to see how this one progresses over time! Nice medium tart and nice barrel!
Jun 01, 2017
gibgink from Missouri
4.47
/5
rDev
-6.5%
look: 5 | smell: 4.25 | taste: 4.5 | feel: 4.5 | overall: 4.5
Batch 2 poured on 5/21 at the cellar. Typical fluffy white head, and good carb. Dark amber in color. Slight funk on the nose with a hint of stone fruit. Taste follows suit, with a clean finish. A great barrel aged saison, but not on Tete level in my opinion.
May 22, 2017
Alieniloquium from Florida
4.3
/5
rDev
-10%
look: 4 | smell: 4 | taste: 4.5 | feel: 4 | overall: 4.5
750 mL bottle. Originally reviewed 12/21/2015. Hazy orange. Prominent oak and vanilla barrel aromas. Wine. Pale malt. Tastes a little tart. Oak is still strong. Malty sweetness that fades away as tartness builds into the finish. Stone fruit in the finish. Medium body. Excellent.
May 01, 2017
boilermakerbrew from Indiana
5
/5
rDev
+4.6%
look: 5 | smell: 5 | taste: 5 | feel: 5 | overall: 5
A- Pours a brilliant and somewhat turbid golden hue, this beer hits the glass with a frothy, pillowy head forming very quickly. The head retention is tremendous as it sits upon orange-golden beer. Lacing is also very good and overall, this beer looks amazing in the glass.
S- The first scent that hits the nose is Cory's signature, lightly tart Fermier profile. It is citrus forward, delicate, and just a little bit sour without being overt in any direction. Lots of apple and a bit of semi-dry white wine characteristics mix in as well. The back of the scent is a little drier and more oak forward, with the white wine flavors taking a bit of a back seat.
T- As soon as this beer hits the tongue, flashes of Saison du Fermier flash through my memory.The beginning of the drink is fruit forward, showing off the apples and light chardonnay characteristics from the scent. A bit of tartness ramps up just a touch before a dose of citrus (mostly orange forward) hits the tongue. As the second half of the drink washes over the tongue, the yeast adds some balance to the beer with a drying and oak forward flavor contribution. Just the slightest bit of funk hits, then the white wine acidity and light fruit profile returns as the drink washed off the tongue and down the throat. The lingering flavor is mostly white wine and oak, with a moderate dose of apples still hanging around.
M- Like most Side Project saisons, fluffy is the best word I can think of to describe their feel in the mouth. Light and soft while being easy to drink, this beer once again strikes a nearly perfect balance between feel and flavor. The alcohol isn't noticeable in the feel, yet this feels dangerously quaffable.
Overall, this special version of Saison du Fermier is a damn near perfect beer. It is tart, complex, balance, and dry and truly drinks like a fine white wine. The feel matches the flavor perfectly and the flavors throughout the drink compliment each other st every turn. I wish I had more of this beer, but damn am I glad to have had one bottle to enjoy.
Sep 05, 2016
TheSevenDuffs from Canada (ON)
5
/5
rDev
+4.6%
look: 5 | smell: 5 | taste: 5 | feel: 5 | overall: 5
This beer is absolutely perfect in every way. White wine notes compliment a nice breadiness and the perfect amount of sour. Perfection in a glass. Really happy I got to try this
May 22, 2016

deadsincebirth from Illinois
4.99
/5
rDev
+4.4%
look: 4.75 | smell: 5 | taste: 5 | feel: 5 | overall: 5
Drank 11-1-15
A: mandarin orange yellow with a nice off white head.
S: booming with tropical fruits, lemon zest, some oak but faint, slight funk.
T: wow! So light yet heavy citrus notes blowing up my mouth, acidity is very present leaving a dry but extremely enjoyable lemon, hay note.
Oak also present.
M: like riding on a Nimbus cloud! So pillowy and dry. Just lasts for days!
O: I'm no expert but this saison is incredible! Everything blended together taking nothing from the other. So fluffy and light yet heavy mouthfeel. The best I've had from SP. Thank you Cory.
Nov 11, 2015

ArkyVaughan from New Jersey
5
/5
rDev
+4.6%
look: 5 | smell: 5 | taste: 5 | feel: 5 | overall: 5
This is one of the one best beers I have ever had. I didn't think it was possible to improve on Saison du Fermier, but Side Project did it with this barrel-aged version. This is really something special.
Feb 21, 2015

drmcleod10 from Missouri
4.92
/5
rDev
+2.9%
Poured into a Side Project stem and shared amongst a few guys
A - Similar to Saison Du ferm, tough to tell with how dark it was outside but with a light shining through it, it resembled Du Ferm with a 2 finger white frothy foam head.
S - Smell was fantastic, loads of wine character coming through on this with slight notes of tart, there was a sweetness on the nose that made this better smelling than saison du fernier. Funky nose.
T - Taste was very unique, the front started as does Saison Du Ferm. Slight acidity, but a lot for a saison, this is followed by lemony citrus notes. The finish is what sets this beer apart from other SP. Extremely complex sweet yet funky finish with loads of bright citrus notes. I don't get any of the hay-esque notes that I do out of Du Ferm. This is soo smooth.
M - Mouthfeel is spot on here. Creamy, smooth, relatively full for a saison and it just goes down with ease. The taste lingers for a while.
O - This is my Favorite SP behind Black and Wild. Fuzzy is close, especially for how good it is drinking right now, but this was amazing, definitely in the top 10 overall beers for me
Sep 06, 2014
JoEBoBpr from Missouri
4.85
/5
rDev
+1.5%
Poured into a Cantillon tasting glass.
Pours similar to regular Fermier. A nice hazy golden bright yellow with some mild orange hues and a nice lively white head.
Aroma is fuuuuunky. Way more funk and wood than the base beer. Notes of mild lemon and some slight acidity are present in the nose. Hay, moldy wood and well just plain oldness.
Flavor follows the nose well. Sharp acidity starts things off with some nice notes of lemon and citric acid. Vinous character of white wine grape skins with some nice dry tannins. Bready and earthy grain character can be perceived in the back with soft notes of woody oak. Very nice balance between funk and tartness. Saison du Fermier is one of my fave SP beers and this variant does it justice. It might not be as approachable but the experience palette will love this.
Aug 16, 2014

hooliganlife from Missouri
4.74
/5
rDev
-0.8%
look: 4.5 | smell: 4.75 | taste: 4.75 | feel: 4.75 | overall: 4.75
review/rating #1000
bottle #86/150 poured into SP stem
pours a slightly hazy light golden yellow. thick white head sits on top, laces the sides, retains like a boss.
nose is layered with depth. from sweet tarts to white wine vibrant oak. very fresh and full of life. funky and sour fruit.
very similar to nose with more emphasis on sourness. wine comes out a tad more
soft and mellow with the right amount of bite to compliment the sourness.
overall, amazing. Cory really outdid himself with this one. i cannot begin to explain how blessed i feel to have this coming from my city.
Aug 01, 2014
Oude Fermier from Side Project Brewing
Beer rating:
100
out of
100
with
106
ratings