Shopping Spree

Fonta Flora Brewery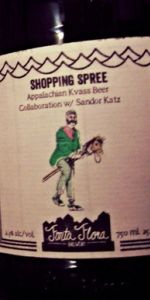 Write a Review
Beer Geek Stats:
| Print Shelf Talker
Style:

ABV:

2.3%

Score:

Avg:

4.06

| pDev:

6.65%

Reviews:

8

Ratings:

From:

Avail:

Rotating/Seasonal

Wants

Gots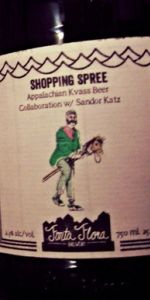 Notes:

REVZEB from Illinois
4.06
/5
rDev 0%
look: 4 | smell: 4.25 | taste: 4 | feel: 4 | overall: 4
Classic fonta flora, takes a style and turns the flavor profile on its head. Normal kvass has robust bread up front, here they have take that to be the base for orchard and dark fruit giving way to minty brown sugar. Very light and drinkable. Odd but fun.
Nov 12, 2018

ha-sheem from North Carolina
4.16
/5
rDev
+2.5%
look: 4 | smell: 4.25 | taste: 4.25 | feel: 4 | overall: 4
Haven't had many in this style (Kvass) but this was an excellent beer. Easy drinking at 2.3% and so much flavor. Even with a little age the flavors are still there and in perfect harmony.
Oct 06, 2016
Myotus from Texas
4.02
/5
rDev
-1%
look: 3.25 | smell: 3.75 | taste: 4.25 | feel: 3.75 | overall: 4.25
Poured gently at 50°F from a 750ml bottle (bottled on July 2015) into a tulip. Consumed on 06Apr16.
LOOK: Pours with 2 fingers worth of off-white foam that recedes to a quarter fingers worth within 1 minute. Brownish orange in color with an abundance of cloudiness. There is a moderate amount of small, rising bubbles. Lacing is thick, but subtle in quantity.
SMELL: Mild aromas of sour green apple, hay, molasses, figs, plums, beets, spicy rye and star anise entangle with subtle earthy yeast, mint, and lemon zest aromas to create a truly unique smell that I have never encountered from a beer.
TASTE: Strong flavors of sour green apple and mild hay flavors first strike the palate creating the first impression that I am drinking a Wild Ale. But as mild molasses, fig, plum, spicy rye, and beet flavors immediately trail, it becomes quite obvious that this is unlike any other beer that I have tried. Mild earthy yeast and star anise along with subtle lemon zest and mint flavors make their debut, further adding to the taste complexity. At last, hints of tobacco finish off this taste theatrical as all previous flavors press on.
FEEL: Medium-bodied with moderate amounts of carbonation. Goes down somewhat smooth. Finishes with a pleasant but mild dryness.
NOTE: This was such an exceptional first. Fonta Flora has raised the beer bar with this style. I don't think I'll be trying another one any time soon due to the rarity, but I doubt that they'll be as tasty as this.
Apr 07, 2016

floridadrift from Florida
4
/5
rDev
-1.5%
look: 4 | smell: 4 | taste: 4 | feel: 4 | overall: 4
Pretty surprised by this offering, never heard of anything like it.
L: Brown body with a slightly crème head
S: Weird spice and menthol, malt, funk
T: Refreshing, coffee-sort of with a nice tartness with malt
M: Super light, very sessionable
O: I'd drink it again
Jan 26, 2016

Huhzubendah from District of Columbia
3.36
/5
rDev
-17.2%
look: 4 | smell: 3.5 | taste: 3.25 | feel: 3.25 | overall: 3.25
Light brown body with a small, off-white cap. Aromas of tea, brown bread, herbal scents, spearmint. Lots of spearmint in the flavor. Reminds me of chewing spearmint gum. Light in body with spritzy carbonation. Interesting.
Jan 16, 2016
mynie from Maryland
4.3
/5
rDev
+5.9%
look: 4 | smell: 4 | taste: 4.5 | feel: 4 | overall: 4.5
I first heard of Kvass in a Russian history class I took as an undergrad, back in 2003. I was a bigtime eager beaver, for some reason, at that point dumb enough to think that trying real hard at college would have some kind of positive impact on my life.
Anyhow, kvass was mentioned in some account of something or other, and I asked the instructor what for it be. He was an animated man, the kind of engaging teacher who made faces and stressed important points with impassioned hand gestures and vocal inflections. In describing kvass, he sounded like a cartoon mad scientist, like if Bill Nye were talking about putrefaction.
The process of making it used to be even more horribly unsanitary than the practices we now associate with Russians. At the turn of the last century, for example, the Russian infant mortality rate was absolutely gigantic, due to the habit of pouring warm milk into bread dough and letting infants suckle upon it for hours on end, as it turned into a seething sea of bacteria. Kvass, he said, was like the bottled version of that.
So, understandably, even though I've known of the beverage for 12 years, I've never endeavored to find it. But then it was included in a trade, so, okay...
Now you might have heard how in Russia it was only recently they stopped classifying beer as a Soft Drink, because in order for something to be considered Russian-level alcoholic it has to be at least 10% ABV (that's a true story, at least according to this meme I seen). Kvass was a basically the parallel of European/American small beers that used to be quite popular, back when potable water was scarce and people needed something to drink without getting entirely fucked up. Americans abandoned small beer due to our dueling strains of late 19th century puritanism (Samuel Kellog health nuts on the one side, Carrie Nation and her despicable ilk on the other), and we moved toward coffee and juice and soda. Kvass remained a Russian thing, as did attitudes towards being mildly buzzed for 19 hours a day, and cultural/material embargoes kept is a Russian thing for some time.
When the glory of the Soviet Union was prematurely snuffed out by American pig dogs, soda came streaming in all fizzy and proud and wearing sunglasses and skateboarding and shit. Kvass was thought to seem antiquated, and also it was supposedly gross, so it died out pretty quickly.
But now, apparently (according to Wikipedia), kvass is enjoying a cultural renaissance. It's gotten big enough to have its own category on Beeradvocate, and Americans are super unimpressed.
I have nothing to base my opinion off other than intuition, but I will be fucking shocked if this is how traditional kvasses taste. This is very obviously brewed to the paletes of 2015 American beer people: aggressive, wonderful candy sourness up front, then a back end of light sourness and water. The "candy" part cannot be emphasized enough: of all the sours I've ever had, this is the one that most closely resembles a roll of shock tarts.
Frankly, if this were easier to find I would drink it all the time. I'm a compulsive, deeply problemed man, and so exceedingly tasty ultra-low ABV beers are sort of my jam. I hesitate to give this world class ratings simply because I have no frame of reference for this review, but I definitely encourage you to try and find some.
Dec 18, 2015

Tommo from Texas
3.84
/5
rDev
-5.4%
look: 3.75 | smell: 3.5 | taste: 4 | feel: 3.75 | overall: 4
I dont really like dark saisons, so this automatically wasnt going to be my favorite beer
The smell is nice, though not overwhelming, much darker than i was expecting, it is after all at 2% beer made of spare grain. For such a little beer it does have a lot of tartness and body. However overall i am very underwhelmed compared to the other beers we tried from this release. The moderate malt character and one dimensional sour is not what i am looking for at thsi price point
Nov 02, 2015
brentk56 from North Carolina
4.47
/5
rDev
+10.1%
look: 4 | smell: 4.5 | taste: 4.5 | feel: 4.5 | overall: 4.5
Appearance: Arrives with a cloudy cider color and a modest head; dots of lacing hang around
Smell: Like liquid rye bread with wafts of lemon and mint
Taste: Rye bread with caraway flavors dominate the front end; an acetic aspect develops, in the middle, along with hints of lemon, mint and, to a lesser extent, beet; the finish is dry
Mouthfeel: Light body with moderate carbonation
Overall: I was wary of this beer based on my previous experiences with the style but this one absolutely blew me away; kudos to Fonta Flora for tackling this obscure style
Oct 29, 2015
Shopping Spree from Fonta Flora Brewery
Beer rating:
89
out of
100
with
22
ratings