Brick Waterloo Radlermass
| Brick Brewing Co.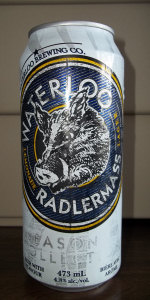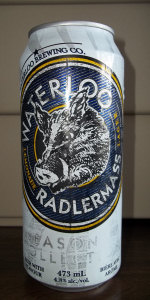 BEER INFO
Brewed by:
Brick Brewing Co.
Ontario
,
Canada
brickbeer.com
Style:
Fruit / Vegetable Beer
Alcohol by volume (ABV):
4.80%
Availability:
Limited (brewed once)
Notes / Commercial Description:
No notes at this time.
Added by bryehn on 07-04-2011
This beer is retired; no longer brewed.
HISTOGRAM
Ratings: 11 | Reviews: 5
Reviews by Molson2000:
More User Reviews:

2.29
/5
rDev
-21.6%
look: 3.5 | smell: 2 | taste: 2 | feel: 3 | overall: 2.5
Pours a slightly hazy pale golden-amber colour, topped with a finger of foamy white head. Retention is decent for a fruit beer; lots of lacing is left behind. Doesn't look too heavily carbonated. Smell is very strongly of lemons with a bit of a metallic note. Kind of reminds me of dishwater. Not really any beer-related characteristics to describe...just lemons and metal.
It's very fizzy so the appearance was a bit misleading on that front, but at this point I am not surprised when fruit beers have the consistency of soda pop. Lemonade sourness and malty sweetness are basically the only flavours. This really does taste like a cooler, although I guess to be fair it says "beer with flavour" right on the can. Light-bodied and a little syrupy with medium carbonation.
Reminds me of Mike's Hard diluted with beer, and don't ask why I know what that tastes like. Unless that sounds interesting or appealing to you, you should probably not bother getting this. Have yet to try an above-average beer from this brewery but I'll keep looking.
1,043 characters

3
/5
rDev
+2.7%
look: 3 | smell: 3 | taste: 3 | feel: 3 | overall: 3
Huh. This is... odd.
Appearance: yeller. Clear, with fizz and a thin head. Looks like cheapie two-four beer.
Smell: I can hardly smell it at all. There's a very faint lemon and beer aroma if I put my nose right up at the edge of the glass.
Taste: like lemon pop, but a little ... beery. Like drinking Limonata out of a glass that had beer in it. Except it's not as sweet or strong as any lemon pop I've ever had. If I want to be charitable I'll say it has a delicate flavour; if I don't want to be charitable I'll say it's watery.
Mouthfeel: thin, wet, a little fizzy.
Overall: I really don't know what to think. If the alcohol content wasn't as high as it is, I'd say it was a shandy in a can. If you liked shandy but you want something boozier, go for it. I might buy this again if I want something refreshing that I don't have to think too hard about. It's nothing spectacular, but I'm actually enjoying it.
For those who want a more refreshing proper beer that happens to have a bit of lemon in it, try Mill Street's Lemon Tea Ale.
1,042 characters

2.56
/5
rDev
-12.3%
look: 3 | smell: 2 | taste: 2.5 | feel: 3 | overall: 3
473 mL can, found on an LCBO shelf on July 4, 2011. Went with an over-sized wine glass. Billed on the can as a "Lemonade Lager"
Pours a hazy golden-brown colour with a moderate sudsy head that burns off in a few minutes, leaving some mild lace and a collared film.
Smell is off-putting. Lemon flavouring, aluminium can and "fishwater" mask a slight hoppy soapiness that struggles to break through.
Tastes like lemonade at first, quite a bit over-sweetened for me but with a slightly bitter citrus edge up front. Then it tastes like a decent light lager for a moment before a rather strong metallic tone hits and lingers through to the finish. Any sort of malt taste is vaguely perceivable and never really comes through. The metallic tinge fades after breathing a bit, but it's hard to shake.
Light-medium carbonation provides a prickly soda-like feeling. Very light-bodied. Quite sweet and syrupy all the way through. Slight citrus bite on the back of the tongue, but not very tart or bitter at all.
I can't say I was expecting anything better than what I got, though I was hoping for something more bitter, less sweet, with more of a crisp, pilsner-like beer taste and made with real lemon juice. Great idea, but poor execution.
1,237 characters

2.21
/5
rDev
-24.3%
look: 3 | smell: 2 | taste: 2 | feel: 2.5 | overall: 2.5
Appearance - Slight amber with lots of head that dissipated to a layer of lace.
Smell - Sweet metal. Very citrusy with a hint of aluminum.
Taste - Very citrusy on the initial taste with a thin hoppy finish. But because of the sweetness of the beer the lips are left sticky.
Mouthfeel - Medium body
Overall - Too syrupy, too sweet. I was expecting a nice light lager with a hint of lemon and instead got something closer to a beer cooler.
440 characters

2.77
/5
rDev
-5.1%
look: 4.5 | smell: 2.5 | taste: 2.5 | feel: 2 | overall: 3.5
Radlermass? Never heard of it, but sounds German. I half expected this not to appear on beer advocate, given it's marketed as a lemonade beer.
Appearance: Well not a lot to complain about here. It laced incredibly well and produced a finger and a half of head. Didn't quite retain as well as I would have liked it to though. The body is a bit of a dull yellow that isn't quite Lager yellow. Good start
Smell: A sugary sweet lemon smell that's like lemon-aid but lacking in the sour twang I would expect. I think that because I might be picking up some hops that is bringing those elements down.
Taste: It starts with a light sweet lemon taste, more like strong lemon iced tea then lemon-aid. It then become abundantly clear that lemon pop syrup was used in this as the sweetness declines and some not very roasted malt makes and appearance ending with a soapy hop note. I never though I'd use the word soapy to describe the taste of beer. It's not as bad as I'm making it out to be, but it's not the greatest.
Mouthfeel: Syrup and soap, need I say more? The problem here is the soap doesn't clean out the syrupy stickiness which lingers far too long and makes the whole beer taste sickly artificial at first. Then you get used to it like you were drinking pop and it just seems harder to notice. The worst part about it, is the carbonation really gives that sudsy soap feeling, only that's it's an edible taste. However the sweetness of the pop like syrup would probably be better served with more aggressive carbonation. I don't think I like this part of the beer.
Drinkability: It's smooth, almost a little too smooth, but it's also VERY light and is clearly designed to be guzzled on a hot summer day. That overwhelming sweetness needs to be reigned in desperately though.
Final Thoughts: It's odd that's for sure and I think with some more tweaking it would be a lot better. This is the kind of beer I think would go well at a baseball game with a hotdog or a pogo. It's so sudsy, happy and filled with things that you know are bad for you. So if this beer is around in 4 or 5 years, maybe I'll give it another shot. This is probably one beer, despite it's poor grade, I would still recommend trying because it seems so different. I'd like to see another brewer give this a shot, maybe with real lemon.
2,313 characters

Brick Waterloo Radlermass from Brick Brewing Co.
Beer rating:
2.92
out of
5
with
11
ratings