Lager Experimentation
BYOB
by
Drew Beechum
| Apr 2015 | Issue #99
Illustration by Ellen Crenshaw
I saw a thread the other day wondering "why aren't brewers playing with lagers like they do ales?" I imagine this is fueled in part by Budweiser's Super Bowl "Pumpkin Peach Ale" nonsense.
Another part is no doubt that lagers are more difficult to homebrew due to the extra refrigeration requirements. Apparently, lager brewers also regard the Rheinheitsgebhot as some sort of holy law. They don't seem to like fun. And finally, lager yeasts leave a crisper, more delicate edge that makes it tricky to lay another flavor down without overwhelming the beer.
Let's see, what have we covered in this column in the past? Malt Liquor? Check. Four Loko? Check. Eisbock? Check. Samichlaus Clone? Check. (I think). So how about an Apricot Lager this month? It has the advantage of being super easy and jump-starts the lager experimentation discussion.
My friend Kevin Baranowski brews this every year for the SoCal Homebrewers Festival and it's a giant hit. Yes, it uses extracts, but for a stone fruit like apricot, it's the way to go. This beer starts as a 10-gallon batch of Kevin's American Corn Lager. After fermentation, he splits it into two kegs and one gets dosed. The end result is two great beers!
KEVIN'S APRICOT LAGER
For 5 gallons at 1.050 OG, 18 IBU, 2.9 SRM, 5.3% ABV
Malt/Grain
8 lb. Domestic 2 row
2 lb. Flaked maize
Mash
Strike at 122°F in 2.5 gallons for 20 minutes.
Raise to 154°F for 40 minutes.
Sparge with 170°F water to collect 6.5 gallons.
Hops
0.75 oz Willamette (pellets) | 5.5% AA | 60 minutes
Yeast
Wyeast 2035 American Lager
Extras
3 oz Brewcraft Apricot extract
Notes
Pitch the yeast (1/2 gallon starter) and hold at room temperature until signs of fermentation show. Ferment at 58°F for three weeks, transfer to a keg and add the extract. Boil 3/4 cup of corn sugar into a syrup and add for carbonation. Hold one more week at 58°F, then lower the temperature to 34°F for two weeks. ■
Previous:
Early Swedish Lager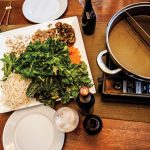 Next:
Chinese Hot Pot with Beer Broth