Indulging in Crab with Orval and Leeks
Cooking with Beer
by
Sean Z. Paxton
| Feb 2016 | Issue #109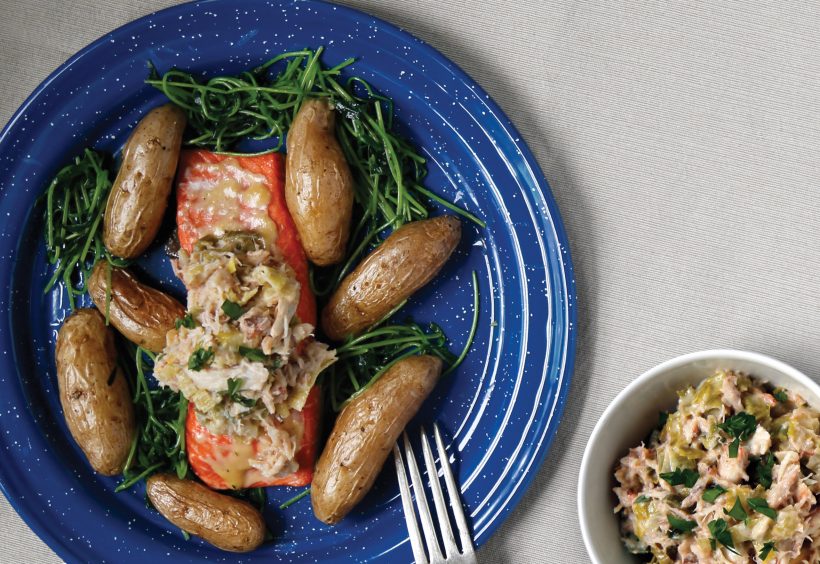 Photo by Taylor Seidler
Whether you chose to celebrate Valentine's Day or not, it provides a good opportunity to treat our significant others. Usually this holiday is paired with chocolate, flowers and maybe a bottle of champagne. Instead, I like to create a romantic meal with something other than everyday ingredients. Spoil your lover this month with a few of these recipes, showing your love of better beer and food.
Crab with Orval and Leeks
Crab meat is a treat. Whether steamed or boiled in beer (along with some aromatics and herbs), the meat is a delicacy and, once removed from the shell and mixed with flavorings, can become crab cakes, a killer crab sandwich, or a seafood bisque. Yet so many times I've had a crab dish and the delicate flavor of the crab is overpowered, not supported and enhanced, by the additional ingredients.
Drawing on the elements that make Orval such a singular brew, this recipe showcases the Brettanomyces yeast profile. An aged or cellared version of this Trappist brew, with its subdued hop profile, increases the earthy funk from the additional time on the yeast. This flavor profile is further enhanced with the addition of white miso, adding an extra umami kick and fermented depth, all the while holding on to the sweet and succulent crab flavor.
This base recipe can be used many different ways. I mention a few different variations below, but other recipes that draw on this flavor profile could transform it into something else entirely.
Serves: 2
Ingredients:
4 tbsp unsalted butter
1 leek, washed, cut in half and sliced
1 tsp thyme, leaves only
1 tbsp miso, white variety (available in many grocery stores)
8 oz Orval, preferably aged over 6 months
1 cup heavy cream, preferably organic
1 lb crab meat, preferably Dungeness or King, saving the shells for stock
sea salt and cracked white pepper to taste
2 tbsp parsley, Italian leaf, chopped
Directions:
In a medium saucepan over medium heat, melt the butter. Once it starts to bubble, add the prepared leeks and lightly season with salt. Using a spatula, toss to coat in the fat. Cook slowly for the next 5 minutes, stirring frequently, to wilt the leeks. Add the thyme and white miso and let it dissolve and caramelize with the leeks. Stir and continue to cook for another 5–7 minutes, or until the leeks are tender and soft, but still hold their texture. Deglaze with the Orval (saving the remaining brew for the chef's enjoyment) and let the beer reduce until an almost syrupy consistency is reached, about 5 minutes. Add the cream and continue to reduce again, about 5 minutes. The final sauce should be thick and full of earthy funky flavors, coating the back of a spoon.
Place the picked crab in a bowl (saving the shells to make a seafood stock), then add the slightly cooled sauce and the parsley. Lightly toss or fold the crab into the sauce to coat the meat, leaving any larger chunks intact, keeping the meat from dissolving. The sauce is ready to use, whether it's warm over a White Miso Roasted Salmon Filet or cold in a Decadent Crab Sandwich for Two.
Variations:
Crab Cakes: Allow the above recipe to cool, after the crab is added, then add 1/3 cup bread or cracker crumbs and a beaten egg and divide the mixture into four large cakes for an entrée (served atop a celery root puree or mashed potatoes) or 10 appetizer-sized cake rounds. Encrust each cake in panko bread crumbs. Fry over medium heat in a butter and olive oil blend for 3 minutes per side.
Pasta Sauce: Pour this sauce over al dente pasta or risotto (made with seafood stock).
Pasta Filling: Let the crab sauce cool completely. Make your favorite fresh pasta into sheets and add tablespoon-sized mounds of the mixture, topping with another sheet of fresh pasta, wetting the edges of the dough and sealing with a ravioli cutter or a sharp knife to make squares, triangles or other shapes.
White Miso Roasted Salmon Filet Topped with Crab
When salmon is paired or cooked with a hoppy brew, a tin or metallic off flavor occurs. Maltier or aged beers where the hop bitterness has fallen out of suspension work better. Using an aged Orval for this topping enhances the earthy funky flavors of Brettanomyces with the salmon's rich fattiness.
Serves: 2
White Miso Mayonnaise Ingredients:
1 tbsp miso, white variety
1 tbsp Orval, remaining from the chef's tax (see above)
1/4 cup mayonnaise, your favorite brand
1 pinch sea salt and cracked white pepper
In a small bowl, add the white miso and Orval. Using a whisk, combine the two ingredients until the miso is slightly dissolved and then add mayonnaise, mixing again until an even paste is formed. This can be made in advance and refrigerated for several days. It's great on sandwiches or as a dip.
Other Ingredients:
8–10 oz salmon filet, skin and any pin bones removed, cut into two filets
sea salt
1 lb potatoes, fingerling variety or Yukon Gold, washed
2 tbsp olive oil
1/2 lb pea shoots
1 recipe Crab with Orval and Leeks
Directions:
Preheat the oven to 400°F. Take a sheet tray and line it with aluminum foil. Lightly coat the foil with a few drops of olive oil. Place the two salmon filets onto the foil and lightly season with sea salt. Divide the White Miso Mayonnaise and rub over the filet to coat evenly. Marinate the salmon for 20 minutes.
Take the potatoes and leave whole if they are small fingerlings, or cut larger potatoes into smaller chunks. Season with salt, pepper and a tablespoon of oil. Distribute in an oven-safe sauté pan and place into the hot oven. Bake the potatoes for 30 minutes, or until fully cooked and golden brown. After 20 minutes, add the salmon to the oven and roast for 10 minutes or until the salmon filets have an internal temperature of 130°F.
While the potatoes and salmon are roasting, place a sauté pan over medium heat. Add the remaining tablespoon of olive oil and sauté the pea shoots for about 2 minutes, or until bright green and wilted. Have the Crab with Orval and Leeks warm and ready to go.
Add the plates or platters to the oven for the last 2 minutes of the salmon roasting, to pre-heat them. Remove the salmon, potatoes and plates from the oven. Arrange the roasted potatoes around the plate, adding the salmon filet in the center. Top the salmon with the Crab with Orval and Leeks and spoon the wilted pea shoots around the filet, serving immediately.
Beer Pairing:
With all of the earthy, funky flavors in the dish, along with the seafood sweetness, a bright Saison, Tripel or sour ale will pair nicely. The yeasty elements of these styles will accentuate the miso and the Brettanomyces attributes. ■
Previous:
Nectar of the Gods
Next:
Decadent Crab Sandwich for Two