Thai-Inspired Bière Cuisine
Cooking with Beer
by
Sean Z. Paxton
| Apr 2016 | Issue #111
Photos by Taylor Seidler
With spring getting into full swing, a bounty of produce awaits at the farmers market. This month I wanted to highlight seasonal vegetables with a Thai-inspired curry. Build a delicious meal by first making a yellow curry paste to spice a soup or sauce base, and then garnish it with more seasonal vegetables and herbs.
Thai Yellow Curry Paste
The secret to great Thai food is creating layers of flavor by breaking down something that we might think of as simple and letting it shine. Get out of the "add this and a splash of that" way of cooking and create elements, or building blocks. For instance, a curry paste becomes the flavor foundation for a variety of dishes, whether you're making a soup, a sauce or stir-fried rice.
Makes: 1 pint
Ingredients
1 1/2 tbsp coriander seeds, whole
3/4 tsp cumin seeds, whole
1/4 tsp cardamom seeds, whole
1 star anise pod
1 tsp kosher salt
1 lemongrass stalk, sliced very thin
1 ginger root, about 2 ounces, peeled and sliced thin
1 galangal root, about 1 ounce, peeled and sliced thin
2 turmeric roots, fresh (or 1 tbsp ground dry)
1 head garlic, peeled
4 shallots, peeled (about 4 oz)
1–10 red Thai chilies, dried, depending on desired heat level
1 tbsp shrimp paste (Kapi Kung)
Directions
In a sauté pan or skillet over medium heat, add the coriander, cumin, cardamom seeds and star anise pod. Shaking the pan, toast the spices until they start to pop, releasing their aromatic oils, about 3–4 minutes. Remove the spices from the pan, letting them cool, while preparing the other ingredients.
• Traditionally, a curry paste would be mashed in a mortar and pestle to break down the ingredients, releasing their flavor oils and creating texture. This takes more time, but the results are incredible. Process each of the ingredients in a large mortar and pound or smash with a pestle until ground fine. Transfer to a bowl and continue with the next ingredient. Then mix all the ingredients together well.
• The modern way to make curry paste is using a food processor. First, grind the toasted spices with the salt in a spice grinder or clean coffee grinder. Add this to the bowl of a food processor, followed by the lemongrass, ginger, galangal root, turmeric, garlic, shallots, chilies (using one for ultra-mild, four for mild or 10 for very hot, depending on your taste and heat tolerance) and shrimp paste. Add the lid, pulsing to further grind up the ingredients. Scrape down the sides of the bowl periodically. Leave the motor running to make a fine paste mixture.
If sealed and refrigerated, this curry paste will last for a week, or up to six months if frozen.
Note: vegans can omit shrimp paste and substitute fermented chili and/or garlic paste.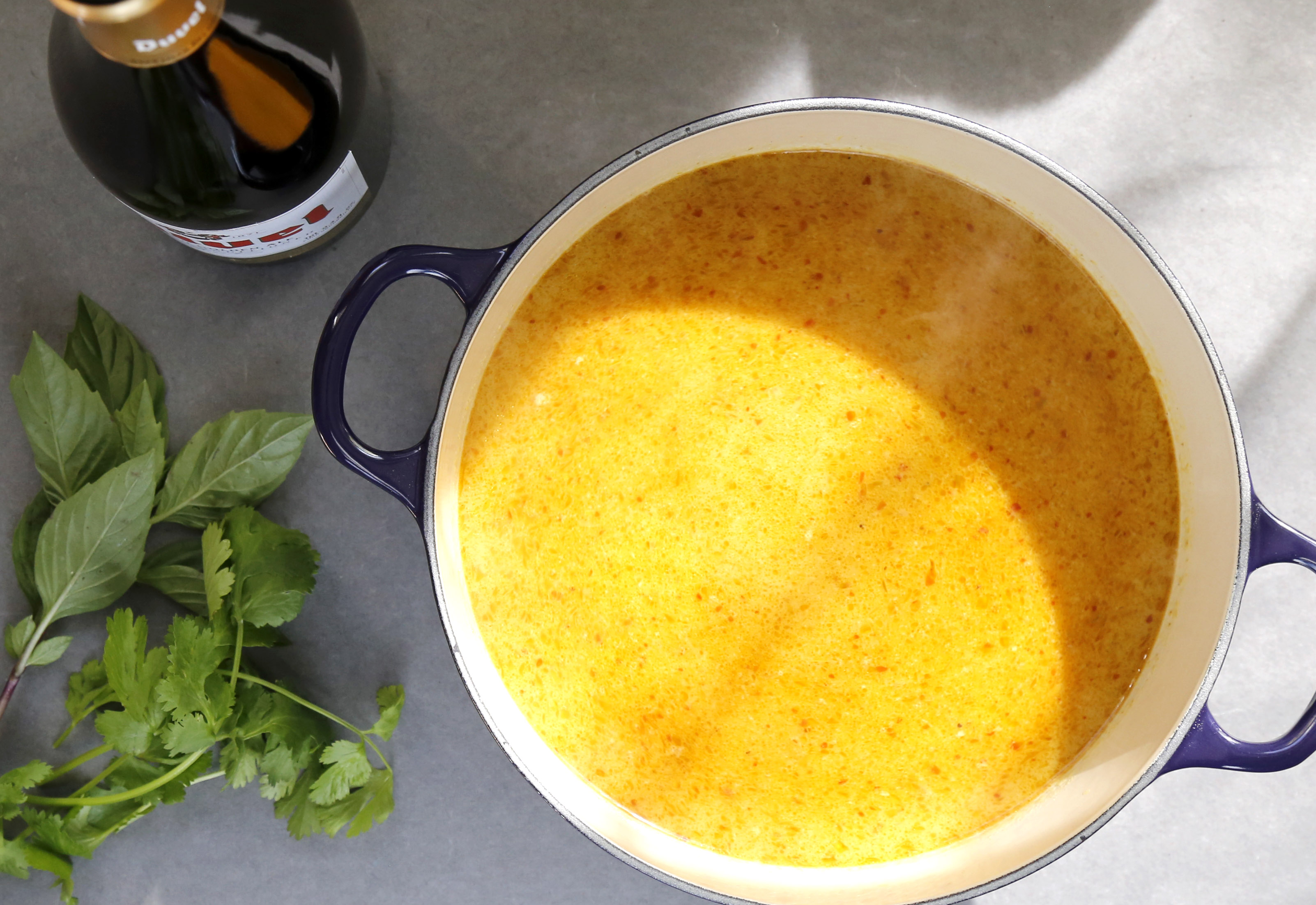 Thai Yellow Curry Duvel Soup or Sauce
Now that you've made the Thai Yellow Curry Paste, let's use it. Sautéing the paste in oil cooks the vegetables and caramelizes the aromatics, adding layers of flavor to the finished soup or sauce. The addition of a Belgian Strong Pale Ale contributes yeast complexity along with a touch of sweetness and just enough bitterness to add to the mélange of flavors from the paste itself.
Serves: 6 guests
Ingredients
2 tbsp vegetable oil
5–6 tbsp Thai Yellow Curry Paste
3/4 tbsp curry powder, such as an Indian style
3 tbsp palm sugar* or light brown sugar
1/4 cup fish sauce, such as Red Boat 40°N Fish Sauce
2 tbsp soy sauce, tamari or coconut aminos
1 tbsp kosher salt
27 oz coconut milk (2 cans)
750 ml Duvel or another Belgian Strong Pale Ale
Directions
Preheat the pan by placing a Dutch oven or wide pot over medium heat. Add the oil and tilt it to create a layer across the bottom of the pan. [If you're making one of the following recipes, this is a good time to add the chicken, turkey or lamb, browning the meat while rendering the fat. Then remove it from the pot and continue.] Add the Thai Yellow Curry Paste and curry powder. Using a flat-edged spatula, scrape the bottom of the pan, making sure that the paste doesn't stick or burn. Lower the heat to medium-low and continue to toast the curry powder, while caramelizing the paste. The mixture will begin to darken after about 5–6 minutes of cooking. Add the palm sugar (grated with a microplane or knife edge) or light brown sugar and press with the spatula to break into the paste.
While this is cooking, in a separate bowl measure out the fish sauce, add the soy sauce and salt, and stir to combine. After another 4–5 minutes of cooking, add the fish sauce mixture to the pan, letting it dissolve into the paste, while evaporating the water and intensifying the flavors. Keep stirring and scraping the bottom of the pan to prevent it from scorching. After about 5 more minutes of cooking, the mixture should be a thick paste, deep brown and sticky. This result is critical in the development of Thai flavors.
To Make A Soup
Add the coconut milk and then the Duvel or another Belgian Strong Pale Ale to the pan. Stir to dissolve the paste into the liquid, making a soup base. Bring this mixture to a simmer, adjusting the heat once it reaches a boil. At this point a protein can be added to the soup, to stew or braise in the liquid. Then add prepared vegetables and herbs, allowing them to cook in the beer broth. Serve.
To Make a Sauce
Add the coconut milk to the pan, followed by the Belgian Strong Pale Ale. Bring the mixture to a boil, then lower the heat to slowly reduce the volume by half. This step should take about 30 minutes. The finished sauce can be used to poach other vegetables or seafood before it's poured over Asian-style noodles or a bowl filled with coconut jasmine rice.
Note: fish sauce is an essential flavoring, but vegans can substitute 2 tablespoons of coconut aminos and 2 tablespoons of white miso)
Thai Yellow Curry Soup with Chicken and Rice Noodles
Chicken noodle soup, whether it's just a simple stock or a complex coconut curry beer broth, is comforting. Plus, this dish might turn out better than the one on the menu at your local Thai restaurant.
Serves: 6 guests
Ingredients
6 chicken thighs, bone in, skin on
1 garnet yam, peeled and cubed
3 carrots, peeled and cut into small cylinders
1 spring onion or garlic, washed and sliced thin
1 green zucchini, sliced in half, cut on the bias
1 crookneck squash, sliced in half and cut on the bias
3 oz snap peas, stem end and string removed
1 14 oz package of Banh Pho rice sticks (noodles)
(To prepare: follow directions on the package or soak them in water for
60 minutes, boiling for 2–3 minutes, and chilling in a water bath.)
Directions
Place the chicken thighs skin side down in a preheated Dutch oven or pot and brown them, cooking for 6 minutes. Look for this step in the Thai Yellow Curry Duvel Soup recipe. Remove the thighs and place them in a bowl, continuing with the soup recipe.
Add the chicken to the simmering soup. After 20 minutes, add the cubed yam, carrots and spring onion or garlic, cooking for another 20 minutes. Prepare the zucchini, squash and peas, then add them to the soup, cooking it for another
5 minutes, or until the vegetables are just tender. Add the prepared rice noodles to the serving bowls. Top with soup, a chicken thigh and a mix of cooked vegetables. Serve with the Garnish Options.
Beer Pairing
Take your pairing in any number of directions by choosing a citrus-forward IPA (using that dominant flavor in the citrus for the Garnish Options), a yeasty, spicy Saison, a tropical IPA (to play off the ginger, lemongrass and coconut), or even a Hefeweizen with its banana and clove undertones.
Garnish Options
There are a lot of options for what ingredients to use and how to prepare your main dish using the Thai Yellow Curry Paste. Here are a few suggestions for garnishing it.
Serves: 6
Ingredients
1 bunch cilantro, fresh, washed, leaves only
1 bunch basil, preferably Thai or cinnamon, but Italian will work
1 bunch mint, washed, leaves only
1 bunch watercress
1/2 lb bean sprouts
1/4 lb pea sprouts
2 chilies, fresh, such as red fresno, serrano (hotter), jalapeño (milder)
3 green onions, washed and sliced on bias
3 limes or other citrus (depending on what you are pairing with)
1 bottle hot sauce, such as Sriracha
Directions
Wash and prepare the ingredients. Arrange them on a platter in piles or stacks, alternating colors and textures. These add-ons will lend an extra punch of flavor to the finished dish. ■