Counter (Top) Intelligence
Innovation
by
Lisa Morrison
| May 2016 | Issue #112
It's like a Keurig—for beer. And Seattle-based PicoBrew hopes Pico, its new countertop homebrew system, will catch on just as quickly as those pod-fed coffeemakers.
We profiled PicoBrew in 2013 (issue #83) when it introduced Zymatic, a $1,999 all-grain, automated brewing system that is a bit larger than a microwave. Brewing 2.5 gallons at a time, it was designed for experienced homebrewers and professional outlets (small restaurants, for example).
With Pico, the new machine, the company hopes to make the Zymatic's technology accessible to everyone, even someone who has never brewed before.
"With Pico, anyone can turn out brewery-quality beer that tastes better, fresher than what you can buy in cans and bottles at retail," says PicoBrew's vice president of sales and marketing Donald Brewer (yes, that is his real name). "The Pico brews 5 liters … [and] uses pre-packaged recipe kits we have licensed from more than 100-plus breweries such as Rogue, Abita, 21st Amendment, Dieu du Ciel and others from around the world."
Here's how it works: A customer buys a prepackaged, biodegradable recipe kit ("PicoPaks" sell for $15 – $29), fills up the accompanying keg with water, then inserts the PicoPak into the Pico, which automatically detects the recipe and downloads the brewing instructions via WiFi. (Bitterness and alcohol levels can be tweaked to accommodate personal preferences.) About two hours later, the wort is made and the customer pitches the yeast that's provided with the PicoPak. With a special "fast fermentation" process, most recipes are ready to enjoy in three to five days.
By licensing their recipes for PicoPaks, breweries large and small across the world are able to generate royalty income.
"Additionally, the PicoPak provides a way for many breweries to effortlessly generate national and worldwide brand recognition and distribution of their brand and recipes versus conventional distribution," Brewer says.
After a highly successful Kickstarter campaign (it raised $1.4 million with a goal of $200,000), PicoBrew is taking Pico pre-orders for $699, and expects to start shipping in July. Find out more at PicoBrew.com. ■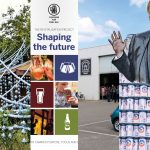 Previous:
Beer News
Next:
Food & Beer