Breweries Add LEED Certification to Sustainability Efforts
News
by
Rebecca Kirkman
| Jun 2016 | Issue #113
Smuttynose Brewing Co.'s LEED Gold certified brewery.
Although many breweries prioritize sustainability, less than a dozen have achieved the US Green Building Council's Leadership in Energy & Environmental Design (LEED) certification. Since January, though, Chicago's Motor Row Brewing, New Hampshire's Smuttynose Brewing Co. and New Belgium's Asheville, N.C., distribution center have earned the designation.
For Smuttynose, the build-out of its state-of-the-art brewery in Hampton, N.H., which was certified LEED Gold in April, was an opportunity for conservation. "We spent 20 years in an incidental brew space that was inefficient. This was our chance to build the proverbial 'new' brewery," says Smuttynose communications director JT Thompson. Preservation of existing historic buildings, maximizing natural light, and sourcing nearly a quarter of materials from a 500-mile radius were all part of earning the designation. "This is third-party verification that we're doing something for the environment," Thompson says.
The awarded LEED level, from Certified to Silver, Gold and Platinum, depends on the number of points a project achieves across several categories, including water efficiency, innovation and energy usage.
"Since breweries are complex and process-load-heavy, it can take some extra work and investment to properly model how many of these points they qualify for," says Dana Villeneuve, who joined New Belgium after working as a LEED consultant and sustainable building specialist. She says pursuing the certification falls in line with the brewery's vision for its West Asheville campus, including a brewery, tasting room and distribution center, the latter of which earned LEED Silver status in April.
To be successful, Villeneuve recommends breweries take an integrative approach to the design early on. "LEED requires cooperation and buy-in from the entire project team, and care must be taken to ensure that all team members—from the steel contractor raising the frame to the artist painting a custom mural in your tasting room—are aware of the expectations."
In Cedar Falls, Iowa, SingleSpeed Brewing has plans to turn a Wonder Bread factory built in 1927 into a brewery and restaurant. "The question of how to balance historical preservation and sustainable design came up immediately, as those two concepts can at times be in conflict with one another," says founder Dave Morgan. "Our answer was to invite LEED experts on board and allow them the freedom to guide the development of our construction plan. This guaranteed us an integrated design focused on water and energy efficiency." Morgan says the project will be financially beneficial in the long run, too. SingleSpeed's certification is still pending, and Morgan plans to start brewing at the new space this fall.
Meanwhile, the Green Building Council hopes these pioneering breweries will inspire their peers. "The global trend of breweries taking action to minimize the environmental impact of their operations is exciting," says USGBC chief of engineering Brendan Owens. "The social, economic and environmental benefits these projects deliver represent a series of case studies other brewery projects can learn from to optimize their own operations."
Reviewing and certification takes time, and at least 12 other brewery projects have already registered for LEED certifications that are pending approval. Proponents, like Smuttynose's Thompson, are optimistic about industrywide adoption: "Twenty years from now, these sorts of things will be standard." ■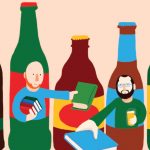 Previous:
No More Excuses
Next:
Beer News