Brewers Experiment by Distilling Beers
News
by
Rebecca Kirkman
| Feb 2017 | Issue #121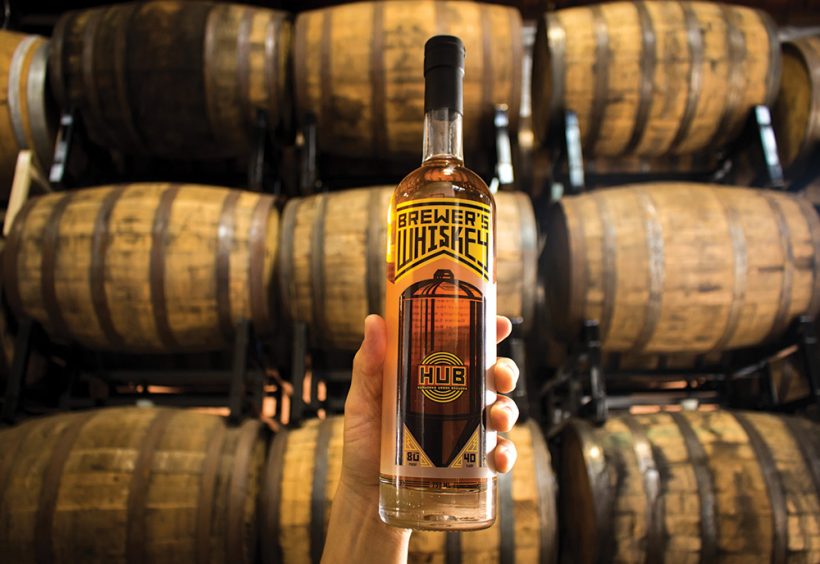 Photo by Chad Brigman
Ever since Independent Distilling Co. moved in across the street from Three Taverns Craft Brewery, the two Georgia beverage makers wanted to find a way to work together beyond aging beer in used whiskey barrels.
"Our brewmaster, Joran Van Ginderachter, who is from Belgium, had read about 3 Fonteinen distilling a batch of beer that had matured badly," explains Three Taverns founder Brian Purcell. When a few leftover kegs of Three Taverns' winter seasonal weren't moving after the holidays, it sparked an idea: distilling Feest Noel, the brewery's Belgian-style Quadrupel spiced with cardamom, allspice, and cloves.
"By using a traditional double-pot distillation, we were able to carry over all the flavors that were present in the beer: the big malt base, the light hops, and of course the prominent spice," says Independent's Michael Anderson, who aged the resulting distillate in new charred oak barrels for 22 months before releasing Outlier No. 3, a 45 percent ABV bierschnaps, in December 2016. "While the beer and the spirit are both unique from each other, they share all the same flavor and character traits," he says.
Bierschnaps originated in Bavaria, where brewers with on-site stills often create a house spirit from leftover beer. Recently, more breweries outside of Germany are experimenting with the beery spirit.
Oregon's Hopworks Urban Brewery released HUB Brewer's Whiskey, made from its HUB Organic Lager, in November 2016. And in December, Belgium's Brasserie de la Senne released Esprit de Senne, a 43 percent ABV spirit distilled from Schieve Funambulo, a Belgian Strong Pale Ale brewed in 2015 with Italy's Birrificcio Toccalmatto.
The foray into a new process can lead brewers to unexpected results. In Beijing, Slow Boat Brewery distilled a Citra-hopped IPA and a Scotch Ale to learn how the process changes different flavors. "The mango and passion fruit hoppy flavors of the IPA came through nicely, whereas the Scottish Ale produced less desirable malty and earthy flavors," says co-founder Chandler Jurinka. "We were surprised […] the IPA most resembled the original beer and we all thought it turned out the best."
Back in Georgia, the experiment has come full circle. "We've already received the emptied oak barrels that aged our distilled beer and have filled them with Feest Noel for aging," says Three Taverns' Purcell. "Feest Noel barrel aged in distilled Feest Noel spirit barrels—now that's something you don't see every day." ■