The Problem with Beer Scores
Beer Smack
by
Jason & Todd Alström
| Nov 2017 |
Issue #130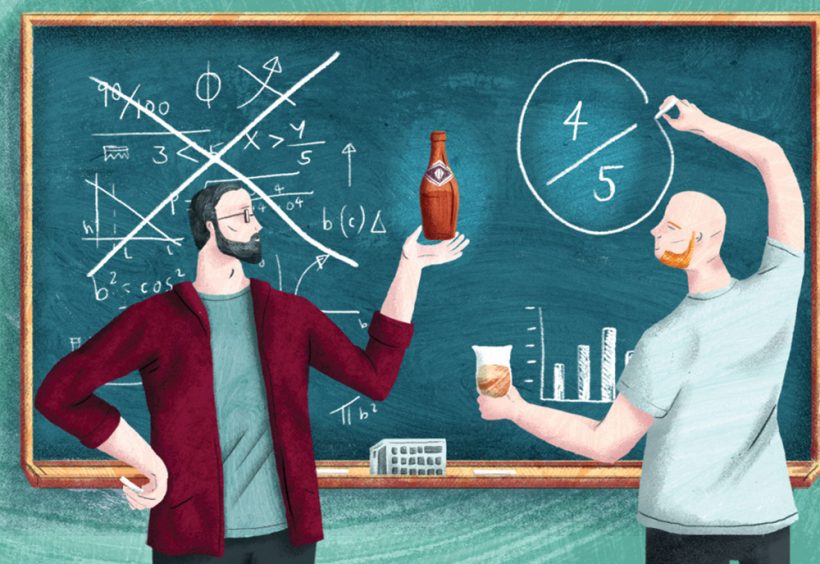 Illustration by Brittany Molineux
Influenced by the inflated A–F academic grading system, many beer scores fall within an arbitrary 50–100 (or similar) scale that's mapped over from an aggregate rating. It's a dated standard borrowed from the wine and spirits world that was basically designed for marketing.
Beer drinkers can consult BeerAdvocate (BA), RateBeer (RB), and a handful of publications, each with its own way of presenting an overall beer score. Admittedly, many in the industry use RB. The site's score inflation is great for the brewers it favors, and of course looks good on shelf talkers, but it's a grossly inaccurate resource for consumers. Here's why it's a problem for them, and the independent beer industry as a whole. And it has nothing to do with RB being a "competitor."
As of October 2016, RB is now partially owned by ZX Ventures, the disruptive growth division at Anheuser-Busch InBev (ABI). This was kept secret until June 2, 2017.
On June 14, Paste magazine exposed the fact that RB's brewery ratings (an at-a-glimpse overall score) were broken. The article noted that before October 2016 the brewery rating for ABI was 74 percent, but then it mysteriously rose to 90. Meanwhile, the highest rated beer for ABI on RB is barely over 3 out of 5. And despite admitting that its system was broken, the ABI rating remained at 90 until early October when the feature was quietly removed. (At press time, it was back.)
In terms of inflated scores, despite weighted averages being under 4, beers are awarded high marks. For example: 3.55 is a 90, 3.75 is a 98, and anything above 3.98 is a perfect 100.
As for our own scores, they're not necessarily perfect or broken. For years we used a 30–100 industry-inspired scale based on a proprietary weighted rating system. But now, like it was when we first introduced user ratings in 2000, the BA Score is simply the 1–5 average across all ratings. No smoke and mirrors, no glitch in the matrix, no archaic standard. Just your straight-up, collective opinion.
Respect Beer. ■