Homebrew for the Holidays
Party-Gyle
by
Cathy Erway
| Nov 2011 | Issue #58
We tend to think of the Pilgrims, who initiated the holiday known as Thanksgiving, as pretty stuffy people—pointy hats, long black clothing and stern faces all around. But actually, they practiced a lot of creativity in the kitchen in order to survive, and that included making beer. When the Europeans came to their adopted homeland, they had to continue making their favorite drink from whatever was available, like winter squash and fruits. It's fabled that the Mayflower only landed at Plymouth Rock because it had run out of beer. So if you're in the mood to re-create what Thanksgiving might have been like in its earliest years, you could try your hand at making your own beer to share with friends and family, and to have a toast with when the last Thursday of November rolls around.
Here are a few ideas on how to have fun making homebrew for the harvest feast. It's a time for extending generosity while giving thanks, and few days see as many people gathered to eat and drink under one roof as Thanksgiving. Plus, while giving the obligatory compliments to Aunt Doris' mashed squash-and-spinach delight, you can thank yourself this time … for the beer.
The Homebrewing Pre-Thanksgiving Party
If you think a Thanksgiving meal is enough work without having to make the drinks, then try throwing a pre-party a few weeks out and make a batch of homebrew just for the feast. It's a good way to spend time with those not staying in town for the actual holiday. I have an annual "Friendsgiving" to get into the spirit before Thanksgiving each year, and nobody complains about having roast turkey twice. If there's enough stockpots, everyone can make their own homebrew to bring home and let ferment.
The Night-Before Brew
Take advantage of having a lot of hands around the house to kick off a homebrew. This one could be enjoyed for another holiday soon to come. Since the stove will be relatively free otherwise, it's a good time to start preparing parts of the meal that can keep—like cranberry sauce, desserts and stuffing. Have extra cranberries? Mashed pumpkin parts? Maybe those can give your homebrew a unique spin, and a good story to talk about later.
What to Brew?
Fall and winter beers are generally robust, full of malty character and often sprinkled with spice. This is easy enough to re-create at home, especially if you've made ales before. If you're looking to pair your brew with the Thanksgiving meal, a bright, hoppy IPA actually goes surprisingly well with turkey and cranberry sauce. If you're making a Stout or Porter, be sure to reserve some to add to your gravy for a deliciously sophisticated flavor. And to pair with the desserts, spice it up with some cinnamon, nutmeg, ginger and/or pumpkin so you can have your apple pie à la mode with a refreshing drink. ■
---
If you're a novice, invite at least one experienced homebrewer to your party—help from a friend will go much further than a stack of instructional books.
Have plenty carboys on hand. You might want to split up your homebrew into batches so more people can take it home (it is a holiday celebrating the spirit of giving, after all).
If your Thanksgiving brew fails for any reason, at least it's just for your family, who will probably still love you anyway!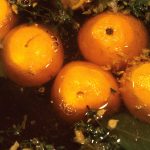 Previous:
Giving Thanks for Beer
Next:
Bootlegger's Brewery