Jeff O'Neil, Head Brewer, Peekskill Brewery
Last Call
by
Courtney Cox
| Nov 2011 | Issue #58
When Jeff O'Neil brought his creativity and drive to Ithaca Beer Co. in 2002, they'd just had a 1,200-barrel year. This year, they're projecting roughly 13,000. But O'Neil won't be at Ithaca when they hit that number; after helping the brand grow 10 times over in nine years, he announced in early October that he's moving on to smaller—much smaller—pastures. Namely, a three-year-old, family-owned, snout-to-tail brewpub outside Manhatttan called Peekskill Brewery. O'Neil and the Berardi family are transforming a four-story stone building into an artisan brewer's dream-workshop, complete with a gravity-fed system, a "gnarly" cellar, a "spider-filled, Old-World approach to barrel aging" and—wait for it—maybe even a coolship.
What are some of the reasons you decided to leave Ithaca?
For me, it's getting to be really kinda big, and I'm more interested in being more connected with the people drinking the product, or what I consider to be my craft. I like that sort of personal relationship. There's definitely a disconnect that I struggle with in sending beer out 400 or 500 miles away from the brewery. It's all very amicable, and we're all going to continue to be friends.
How did the opportunity come up?
[Owner Keith Berardi] kinda teased it out of me, whether I'd be interested or not. I didn't have to think about it for very long. Like I said, we've had great success at Ithaca, and I've really learned a ton, and growing that brand has been really fulfilling in a lot of ways, but I do struggle with the production mentality. I'm sort of a temperamental-artist type, I don't like to get pigeon-holed into a few brands that you have to just crank out all the time. I'm more into the artistic side of brewing, and the sort of intuitive approach to making beer that's not necessarily grounded in consistency all the time, but searching for the expression that we're wanting to come across. …
When you're trying to make 20,000 barrels of four or five brands, it's really all about hitting the same numbers every time. … But there's something for me that's lost in that, relative to the art of brewing. That said, I totally respect and admire the brewers that run top-notch regional breweries and have total control over what they're doing. It's just a different mindset from where I want to be right now. Have I mentioned how excited I am about this? [laughs]
What was it like to grow along with Ithaca?
It used to be, five years ago when we were at 6 or 7,000 barrels, I'd still have that personal relationship with every fermentation, and I could tell you exactly what was going on everywhere. And as we've grown, you have to delegate a lot of that out. Not that I don't trust the people that we have working on that. But I'll be honest, I'm a control freak, and that's sort of what I like about brewing. There are some things you can control really well and some things you can't control in any way, and it's sort of a balance between chaos and order. I really like to—without being corny—have a bond with every single fermentation that's going on and be the one who's shepherding them along to some extent.
Besides the barrel aging and the coolship, what projects do you hope to tackle at Peekskill?
We'll be able to showcase some of the really high-quality hops they grow at Segal Ranch [John Segal lives near Peekskill and travels to Washington for the harvest—Ed.]. So I'm hoping to do some projects with [Segal] and some of his farmer cohorts where we'll try to have experimental or varieties that are in [the final stages of development]. Hopefully, that'll lead to us using some very new varieties, if not varieties that haven't been fully released. …
Those guys [at Peekskill] have come from high-end New York-area restaurants. Sean Corcoran's [the chef] approach to "cuisine à la bière" is amazing … he reminds me a lot of Sean Paxton, and Alec Lopez from [Massachusetts'] Armsby Abbey. One of the things over my career that I've really loved the most is that bond over beer dinners. It's a really a fun thing to do, to see people enjoying the beer with food, and working with a chef who really sort of gets it is a big deal for me. ■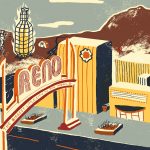 Previous:
Reno, Nevada
Next:
Beware of Homerism