Pantry Panic
BYOB
by
Drew Beechum
| Jul 2012 | Issue #66
Illustration by Ellen Crenshaw
Sometimes you must snatch greatness from the jaws of "whoops." Since I believe in sharing both successes and mistakes, here's how I turned around a recent fumble.
Last summer, I taught a brewing class using my Oatwine recipe. While playing teacher, I lost focus, and the mash got lightly scorched. (Note: Before turning on the mash burner, make sure the pump is moving the wort.) My worry: the carbonized grain would impart a smoky character to an otherwise pale, sweet, rich beer.
Tasting the beer as it went into the keg, there was the telltale faint burnt sensation. Now, I wasn't about to throw out 5 gallons of otherwise great beer. To save the day, I turned to my "brewer's pantry," filled with countless mason jars flowing with various reagents—mostly 4 ounces of vodka mixed with oak, spices, fruit peels, etc. These dime-store mad scientist extracts come in handy for last-minute batch reimaginings.
In the case of the ashen Oatwine, I wanted a flavor that could incorporate the burn, so I chose 2 ounces of French oak cubes that were soaking in tequila. I added them in a nylon sack in the keg and waited 1.5 weeks to taste. The smokiness partnered with the tequila and toasted oak flavors, but now I had to deal with the tequila "oiliness." With a Mexican theme established, I reached for my extracts of Mexican coriander, flaked red pepper and black pepper to provide heat and spice, cutting the slickness.
ONE NIGHT IN TIJUANA
For 5.5 gallons at 1.082, 63 IBU, 6.6 SRM, 9.3% ABV
Malt / Grain / Sugar
12.0 lb. Maris Otter
1.25 lb. toasted flaked oats (toasted at 350°F until nutty, allow to set for 3–7 days)
1.25 lb. Thomas Fawcett Oat Malt
1.0 lb. brown sugar
Mash Schedule
Strike at 138°F for 15 minutes.
Saccharification rest at 153°F for 60 minutes.
Mash out at 168°F for 10 minutes.
Hops
1 oz Warrior (pellets) | 17% AA | 90 minutes
0.75 oz Amarillo (pellets) | 8.2% AA | 5 minutes
0.75 oz Citra (pellets) | 13.4% AA | 5 minutes
Yeast
Wyeast 1056 (for my batch, Eagle Rock Brewery graciously donated a big slug)
Extras
Extracts can be made by soaking the spices in 4 ounces of vodka for at least two weeks, shaking every day to mix.
2 oz French oak beans soaked in tequila (mine were about 6 months old)
2 oz Mexican coriander extract (by volume) – (2 oz of coriander, by weight, roughly cracked)
20 drops red pepper extract (2 tbsp red pepper flakes)
20 drops black pepper extract (30 whole peppercorns) ■
Previous:
Arctic Ale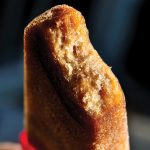 Next:
Mexican-Style Paletas