Spice & Everything Nice
Party-Gyle
by
Cathy Erway
| Dec 2012 | Issue #71
Wish you could have the holidays your way, instead of some carnival of family dysfunction that rears its ugly head each year? This month, host your own holiday party, with all the things that make season's greetings sweeter. I'm not just talking about cookies, but malty winter beers.
Spices are nice for baked goods, but how well do they really work in beer? It seems this question is put to the test each holiday season. Even if a beer doesn't have the word "holiday" in its name, there are plenty of spicy, toasty and full-bodied beers that fit the bill for festivity this time of year.
When throwing a holiday bash, focus on a celebratory main course that can feed a lot of people with little work. A good roast of ham is an excellent pairing for beer, and is extremely flavorful thanks to the smoking and curing process that's already built in. Baste the hunk of beast with maple syrup, brown sugar or honey, and if you like, stab the outside of it with cloves, too. (Don't forget to score the outside skin of the ham in a cross-hatch pattern first, to create more texture as well as individual squares to place each clove in.) While the ham is in the oven, whip up a variety of favorite side dishes (it's not Thanksgiving anymore, so you can pick whatever you like), and a no-fuss platter of really good cheese, meats and terrines. Desserts are the most likely dish for people to bring, and it's also the easiest to transport. So get on somebody's case for those cookies and pecan pies. If it doesn't happen, there's always ice cream to store in the freezer, and who could complain about that?
Rather than spending your energy decking the halls before your party, share the experience of adorning your home with your friends and family, which makes it much more memorable anyway. When the house is staged, you'll be set to endure whatever other holiday events are before you in style. And through it all, you might just find that gatherings of any kind are made through your own mood—so be nice, and spread the cheer this year.
Classic winter beers:
Young's Winter Warmer (England)
Samuel Smith's Winter Welcome Ale (England)
Schloss Eggenberg Samichlaus (Austria)
Affligem Noél Christmas Ale (Belgium)
New-school versions to try:
Wychwood Hobgoblin (England)
Sierra Nevada Celebration Ale (California)
Schlafly Christmas Ale (Missouri)
Ommegang Abbey Ale (New York)
Deschutes Jubelale (Oregon)
Innis & Gunn Winter Beer (Scotland)
• Have guests help decorate the Christmas tree with ornaments, including lighting—yes, it really does take a few hands to set up the lights so that they actually work.
• Make mistletoe and garland arrangements by setting out a table with spruce clippings, pinecones, bows and twines. People can take their creations home, too.
• Hold a "stuff I don't want" swap, in order to recycle the crap you've been hoarding in your closets. Those books, candles, picture frames and other small gifts are great for regifting. Box up whatever's not taken from the night to bring to a local charity gift drive.
• Ugly Tie / Ugly Sweater Contest: Make your guests dress down to the nines! See who's got the most hideous holiday gear in their closets, and have 'em bring it out for bragging rights in a little fashion show for laughs. ■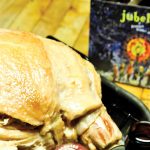 Previous:
Holiday Ham
Next:
The Happy Gnome in St. Paul, Minnesota