Seared Palate
| Lawson's Finest Liquids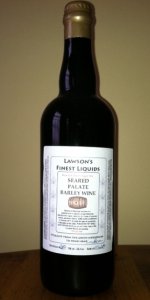 BEER INFO
Brewed by:
Lawson's Finest Liquids
Vermont
,
United States
lawsonsfinest.com
Style:
American Barleywine
Alcohol by volume (ABV):
13.00%
Availability:
Limited (brewed once)
Notes / Commercial Description:
A blend of 3 barleywines aged for 14 months in makers mark. 280 bottles.
Added by rowingbrewer on 12-18-2011
This beer is retired; no longer brewed.
Reviews: 15 | Ratings: 48

3.88
/5
rDev
+1%
look: 3.5 | smell: 4.25 | taste: 3.75 | feel: 4 | overall: 3.75
750ml bottle waxed, #'d out of 280. Forgot to write down exact # of bottle. Reviewed from notes from our barleywine tasting. Thanks JD for bringing this Lawson's rarity.
A- Pours a murky opaque dark amber ruddy brownish color with a bit of an orange/red hue to it, almost looks like a cider, no head or really any lacing to speak of (just some oily alcohol legs) and not much carbonation.
S- Lots of fruity esters, with some apple and a mixture of other fruits (hard exactly to describe). Fruity ester quality hides the booze nicely, some cedar but not much bourbon present. Decently aromatic.
T- Fruity with apples being the most prevalent, some cedar and oak, some faint bourbon on the finish with a light bitterness. Overall fairly sweet, but not quite as flavorful as some of the other barleywines we had during our tasting and after a few sips the taste gets a little bit rough, almost tastes slightly estery and artificial like.
M- Decently smooth, almost uncarbonated, very easy drinking, overall decent feel for a 13% barleywine.
O- At first I actually kind of liked this barleywine. It had a lot fruitier tone going on with it than most of the other barleywines. The fruity ester notes in the smell actually made it smell fairly appealing, but the more I drank it the less I liked it. Overall it wasn't bad and I enjoyed this but if Lawson's bottles this again, this is the one beer I wouldn't mind being in 375mls or even nips. I still prefer the maple BA beers. If you can get it, I'd recommend trying it but don't go crazy looking for it.
1,555 characters

4.09
/5
rDev
+6.5%
look: 3.75 | smell: 4 | taste: 4.25 | feel: 4 | overall: 4
750ml waxed bottle into a couple of snifters. Rare Batch 250. Bottle # 147/280. Huge thanks go to Stakem for hunting this one down for our tasting. Deep ruby with a thin foamy head of light mocha froth. This eventually peters out pretty quickly. Smells of brown sugar, coconut, cocoa, molasses, herbal hops, spicy warmth and some dry woody edges. The taste is similar to the nose with rich notes of brown sugar, cocoa, toasted coconut, molasses, vanilla, herbal character, fruity green apple and charred barrel flavor that lingers in a burnt feeling finish. Well you can't say this isn't complex! The feel is full and chewy with a light prickliness an oilier presence along the back. The alcohol is initially a little brash but does smooth out the more I work on this. While it's still got some rough edges, I think this it is already doing better than it was a year ago based from the reviews on here. If you still have a bottle, I'd give it another year or so before dipping in but this seems to be coming along nicely so far.
1,036 characters
4
/5
rDev
+4.2%
look: 4 | smell: 4 | taste: 4 | feel: 4 | overall: 4
750ml bottle dipped in gold wax. "Rare Batch 250" bottle number 147 of 280. Big thanks are owed to Kegatron for the recent tasting of some epic Lawson's brews. This was all I had to bring to the table and it paled in comparison to the other offerings sampled. Poured into a matching Lawsons snifter, the brew appears a clouded amber to mahogany with a rich yellowish stained froth sitting across the top more than a finger strong. For a brew of this strength, the cap retains decent collapsing down to a few big bubbles around the edges. When held to the light, it is lighter almost orange to yellowish around the edges with ruby hints through the body. When swirled, legs of alcohol coat the glass and slowly droop back down to the solution.
The aroma is filled with notes of fruity alcohol. Burnt raisins come to mind coupled with a faint inclusion of herbal hops that have a slightest edge of orange rind/zest/pulp. The alcohol gets to be a big solvent at times with a mild almost oxidative touch minorly like cardboard mixed with some dry oaken properties. Faint earthy feel is felt in the nose towards the back as it warms up and less focus on alcohol is emitted.
The taste is boozy with a combination of fruity alcohol esters paired with some rich whiskey inducing notes. Despite the alcohol burn, the fruitiness that is present gives a bit of hop feel to this that gets a bit herbal at times. Just like the aroma led on, this also has a bit of oxidation present that gives a hint of cardboard or wet paper and finishes a bit earthy and raw like wood and oak instead of used smooth barrel presence. It displays a modest amount of bitterness but never crushes the palate or becomes too taxing.
This is a medium bodied brew with a modest amount of carbonation. It is quite boozy and bitter but not bad by any stretch compared to what I was expecting based on previous reviews. It didn't have the biggest barrel presence but what was there was subtle and nuanced enough to add a nice complexity to this brew that was enjoyable. When I think American barleywine, I sometimes expect a double or imperial IPA with super exaggerated alcohol and face crushing hoppiness. Fortunately, this brew was not that at all and if given the chance I would drink it again.
2,263 characters

3.41
/5
rDev
-11.2%
look: 4 | smell: 3 | taste: 3.5 | feel: 3.5 | overall: 3.5
5/1/2012
A: Dark reddish brown with a long lasting beige head.
S: Apple and toffee with light bourbon notes that are overwhelmed by alcohol. There's lots of oak with a little caramel.
T: Boozy apple toffee with a whisper of vanilla. The beer gives the impression of astringent apple skins with light caramel. This is very boozy with a moderate earthy bitterness. The finish is tannic and alcoholic.
M: Medium body with upper medium carbonation. The mouthfeel is smooth and sticky with evident warming.
Overall: This is just okay. The beer seems to have picked up a lot of harshness from the barrel, or else it was just harsh to begin with and the barrel did nothing to improve it. Not worth seeking out. I'm really glad I didn't trade for this.
749 characters
4.25
/5
rDev
+10.7%
look: 4 | smell: 4 | taste: 4.5 | feel: 4.5 | overall: 4
Recently picked this up in Vermont thanks to Iwantmorehops.
Batch 250 bottle 10 of 280
A small amount of foam appears as you pour and then forms a ring around the glass that remains for quite some time. The beer is the classic barleywine color complete with burgundy tones. Some suds stick, which is more than I can say for most barleywines. Not sure I'd call it lace.
Aroma actually initially reminded me of an aged DPA. Some ripe pineapple, some oak, some toffee perhaps.
Lots of toffee up front., more vanilla in the flavor vs. the aroma, some oak here as well. Seems like it's going to be sweet initially and then it mellows into some nice complexity. I wasn't sure about the first sip, but this is quickly growing on me. I am guessing that this had a more pronounced hop presence when fresh. There is still a nice amount of hop bitterness, but it's mellowed enough to meld nicely with the bourbon, toffee and malt notes. I had heard this was boozey, but this seems to be coming into it's own. You can sense the abv, but it's warm and inviting.. NOT hot. As I continue working through the glass I get some toasted coconut flavors.
Not sticky, but fairly thick body. Lays a little oily on your tongue. As mentioned a nice warming sense. A nice beer to savor over an evening.
To be perfectly honest, my expectations were tamped down a bit by some of the previous reviews. Due to my love for Lawson's and Bourbon aged Barleywines I still needed to try this. I am really happy that I did so. I've never had it, but I would almost guess that Bourbon Barrel Aged Bigfoot tastes a bit like this.
1,614 characters
4
/5
rDev
+4.2%
look: 4 | smell: 4 | taste: 4 | feel: 4 | overall: 4
A: Poured a light caramel color with decent carbonation presenting a nice white cap
S: A mix of bourbon, toffee, caramel and vanilla goodness
T: Flavor is unique. As others have stated it seems to be a bit muddy on the tasting notes at times but nothing so bad that I would kick out of bed or my cellar. Bourbon and toffee are pretty noticable, light brown sugar, some citrus hops and light wood. A nice warming booziness throughout with a great amount of hop bittering, booze and sweetness to sear the palate
M: Warm, big body, sticky sweet, sits well on the palate
O: Very good, eventhough I felt the tasting lines were blurred it still tasted exceptional!Seared palate indeed.
683 characters

3.5
/5
rDev
-8.9%
look: 3.5 | smell: 3.5 | taste: 3.5 | feel: 3.5 | overall: 3.5
Thanks Starr, served in a snifter.
Beer is amber / brown with a lot of haze, thin head, almost no carbonation or bubbles at all, low retention.
Aroma is strong, boozy, bourbony, very strong.
Beer is strong, sweet and boozy, not very well integrated at all, very strong palate and a little harsh. I don't think I'd have this again, just a bit much for me.
357 characters

3.53
/5
rDev
-8.1%
look: 4 | smell: 3.5 | taste: 3.5 | feel: 3.5 | overall: 3.5
Thanks to Starrdogg
Appearance: Toffee-brown, small head and lacing
Smell: very boozy, bourbon, oak, molasses, toffee and vanilla
Taste: Again, quite boozy an woody, but the booze is a bit too outright and not integrated. Perhaps need a bit more age
Mouthfeel: medium body and mouthfeel
Overall: good barley wine, but not able to complete with any of the new super-fferings.
375 characters

3.47
/5
rDev
-9.6%
look: 3.5 | smell: 4 | taste: 3.5 | feel: 2 | overall: 3.5
into a cigar city snifter.
A - brown/red in complexion, with virtually no head to speak of and a tiny bit of lacing.
S - Very pronounced oak smell, with slight notes of some green apples that i saw others notice. Some bready malts, as to be expected.
T- the oak is very overpowering, and i'm instantly regretting not aging it "for decades" in the cellar as the label instructs you to do. Im definitely gonna take his word for it from now on in that regard. Despite the heavy oak flavors, still pretty tasty. Just not at its full potential.
M- this was by far the worst part for me. This beer was razor thin. Thinnest mouthfeel i've experienced thus far in a barrel barleywine. For me, a higher viscosity could've saved this beer.
O- perhaps i've been spoiled by being able to try some of sean's other beers. That, or maybe its because i recently had King Henry and was comparing it to that through no fault of my own. I just thought this didn't really deliver when contrasted with some of Lawson's other offerings, all of which i loved. However, still worth getting in my opinion!
1,089 characters
3.7
/5
rDev
-3.6%
look: 4 | smell: 4 | taste: 3.5 | feel: 4 | overall: 3.5
750 mL bottle shared by Mr. Starr.
Pours a cloudy rust brown with a thin off white, cream head that settles to a thin ring and minimal lacing. Very hot, boozy aroma. Alcohol, oak, molasses and vanilla dominate with minimal malt or fruit presence. Bourbon dominates at the start of the palate and a dry, woody taste controls the finish. More fruit than the nose mid palate, but the typical bw malt profile that balances out the barrel is sloppy and not always apparent. Medium thick, rich sticky body with a dry, oaked finish. Given the quality of the Lawson's stouts and Maple Tripple, this is a disappointment, but I'll be happy to give this another year or two before trying again (though I wouldn't expect a massive improvement).
733 characters

3.77
/5
rDev
-1.8%
look: 3.5 | smell: 4 | taste: 3.5 | feel: 4 | overall: 4
Thanks to starrdogg for sharing this bottle. Served in a snifter.
Pours a moderate brown-caramel color with a thin off-white head and just a few spots of lacing. The nose carries a bit of bourbon and wood with some molasses and toffee-like sweetness in the background. Flavor is similar, though not quite as integrated. The bourbon and backing malt never quite mesh, as the bourbon stands out and the malt is more of just a sweetness to the background. Feel is nice and smooth; very rich. Very good overall.
508 characters

3.28
/5
rDev
-14.6%
look: 4 | smell: 3.5 | taste: 3 | feel: 4 | overall: 3
Thanks to lurchingbeast for bringing this to my birthday drink-off.
A - Brown/red beer, a bit cloudy. Had an off-white head that dissipated to a thin ring.
S - Oak, apples, smell of some solvent/alcohol. Sweet with some dark fruit. Not exactly what I was expecting, and seems a bit heavy-handed.
T - Taste is somewhat muddled to me. People said it was hot, but I didn't really find it hot. There's a lot of apple taste in here, that combines with a bit of solvent. A bit of oak and come toffee. My big problem with this beer was just it reminded me a bit a somewhat muddled apple cider. As this beer warmed up, I started to get a bit more of the alcohol heat that hte others were mentioning, but still only found it a little bit hot. While not bad tasting, I didn't find anything particularly distinguishing or memorable about this beer.
M - Heavier side of medium bodied, decent carbonation, a bit sticky.
O - Fairly middling Barleywine that may get a little better with time, but as the taste itself was the problem for me, I kind of doubt it. Glad I got to try it, but given what is being asked for this beer I wouldn't bother acquiring one.
1,149 characters

3.78
/5
rDev
-1.6%
look: 4 | smell: 3.5 | taste: 4 | feel: 4 | overall: 3.5
Thanks to Frank (lurchingbeast) for this one. Part of our good beer/bad beer tasting. Poured into Bell's tulip.
A - Pours a rusty copper color, cream-colored head, thin ring.
S - Sweet & boozy, burnt sugars, oak, dark fruits. The 13% isn't hidden very well, if at all, but the sweetness helps somewhat. Doesn't smell "bad" by any means, just really hot.
T - Not quite as boozy as the nose. That said, still lots of hot alcohol notes, burnt sugars, caramel, and oak. I liked this more more then the others at our tasting. That said, I think this one needs some time in the bottle to smooth out.
M - Medium, good carbonation, sweet syrupy finish.
O - A decent barleywine, but I think it really needs some time before this huge booze-bomb smooths out. Hope to try again in the future to see how this ends up. Good.
816 characters

3.51
/5
rDev
-8.6%
look: 4 | smell: 3 | taste: 3.5 | feel: 4.5 | overall: 3.5
Thanks to lurchingbeast for sharing. Forgot to copy down the bottle # and associated info, but it was from the recent batch of 280 bottles. Served in a Captain Lawrence tulip.
A - A thin white foam settles to a thin ring and tiny spots of lace. Typical hazed brown-red barleywine body.
S - Lots of alcohol here - hot bourbon and solvent aromas galore with a hint of nail polish as well. There's some green apple, oak, and toffee flavor in the periphery, but this is extremely boozy.
T - Thankfully the taste is significantly mellower, with stronger maple and toffee malt sweetness to it. There's some apple character too, which evokes caramel apples, but otherwise this is surprisingly subdued. Bitter walnut alcohol flavor crops up in the finish, but manages to stay out of the flavor otherwise.
M - Full-bodied, with a smooth, chewy texture. Lower carbonation, and a bit of alcohol warming but nothing excessive for 13%. By far my favorite thing about this beer.
D - This was a big disappointment for me. The aroma is incredibly brash and unrefined, yet the flavor is somewhat dull. Not sure how this will age, but it's way too heavy on the alcohol and apple flavors at the moment for me to enjoy it. Bourbon Fayston's got significantly better, so perhaps this will as well. Reminds me of the one extremely poor vintage of Arctic Devil a bit.
1,349 characters

4.92
/5
rDev
+28.1%
look: 4.5 | smell: 5 | taste: 5 | feel: 4.5 | overall: 5
sampled from one of the 280 bottles produced at the farmers market release
The samples were already poured out when I arrived, so i can not attest to what kind of head the beer will have, but it pours a nice brown color with a reddish hue. the smell is inviting, a nice bourbon smell that was not overpowering or boozy with hints of toffee and oak. the flavor is probably the best balance I have ever had in a barrel aged barleywine ( i know a lot of people lean towards the OMG in your face bourbon flavor) The bourbon flavor comes through up front with very little alcohol boozyness, followed by hints of oak and toffee, there is a moderate sweetness to the beer which is how the beer finished. the mouthfeel is a little thinner than I would have expected, but i felt like the level of sweetness was just right, there was a little less carbonation that expected as well, but the sample was sitting out before i got to it, so it likely lost some while it was out. overall this is probably the most well rounded barrel aged barleywine i have had, i really can't wait to see how this one ages.
1,095 characters
Seared Palate from Lawson's Finest Liquids
3.84
out of
5
based on
48
ratings.