Natür Helles

von Trapp Brewing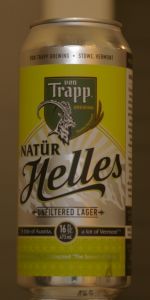 Write a Review
Beer Geek Stats:
| Print Shelf Talker
Style:

ABV:

4.9%

Score:

88

Avg:

4.07

| pDev:

6.14%

Reviews:

14

Ratings:

From:

Avail:

Retired (no longer brewed)

Wants

Gots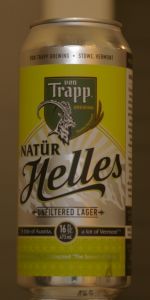 Notes: This specialty release was brewed by JP Williams in honor of the 50th Anniversary of America's first cross country ski touring center, created at the Trapp Family Lodge by Johannes von Trapp. Brewed colder and longer than a typical Helles, this style is known in Europe as a "Hell Naturtrüb"

20 IBU
3.77
/5
rDev
-7.4%
look: 4 | smell: 3.75 | taste: 3.75 | feel: 3.75 | overall: 3.75
A thanks to the founding father of the canquest, woodychandler, for this beer. Poured from a 16 oz. can. Has a golden color with a 1/2 inch head. Smell is of bready malts. Taste is bready malts, some lemons, a bit hoppy for the style. Feels medium/full bodied in the mouth and overall is an enjoyable beer.
306 characters

4.09
/5
rDev
+0.5%
look: 4 | smell: 3.75 | taste: 4.25 | feel: 4 | overall: 4.25
A: slight haze; pale gold in color; 1 finger finely pored white head that receded to a wispy cap; nice lacing;
S: bread, grass, and a little spice;
T: predominantly bready from start to finish; a little lemon and grass toward the end; mild bitterness on the finish;
M: light to medium bodied; moderate carbonation; moderately dry finish;
O: easy drinking; very enjoyable;
375 characters

4.11
/5
rDev
+1%
look: 3.5 | smell: 4.25 | taste: 4.25 | feel: 3.75 | overall: 4
I love going to Hunger-n-Thirst for a number of reasons: 1) They always have a great selection on tap; 2) They treat me well; 3) They take spent bottle 6-pack carriers off of my hands since they are anathema to The CANQuest (tm). It also gives me a ChANce to peruse their well-curated bottle shop, where I CAN usually find enough new CANs to keep me satiated until my next visit. This one was from their Black Friday event.
From the CAN: "Unfiltered Lager"; "'A little of Austria[,] a lot of Vermont'"; "By the family that inspired 'The Sound of Music'"; "This is Helles in its most natural form. We use colder fermentation and longer lagering times to give this unfiltered lager bready aromatics, a crisp and peppery finish, while maintaining the complexity of our traditional Helles style."; "Brewed on the grounds of Trapp Family Lodge in Stowe, Vermont, this lager is crafted with the finest traditional ingredients and our pure Vermont spring water."; "IBU[:] 20".
I was kinda dubious as I Crack!ed open the vent on this one so I went with a slow, gentle C-Line Glug in the hopes of getting clarity as a result. My hopes were quickly dashed & as such, I let it flow rather freely until it formed two-plus fingers of dense, foamy, rocky, bone-white head with excellent retention. Color was an oh-so-slightly-hazy Yellow-Gold (SRM = 4 - 5). Nose was very biscuity with a light grassy, hay-like hoppiness. Mmm. Mouthfeel was medium, but big for a Lager-style beer. I disagree with their mention of "bready aromatics" as this had a less-sweet biscuitiness along with the aforementioned grassy-hay-like hoppiness. This was the kind of thing that CAN absolutely fill my beach-bound cooler in the Summer! That said, I wish that the finish had been a bit more peppery as advertised. I got it, but I was hoping (expecting?) something akin to a Rye finish & this just did not measure up, IMHO. YMMV.
1,898 characters
4.01
/5
rDev
-1.5%
look: 3.5 | smell: 3.75 | taste: 4.25 | feel: 4 | overall: 4
L: hazy cloudy yellow with mild carbonated head and lace
S: clean crisp and more subdued aroma
T: follows taste
F: like a cold spring mountain water feel
O: very nice, cool refreshing and gratifying
199 characters
4.26
/5
rDev
+4.7%
look: 4 | smell: 4.25 | taste: 4.25 | feel: 4 | overall: 4.5
Can from The Market
A mildly hazy light yellow with a dense, white head with good retention and lacing, this looks good. The nose is soft, mildly sweet, a little bready, with a light lemon and honey note to go with a delicate doughy depth. The palate opens firmly bitter with a light lemon hop character tempered by a light honey sweetness, a doughy, grainy depth and finishing with a floral and lightly citrus hop character. Exceptional balance. Drying yet medium-full in body, crisply carbonated, this is refreshing. Excellent.
532 characters

4.53
/5
rDev
+11.3%
look: 4.5 | smell: 4.5 | taste: 4.5 | feel: 4.75 | overall: 4.5
Canned, best by 11/05/19. Picked it up at the Hunger Mountain Co-op in Montpelier.
A "new" Helles? From von Trapp?? Sign me up! Has all the quality and delicious aspects you expect from this style and this brewery. Clearly the extra treatment added a depth of flavor and character that make it even better than their already tasty traditional Helles.
354 characters

4.06
/5
rDev
-0.2%
look: 4 | smell: 4.25 | taste: 4 | feel: 4 | overall: 4
16oz can purchased at the brewery. Pours a clear straw color with an inch of head that disappears quickly. Zero lacing. Sweet, bready aroma with some honey, hay, cut grass and maybe a hint of floral hops. Doughy, bready taste with some notes of pepper, hay and grassy hops. Notes of honey. Malty, bready finish with a crisp bite. Light body with a moderate amount of carbonation.
379 characters
4.35
/5
rDev
+6.9%
look: 4 | smell: 4 | taste: 4.5 | feel: 4.5 | overall: 4.5
Pours golden with moderate levels of haze, this is an unfiltered lager after all.
Enticing aromas of honey and unsweetened graham cracker crust.
It tastes like a honey based bread with enough hops to cut the sweetness throughout to keep it from being too malt forward. There's a nice crackery drying finish that I feel like is mostly in German brewed lagers, but not most US made lagers.
It is a touch thicker and heavier than a filtered helles.
Honestly, this might be my favorite beer from Von Trapp besides Trösten.
523 characters
4.02
/5
rDev
-1.2%
look: 4 | smell: 3.75 | taste: 4.25 | feel: 3.75 | overall: 4
16 oz can, best by 11/05/19.
I had completely forgotten about this summer release from Von Trapp. What a pleasant surprise when I saw it on the shelf at my local shop!
Pours pale gold with a moderate white head comprised of big bubbles. Excellent clarity with the slightest bit of haze. Bready, grainy, cereal-like pilsner malt in the nose, balanced nicely with herbal hops.
The taste is a little spicier compared to the regular Helles. Pretty good balance between the malt and hops but there is a lingering bitterness from those spicy/peppery hops. Medium-light bodied and smooth.
The last batch of the regular Helles that I bought in cans was so on-point and dialed in, that maybe my expectations for this were a little high. This is a very good unfiltered lager but I don't think it stands out as an marked improvement over the regular version.
857 characters

4
/5
rDev
-1.7%
look: 4 | smell: 4 | taste: 4 | feel: 4 | overall: 4
A: Pours a golden orange color with 2 fingers of head that fades down to a thin cap
S: A mix of grassy and floral hops, bread, and some light caramel. On the sweeter side
T: Follows the nose. Starts off with the floral hops and bready malt and slowly moves into the grassy notes and sweeter caramel. The hops hold the sweetness in check. Finishes with lingering bread and floral hop notes
M: Medium bodied with moderate carbonation
O: A very nice, refreshing helles that is super easy to drink. The extended layering definitely helps to round out any sharp flavors and adds to the drinkability even more. Well done
618 characters
4.18
/5
rDev
+2.7%
look: 4 | smell: 4 | taste: 4.25 | feel: 4.25 | overall: 4.25
Consumed 3/17/18
A: Pale golden yellow - clear with some slight haze - pours with a medium size, bright white head, fades to a wispy cap, retains a small collar, leaves some streaks of lacing
S: Bready with some floral notes and spice - lager yeast aroma with some spiciness and pepper, more prominent than in von Trapp's "normal" Helles - flowery and grassy hops - pale malt base, Munich malt, bread, bread dough, biscuits, hints of bread crust, caramel - some light fruits and a touch of earth
T: Bready and refreshing - probably not particularly meaningful, but overall this is more "rustic" tasting than von Trapp's normal Helles - bready, with some fresh baked bread, bread dough, biscuits, the inside of a pretzel, some bread crust - pale malts, with just a hint of caramel - light sweetness - lager yeast flavor, some spice, pepper, earth - mild sweetness, mostly clean finish
M: Light body, smooth and mostly crisp, medium carbonation, super drinkable
O: Helles, naturally
I have been a fan of von Trapp's standard Helles since I first tasted it, and this is a nice riff on the recipe. I'm not really sure if the recipe is even different here. The yeasty flavors are a bit more prominent, and the finish is a little less clean due to what feels like some residual sugars. My only regret about this beer is only buying one can when I was in VT. I assumed this would be distributed everywhere... Regardless, this is fun but I enjoy the standard better. I hope they release that in 16oz cans.
1,503 characters
4.29
/5
rDev
+5.4%
look: 4.5 | smell: 4.25 | taste: 4.25 | feel: 4.5 | overall: 4.25
This one pours a very slightly hazy straw yellow, with a fluffy head, and lots of lacing.
This smells like soft bready malt, floral hops, sweet malt, and light fruitiness.
Unexpectedly, this is very nice. It tastes so soft, with a nice bready and doughy malt character, a bit of clean grassy hop bitterness, flowers, and a very light fruity sweetness. This is so sturdy, I could drink this by the gallon.
This is light, crisp, and fruity, with a solid level of carbonation, and a very high level of drinkability.
This is a nice little step up from their usual helles. It's a very well constructed beer.
606 characters

4.24
/5
rDev
+4.2%
look: 4 | smell: 4.25 | taste: 4.25 | feel: 4.25 | overall: 4.25
Poured into a lager glass, the appearance was a nice bright yellow color with a sturdy transparency about it. Nice looking two finger white foamy head started and slid off at a mild pace. Some lace ran here and there with one ring around the top.
The aroma had a clean biscuit to floral and freshly cut grassiness riding into each other fairly nice.
The flavor was basically the same - taking the sweet to the floral to grassy and melding into the malts fairly nice. Very mobile and clean malty aftertaste.
The mouthfeel was between light and medium bodied with a clean sessionability about it. Carbonation felt nice. ABV felt on par. Super nice clean crisp biscuity finish.
Overall, very nice Munich Helles, but then again, look who we're talking to. Of course, Von Trapp knows how to get this done.
800 characters

4.21
/5
rDev
+3.4%
look: 4 | smell: 4.25 | taste: 4.25 | feel: 4 | overall: 4.25
Canned this afternoon, 12/15/17.
I couldn't wait to crack this and I did!
Moderate to vigorous pour yields a 1/2 inch white head over a fairly bright body with some lacing. Head dissipates after a few minutes and comes back with a swirl or two. Nose of cracker, light malt, bread, and faint floral hop characteristics. Nice bready flavor with a tiny bit of sweetness and a nice, crisp finish. Good feel and overall, I can't wait to drive up the hill and enjoy this at the von Trapp Bierhall with a side of their sauerkraut mashed potatoes. Cheers!
548 characters
Natür Helles from von Trapp Brewing
Beer rating:
88
out of
100
with
34
ratings