Brew Club Brew
BYOB
by
Drew Beechum
| Aug 2014 | Issue #91
Illustration by Ellen Crenshaw
When I was a neophyte, I dove head first into every brewing book I could find, stuffing my head full of as much knowledge as possible. But I learned the most when I invited myself over to folks' houses to spend the day brewing and absorbing their techniques.
Many of us treat brewing like a solitary act and can't see intruding on someone else's session. And yes, the addition of others can disturb one's zen-like flow. Remember though, for most of history, brewing was taught through apprenticeship. Showing is a massively effective way to teach the craft.
With this in mind, the Maltose Falcons recently held our first "Brew with a Falcon" day. The idea: veteran members would volunteer to open their brewery for a session on a set date. Members signed up online and hosts decided what they wanted to teach and share. At my house, 19 visitors got a lesson in brewing Saison, splitting batches and pressure canning starters. Other sites offered lessons in triple-decocted Bohemian Pilsner, IPA and building and using a one-barrel semi-automated brew rig. In the end, 40 brewers enjoyed good beer and food.
Many clubs already have an open brew day where they work in the parking lot of their brewshop or brewery, but I think they all miss something. The "Brewer's Uncertainty Principle" states that when you change anything in your process, including location, you can change your brew. The very act of not brewing at home means you're not brewing like you always do.
CASA VERDE RYE SAISON (with Dark Lemon variant)
For 10.0 gallons at 1.061 OG (1.067 variant), 55 IBU, 4.8 SRM (8.4 variant), 6.3–6.8% ABV
Malt Bill
22.0 lb. Pilsner Malt
6.0 lb. Rye Malt
2.0 lb. Belgian Caramel Pils (C-8)
Mash
Mash in at 150°F for 60 minutes.
Hops
2.00 oz Magnum | 12.2% AA | 60 minutes
2.00 oz Citra | 12.0% AA | 0 minutes
(whirlpool for 10 minutes)
Yeast
Wyeast 3711 French Saison
Variant
After chilling half the batch, shut off the transfer and add 1.0 oz of "Experimental Lemon Zest" hops (Yakima Valley) and 1 lb of dark amber candi syrup. Whirlpool and wait 10 minutes before chilling the second half. ■
Previous:
Berliner Braunbier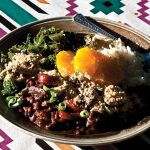 Next:
A Taste of Brazil with a Splash of Beer