Lovin' from the Oven
Cooking with Beer
by
Michael Brodeur
| Jun 2007 | Issue #6
Beer bread is practically amazing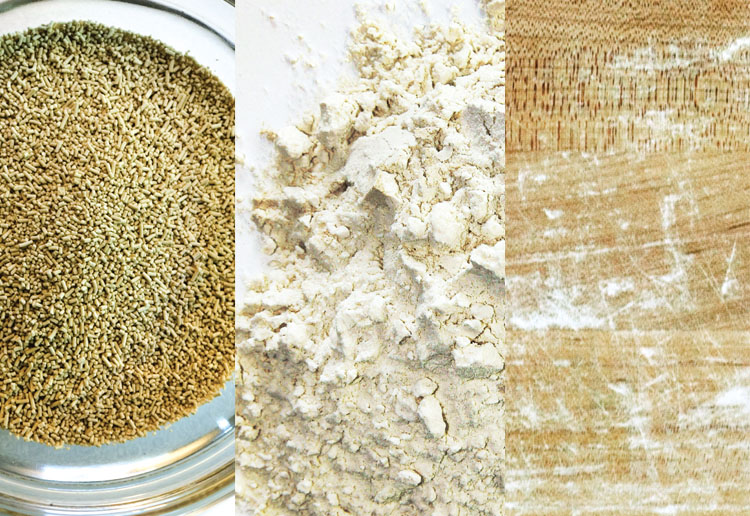 Photos by Martin Thiel
The next time you settle in to read your issue of BeerAdvocate from cover to cover, trying doing this first: Mix three cups of flour, a tablespoon of sugar, another tablespoon of baking powder, a teaspoon of salt and one full can of your favorite everyday beer. Form it into a loaf, throw it in a loaf pan, toss the pan in the oven at 375°, and by the time you get to this article, you'll know exactly why I'm all about beer bread.
For many people, bread is the stuff of life; for most of you folks, that title is reserved for beer. Now, imagine a divine confluence of the two—one that you can sop up soup with, perched a poached egg on or simply savor all by itself. For novice cooks, the realm of baking stands as the final frontier, reliant as it is on all sorts of advanced chemistry. There's a fine line between a delicious loaf of fresh bread and a frightening blob of dough gone horribly awry. Happily, any beer lover will find the alchemy behind beer bread reassuringly familiar. In brewing, it's the yeast, as we know, that turns sugars into our beloved alcohol; in beer bread, this alcohol is burned off in the baking process, but the end result is an extremely practical bread that perfectly captures the slight sweetness and yeasty, malty appeal of beer. And you can bust it out in your Toast-R-Oven. It doesn't get much easier than this.
Beer bread certainly isn't anything new—the development of beer and bread have always gone hand in hand. Lately, though, there's been something of a beer bread renaissance afoot. Plenty of restaurants reliably stock simple beer breads for their unique and subtle flavors—the Saltgrass Steakhouses all over Texas, for instance, regard their dark, malty Shiner Bock bread (an extraordinarily simple recipe) as an emblematic taste of the region. Elsewhere, variations on the fundamental recipes are as easy to find as they are to make—a handful of shredded Asiago cheese can add extra richness and savory flavor; a fistful of lightly chopped dill can up the tang quite a bit; almonds and ginger can add complexity, while a half-cup of chopped bacon can go straight for your Pavlovian vulnerabilities. Switching up your flour can work well too—a dark ale incorporated into a pumpernickel bread can send you into a straight-up carb binge; or try teaming a Smoked Porter with a dark rye. Heaven awaits, provided you have a pat of butter.
Esteemed beer chef Lucy Saunders (of beercook.com) is especially enthused about employing beer in flatbreads—the recipe we've included can even be made on the grill. For summer grilling, the sweet hazelnut notes of this crispy flatbread jive perfectly with grilled beer-marinated vegetables; and it works just as well for cleaning your plate once that big hunk of juicy steak has been polished off.
Just remember: rules are rules. Once you find a recipe that intrigues you, follow it. Saunders warns against "overproofing" (letting it rise too long)—which causes the natural fermentation to "go on a wild ride," abusing precious glutens and resulting in a boozy-smelling blob of unusable dough. Not good. Overkneading is a bad idea as well—and at the risk of sounding obvious, so is overbaking. The real hazard, however, is overeating. Keep in mind, a good beer bread may taste like a slice of heaven, but it's still a loaf of bread!
Shiner Bock Beer Bread
Submitted by the Saltgrass Steakhouse saltgrass.com
As needed egg wash (whisk 1 egg and 1 Tbsp. water)
6 Tbsp. Shiner Bock beer (room temperature)
3 tsp. Molasses
3 Tbsp. Cooking oil
2/3 cup Warm water
2 cups All-purpose flour (9 oz. wt.)
1 cup + 6 Tbsp. Whole wheat flour (6 oz. wt.)
1-1/2 tsp. Salt (3/4 oz. wt.)
Active dry yeast (3 ea. oz. env.)
Pre-heat the oven to 350°.
In a bowl, combine beer, molasses, oil and water.
Fit stand mixer with a dough hook. In mixer bowl, combine both flours, salt, and yeast and mix on medium speed for 2 minutes.
Add liquid ingredients and mix until dough starts to pull away from the sides of the bowl and the surface is smooth (about 12 minutes).
Remove the dough and place in a lightly oiled bowl. Cover with plastic and place in a warm spot (85–100°) until doubled in volume (time will depend on activity of yeast).
Punch down the dough, divide in quarter, and shape each into ball. Place the dough balls on a baking sheet lined with parchment paper. Cover with a moist kitchen towel, return to warm area, and let rise 15 minutes.
With a very sharp knife (or razor), cut an "X" into the top of each dough ball, 1/4" deep. Cover the bread again and let rise until 1-1/2 to 2 times original size (should be 5" wide x 3" high).
Brush the top and sides of the loaves with egg wash.
Bake in a 350° oven until well browned (about 12 minutes); rotate half-way through cooking.
Let cool uncovered for at least 30 minutes before covering. Store at room temperature.
Grilled Herbed Hazelnut Ale Bread
Submitted by Lucy Saunders beercook.com
A good Brown Ale will make the dough both flavorful and slightly sticky, so be sure to oil your hands before forming the flatbread. Grill on a preheated baking stone for even browning. If you don't like sage, substitute another herb such as dill or thyme.
1 cup Chopped hazelnuts
12 oz. Brown Ale
2 Tbsp. Brown sugar
2 1/2 tsp. Rapid-rising dry yeast
(1 envelope) 1-1/2 cups Whole wheat pastry flour
1-1/2 to 2 cups White enriched bread flour
1 tsp. Salt
1/4 cup Softened unsalted butter
2 to 3 Tbsp. Heavy cream, if needed
1 to 2 Tbsp. Coarse kosher or sea salt
1/4 cup Chopped fresh sage
1/4 cup Hazelnut oil or olive oil, for greasing bowl and dough
1 to 2 Tbsp. Semolina or corn grits
Baking stone soaked in water ■
Toast hazelnuts in a large skillet over medium heat, stirring constantly. When nuts are just golden, pour in Brown Ale and sugar, and simmer until sugar is dissolved. Remove from heat and let cool to 104°F.
When cooled, strain 1 cup ale from skillet, and check temperature to make sure it is still at 104°F. If it is too cold, heat in microwave briefly to bring ale to 104°F and stir in yeast.
While yeast dissolves, sift together flours into a bowl. Place ale-yeast mixture in bowl of an electric mixer fitted with the bread hook. Add nuts and remaining ale from the skillet to the flour mixture in the bowl, and add 2 cups flour. Mix on low with dough hook for 1 minute, add salt, and then add butter and by the tablespoon as dough mixes. Stop mixer and scrape down the sides of the bowl after each addition. Don't add too much flour all at once. If the dough seems crumbly, add heavy cream, 1 tablespoon at a time, stopping mixer and scraping down sides of bowl after each addition. The dough should be elastic and springy after 8 to 10 minutes of kneading.
Oil a large bowl with 2 tablespoons hazelnut or olive oil, and place dough in bowl, turning dough to grease it on all sides. Cover with a damp cloth and set in a warm spot to rise, about 40 minutes or until doubled in size. Oil your hands, and punch the dough to release gas.
Place dough on a flat baking stone or sheet sprinkled with semolina or corn grits.
Oil the surface of the flatbread liberally. Prick the dough with a fork all over. Chop sage and kosher salt together to make a crumbly mixture, and sprinkle over the formed flatbread.
Prepare grill by placing well-soaked baking stone on grill and then start fire or ignite grill. Do not put a cold baking stone on a hot grill, or it may crack. Spray the baking stone with nonstick cooking spray. When grill temperature reaches 350°F and baking stone is hot, carefully slide the formed flatbread onto the baking stone and cover the grill. Cook 20 minutes, or until dough is golden and edges are golden. Remove from grill and let cool 10 minutes before slicing. Dough will continue to cook on the stone after removing from grill so do not overbake. (If you don't have a grill, you can bake it in a 350° oven for 25 minutes or until lightly browned.) Top with butter or grated cheese as desired and serve warm with more Brown Ale.