Beer and Camping
Cooking with Beer
by
Sean Z. Paxton
| May 2015 | Issue #100
Photos by Sean Z. Paxton
Craft beer packaging has come a long way. The decade of the can is upon us. Canned beer is more flexible for activities like camping, hiking, canoeing and rafting, where bottles have never been a good idea due to their weight and the danger of broken glass. For this issue, I wanted to bring craft beer to the outdoors. So here are several recipes, all using canned beer, which are perfect for that long weekend trip to your favorite camping spot.
Coconut Porter Pancakes
Everyone loves pancakes. Add beer to the mix and—voilà—beer pancakes! This recipe can be prepared ahead of time, making assembly quick and easy on any morning in camp.
Makes: 8 pancakes
Ingredients:
3/4 cup all-purpose flour
1/2 cup coconut flour
2 tbsp cocoa powder
2 tbsp coconut or white refined sugar
1 tsp baking powder
1/2 tsp baking soda
1/2 tsp kosher salt
1 extra large egg
3 tbsp coconut oil (melted), unsalted butter (melted) or vegetable oil
12 oz Maui Brewing CoCoNut Porter (or another coconut Porter)
Make Ahead:
In a bowl, sift together the flours, cocoa powder, sugar, baking powder, baking soda and salt. Pour this dry mixture into a large Ziplock bag and pack in your food box.
Directions:
When ready for breakfast, crack an egg into a medium sized bowl and whisk together with the oil or butter. Add the CoCoNut Porter. Next, add the dry mixture and fold together, leaving a few small lumps of flour in the dough. Pour 1/2 cup portions onto a hot 350°F griddle and cook until small bubbles form and begin to pop, about 3–4 minutes. Cook on the second side for another 3 minutes and serve.
Variations:
Add 3 tablespoons of cacao nibs to the dry mixture to make a chocolate chip pancake. Or toast 1 cup of coconut curls in a 300°F oven for 10–15 minutes to add texture and make a nice pancake topping.
Coconut Barley Caramel Syrup
Instead of maple syrup, try this over the Coconut Porter Pancakes.
Makes: 1 cup
Ingredients:
14 oz coconut milk
4 tbsp barley malt syrup
2 tbsp white refined sugar
1 tsp kosher salt
Directions:
In a medium-sized saucepan, add the coconut milk, barley malt syrup, sugar and salt. Place over medium heat and bring to a soft boil. Cook the mixture until thick, about 15–20 minutes. The bubbles should be small. Remove from heat and place into a sealable jar. Refrigerate syrup until ready to pack. This recipe can be made up to a week in advance.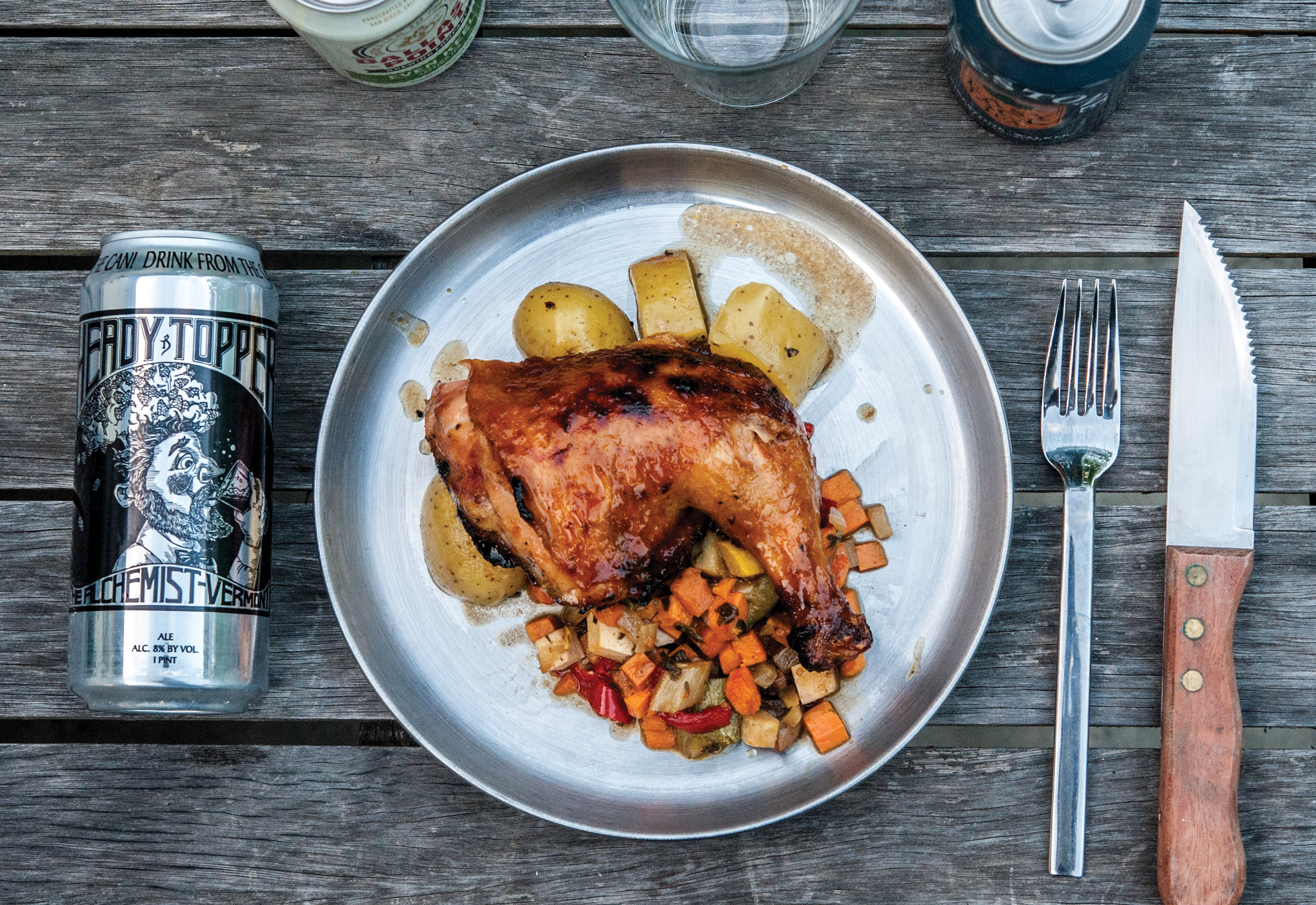 Orange Apricot Ginger IPA Glazed Grilled Chicken
IPAs are higher in International Bittering Units (IBU), which makes them harder to cook with than other beer styles. The addition of bitter orange marmalade increases the bitterness level of this glaze/sauce. I use apricot or peach preserves along with honey to find a balance between bitter and sweet. Adding these two ingredients to this grilled chicken recipe also lends complexity and depth.
Makes: about 3 cups of marinade, glaze and sauce
Ingredients:
12 oz Sierra Nevada Torpedo or Firestone Walker Union Jack (or another citrus-forward IPA)
4 tbsp orange marmalade
3 tbsp apricot or peach preserves
1 tbsp fresh ginger, peeled and grated
1 tbsp orange blossom or wild flower honey
1 tsp dried thyme
1 tsp kosher salt
1 tsp mixed peppercorns, freshly ground
Make Ahead:
In the pitcher of a blender, add the IPA, orange marmalade, apricot or peach preserves, ginger, honey, thyme, salt and pepper. Purée mixture until all the ingredients are broken down and combined.
Pour 8 ounces of the finished sauce into a jar and save to use as a sauce at service. Place another 8 ounces into a large Ziplock bag and add a whole chicken (with the spine removed). Remove as much air as possible and squeeze the marinade to evenly coat the whole chicken. Refrigerate for at least 2 hours and preferably 24–48 before you plan on cooking the chicken.
Pour 8 ounces into another jar for glazing during cooking.
Grilling:
Remove the marinated chicken from the cooler an hour before you plan to cook, allowing it to warm up, which will make it easier to cook all the way through. Fire up the grill with wood or charcoal. Once the coals are hot, add the chicken, breast side up, allowing the heat of the coals to warm the chest bones and not burn the skin. Flip the bird every 6–7 minutes to evenly heat the chicken, and prevent burning.
Glazing:
Use a pastry brush to coat the chicken for the last 15–20 minutes of cooking. This will prevent the glaze from burning. The chicken should have an internal temperature of 125°–130°F before you add the glaze. Coat the chicken evenly, flipping every 3–4 minutes to build a layer of glaze on the poultry. The chicken is done when the internal temperature reaches 165°F.
Variation:
Toss 2–3 canned chipotle peppers into the blender to increase the heat and add layers of complexity.
Beer Pairing Suggestions:
A canned IPA, DIPA or hoppy Pils will brighten the flavors of the grilled chicken and will complement the citrus and apricot and/or peach flavors in the marinade, glaze and sauce.
Hobo Vegetable Packs
Not only is clean up easy, but the flavors of beer steamed veggies are a great addition to any meal.
Serves: 4 people
Ingredients:
2 squash, such as zucchini or yellow squash, cut into large cubes
1 garnet yam, peeled and diced
1 fennel, diced
1 red onion, peeled and sliced
1 carrot, peeled and sliced into thin coins
1/2 lb. crimini or button mushrooms, washed and quartered
1/4 cup Italian leaf parsley
6 oz Oskar Blues Old Chub (or another Scotch Ale)
1/4 cup roasted garlic, peeled
3 tbsp olive oil
2 tbsp herbs, such as thyme, sage or rosemary
1 tsp kosher salt
1 tsp cracked peppercorns
Make Ahead:
Prepare the squash, yam, fennel, red onion, carrot, mushrooms and parsley and place into a large Ziplock bag. In the pitcher of a blender, add the Scotch Ale, roasted garlic, oil, herbs, salt and pepper.  Purée the dressing for a minute, then pour into the sealable bag. Mix together and chill until ready to cook. (This can be made up to 4 days in advance.)
Grilling:
Divide the vegetables up to create individual pouches or one large pouch out of aluminum foil. Fold the side edges together to create a tight seal. Place onto a grill or a hot fire and cook for 25–30 minutes. Serve immediately.
Variation:
To make this more of a meal than a side dish, add 10 ounces of smoked tofu or seitan cubes to the vegetable mix. Then marinate with the Scotch Ale dressing.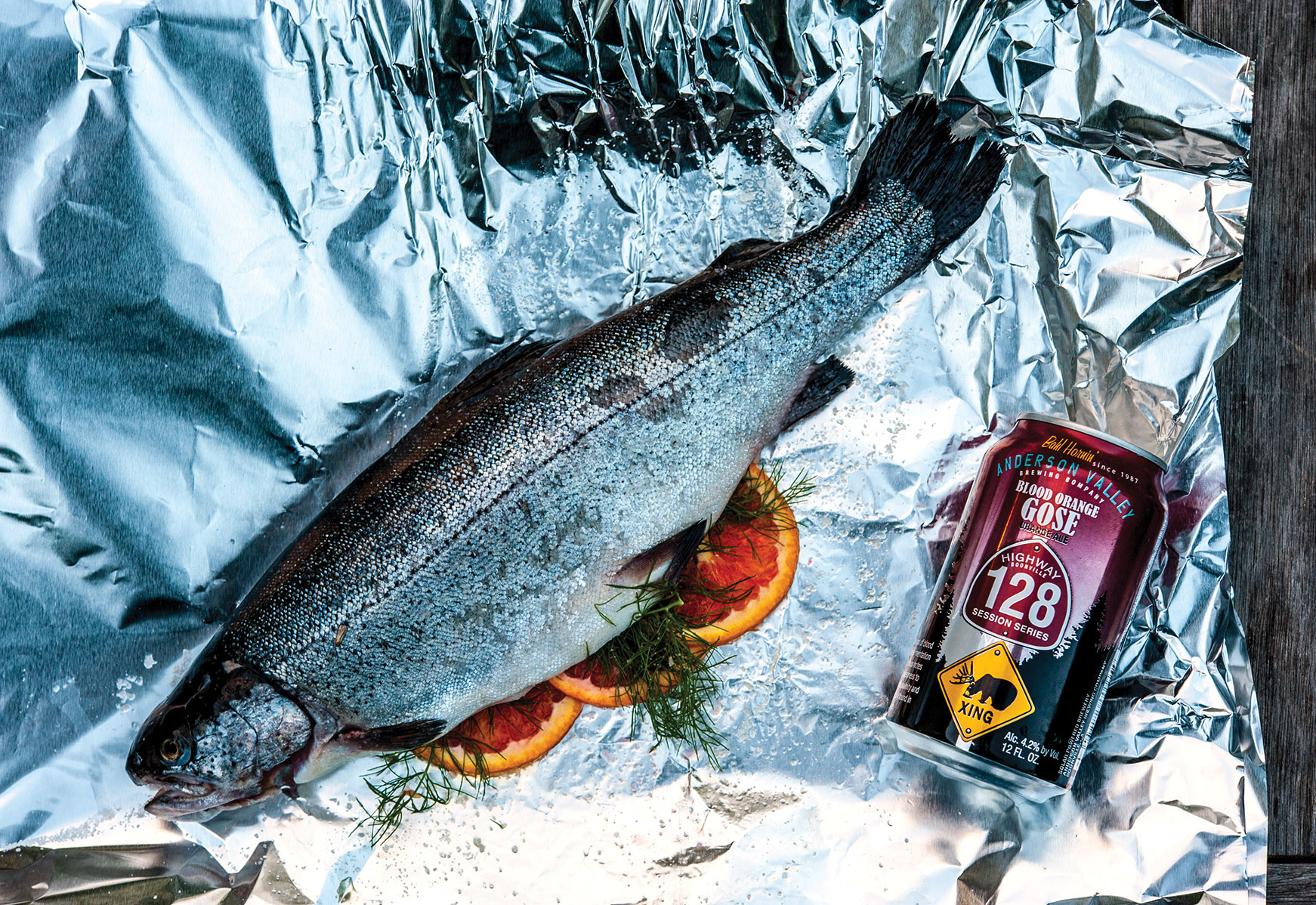 Trout Steamed in Blood Orange Gose
Camping and fishing go hand in hand, as long as there is water and the fish are biting.
Ingredients:
1 tbsp olive oil
1–2 whole trout, cleaned
1 blood or navel orange
2–3 tbsp dill or fennel fond, thick stems removed
1 tsp kosher salt
1/2 can Anderson Valley Blood Orange Gose
Directions:
Layer two pieces of 18-by-18 inch aluminum foil. Drizzle the oil and lightly season with salt on the foil and lay the trout on top. Season the cavity of the fish with a few pinches of salt and then add slices of orange and some of the dill/fennel fond. Bring two opposite corners of the aluminum foil together, centering the fish lengthwise and fold along the edge. Leave an opening in the foil pouch to add the beer, and then finish folding and sealing. Place the packet over direct heat of the camp fire and cook for about 10–12 minutes (depending on the size of the catch), allowing the fish to steam in the beer. ■
Previous:
Celebrate with Cake
Next:
Two Oceans