Sap on Tap: Brewing with Liquid Gold
The Blending House
by
Rebecca Kirkman
| Apr 2016 | Issue #111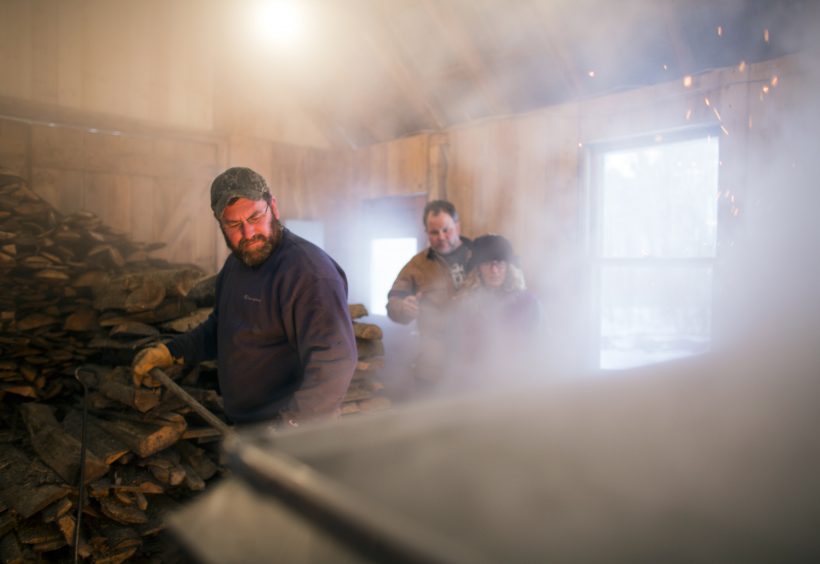 Photo by Monica Donavan
On a chilly February afternoon, Brian Cook and his family trudge through the snow on their 80-acre Vermont farm brewery to install a gravity-style pipeline tap system on some of their sugar maple trees. Located in Newport, Vt., less than 10 miles south of the Canadian border, Kingdom Brewing founders Brian and Jenn Cook highlight different Vermont flavors each season by brewing with ingredients sourced from their farm. A smoked Pale Ale with spruce tips ushers in the summer, while squash and zucchini come together in a winter seasonal. And in the spring, sap and a near-syrup called "sweet" lend New England flavor to Kingdom's Maple Nut Brown Ale.
Today's maple beers stem from the tradition of sap beer, a fermented beverage brewed by Vermont's early farmers. "The last spring run of sap often produced syrup known as 'black strap,'" says Kingdom's Brian Cook. "It wasn't much good for anything beside baked beans and making beer."
Oral history recorded by the Vermont Folklife Center in Middlebury reveals that these early farm brewers reduced the sap about halfway to maple syrup—sweet but still water-like in consistency. Then it went into a barrel with hops, yeast and whatever else was handy, like corn or raisins. The beer would ferment in the cellar until the beginning of haying season in early July.
The art of sap beer was mostly lost until microbrewers like The Vermont Pub & Brewery and the now shuttered Catamount Brewing Co. revisited the style in the 1980s. In 2012, the Folklife Center partnered with Shelburne's Fiddlehead Brewing Co. to brew Frog Run Sap Beer, an amber-colored ale created by replacing water in several stages of the brewing process with the last sap run from local maple trees. In 2014, Fiddlehead revisited the beer, but upped the ante by aging it in bourbon barrels.
Similarly, Brian Cook uses sap from his farm as the mashing and sparging liquid in Kingdom's Maple Nut Brown Ale. "Hot sap is a sticky mess," says Cook. "It takes a few more tanks and a lot more cleaning."
The fermentation process removes the sap's sweetness, leaving a dry, almost leafy flavor that brewers describe as tasting like the tree where the sap was sourced. To give the beer an extra maple "pop," Cook doses it with a late secondary addition of syrup after fermentation is complete. An alcohol content of 9.8 percent by volume and sweetness from roasted grains help accentuate the maple flavor. "[Drinkers may] perceive sweetness from the grains [as] being the syrup, but it's not," he explains.
About 50 miles west, in Saint Albans, Vt., 14th Star Brewing Co. has been making beers with syrup sourced from a handful of farms within Franklin County since it opened in 2012. Depending on the recipe, 14th Star uses anywhere from 5 to 20 pounds of syrup per barrel of beer, says brewmaster Daniel Sartwell.
14th Star will debut its newest creation, Naked Maple Ale, at the Vermont Maple Festival on April 22. "With this beer, for the first time, we're using sap to brew it, using maple syrup in the boil [and] we're using maple-smoked malt," says Sartwell. "We're using maple in as many ways as we can."
Because fermentation removes the inherent sweetness, maple flavors pair well with many styles of beer. Best known for its Maple Breakfast Stout, which combines oatmeal, chocolate malt, maple syrup and cold-brewed coffee, 14th Star has also brewed a Maple Brown Ale, a Maple Wheat and a Maple IPA. "We use some pretty citrusy hops in it," says Sartwell of the IPA, "and the flavor of the maple is more woody than sweet, so the balance between the maple and hops actually works really well together."
Jean-François Gravel, co-founder and brewmaster at Brasserie Dieu du Ciel in Montreal, first brewed a maple Scotch Ale in the early '90s as a homebrewer. To make Equinox de Printemps, a spring seasonal in the same style, Gravel sources maple syrup from a producer in Quebec's Bas Saint-Laurent region. "I do maple syrup tasting with him to select the syrup that has the best character to be in my beer," says Gravel. "Every production day gives a syrup with different flavor—more or less caramel, more or less fruity, it can be a little bitter, even piney sometimes. It is way different from the blended syrup we have in the can."
Meanwhile, producers aging maple syrup in bourbon barrels has opened up a new way for brewers to play with maple flavor. The idea for Canadian Breakfast Stout, for instance, came to Founders brewmaster Jeremy Kosmicki after a local syrup producer approached him with bourbon barrels previously used to age syrup. "The great thing about these barrels is that in addition to maple flavor, you still get lots of oak, vanilla and bourbon character, which keeps the overall flavor multidimensional," he says. "We've since experimented with other beers aged in these barrels (Wheat Wines, Old Ales, fruit beers, Black IPAs) and found that a nice touch of maple sweetness works nicely with many different styles."
As brewers find more ways to incorporate maple flavors—and since the character of the syrup itself changes each season—it's safe to say that beer drinkers haven't seen the end of liquid gold. ■