Irish Iced Latte
Kindred Spirits
by
Joshua Batway
| May 2016 | Issue #112
Photo by Daniel Lyon
Crafted at Good Bar in Seattle, Washington

The Irish Iced Latte is inspired by several classic cocktails. It has the bold whiskey backbone of an Irish coffee, the elegance of a milk punch, and the playful, foamy mouthfeel of a Smith and Curran. It is easy to drink but also has richness and depth thanks to the espresso and Seapine Brewing Co.'s Sea Witch Milk Stout.
2 oz Seapine Brewing Co. Sea Witch Milk Stout (or another Milk Stout, like Left Hand Milk Stout or Duck-Rabbit Milk Stout)
1.5 oz Irish whiskey
0.5 oz vanilla bean syrup
1.5 oz whole milk
1 shot espresso
whole nutmeg
Combine all ingredients except for the Stout and nutmeg in a cocktail shaker. Shake with ice. Strain into a 12-ounce highball glass filled with cracked ice. Top with the Stout. Stir gently to combine the ingredients. Grate the nutmeg over the top of the cocktail.
Vanilla Bean Syrup Instructions
2 cup granulated sugar
2 cup water
1 large Madagascar vanilla bean
Using a paring knife, split the vanilla bean lengthwise and scrape the seeds from the inside of the husk. Combine the sugar, water, seeds and husk in a saucepan and bring to a boil on medium-high heat. Reduce heat to medium-low and simmer for 15 minutes, stirring occasionally. Cover, refrigerate and let stand for 1–2 days. Strain the syrup through a fine mesh strainer. Keep refrigerated. ■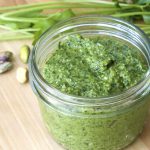 Previous:
Celebrate Spring with an IPA Pesto
Next:
The Full English: 3 Pairings