Winter Beer Stollen
Cooking with Beer
by
Sean Z. Paxton
| Jan 2018 | Issue #131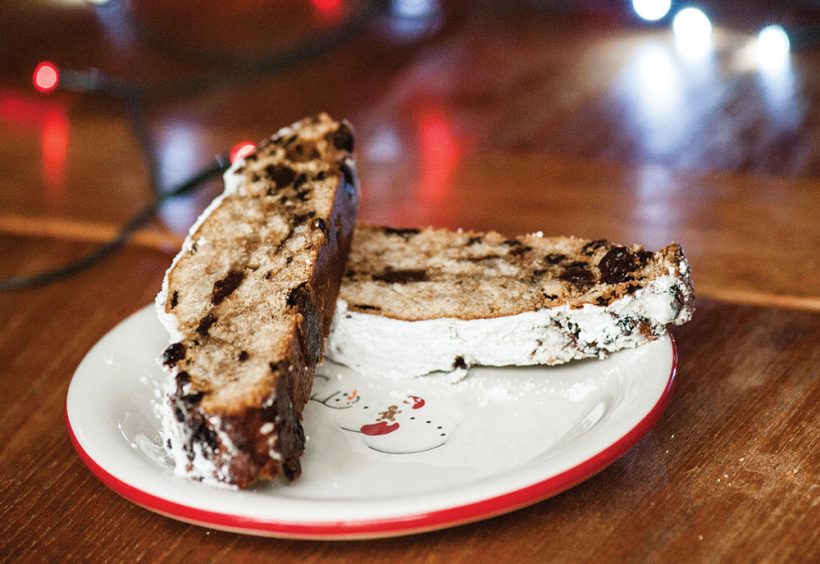 Photo by Sean Z. Paxton
Stollen is a traditional German holiday bread. Different than other breads, its texture is rich, full of butter, and almost crumbly like an English scone, yet it holds together better. Stollen can be made with marzipan (marzipanstollen), hazelnuts or walnuts (nussstollen), almonds (mandelstollen), poppy seed paste (mohnstollen), extra butter and dried fruit (butterstollen), and even a cottage cheese- or quark-filled stollen (quarkstollen). And then there's the classic Weihnachtsstollen, Weihnacht being the German word for Christmas. This month I wanted to share my holiday recipe for bierstollen. It's easy to make, better when prepared in advance, and, studded with beer-soaked dried fruit, delicious on Christmas morning.
Stollen Base Recipe
This base stollen recipe can be flavored many different ways. Pick something that reminds you of holidays past to create food memories for the future.
Makes: 2 loaves
Stollen Filling Options
Eisbock-Soaked Dried Fruit
1 cup apricots, dried, diced
1 cup dark raisins
1 cup cherries, dried
1/2 cup orange peel, candied
3/4 cup Eisbock, such as Schneider Aventinus Weizen-Eisbock
Rum Barrel-Aged Stout-Soaked Raisins
2 cup dark raisins, seedless, preferably organic
3/4 cup rum barrel-aged Imperial Stout, such as Indeed Brewing's Rum King Imperial Stout
2 tbsp dark rum (optional)
Cherry Almond Filling with Malted Marzipan
2 cup cherries, dried
3/4 cup Flemish Red Ale, such as Monk's Cafe's Flemish Sour Ale
1 cup almonds, slivered
1 cup Malted Marzipan, recipe follows
Cranberry Orange Ginger Filling
2 cup cranberries, dried
2 tbsp crystallized ginger, minced
1 tbsp ginger, fresh, peeled and grated on a microplane
1/2 cup Imperial Witbier, Wit, or blood orange Gose
1/2 cup orange juice, freshly squeezed
1/2 cup orange peel, candied
Fig Prune Quadrupel Filling
1 cup figs, dried, stem removed and diced
1 cup prunes, dried and pitted, diced
3/4 cup Quadrupel, such as Rochefort 10
1/2 cup orange peel, candied
Stollen Bread Dough
1 cup unsalted butter, organic, preferably European-style
2 tsp ginger, ground
1 tsp kosher salt
1 tsp cardamom, ground
1/2 tsp nutmeg, freshly ground
1 lemon, zested on a microplane
3/4 cup whole milk, preferably non-homogenized, cold
3 cup all-purpose flour
1 cup barley flour, preferably malted
1 cup organic sugar
3 tsp active dry yeast
2 extra-large eggs, at room temperature
1 tsp bourbon vanilla extract
1 cup nuts, such as almonds, walnuts, hazelnuts, pistachios, or pecans (optional)
1 cup Malted Marzipan, recipe follows (optional)
Finished Bread Coating
1/2 cup butter, organic, preferably European style, melted
1 cup powdered sugar or Malt Powdered Sugar
Stollen Filling Directions
Rehydrating dried fruit adds extra flavor to the finished stollen, along with extra moisture, helping to keep this bread fresh many days after it's baked. Using different beer styles to hydrate the dried fruit adds layers of extra flavor. The technique to create different types of flavored stollen is the same no matter which combination you choose: soak the fruit in an alcohol for hours or days.
Begin with any of the preceding filling recipes and mix the dried fruit with any spices or other flavorings and the beer (or other liquids) in a bowl, small mason jar, or sealable container and let it sit for at least 12 hours, or up to three days in advance. Alternatively, to speed up this process, use a vacuum sealer, set to high. In this scenario, re-hydration will take about an hour. The goal is to have most, if not all, of the liquid absorbed into the dried fruit.
Bread Dough Directions
Stollen is traditionally made by heating butter and milk together, adding spices to flavor the liquid ingredients, and, finally, mixing in the dry ingredients. After several tests, I found a brown butter technique created more flavor and added to this holiday bread's nutty undertones, making a better final stollen.
In a medium pot over medium heat, melt the butter. Keep an eye on it until it comes to a boil, creating a bubbling foam. Over the next 5 – 10 minutes, the foam will dissipate and the butter will brown, becoming nutty and richer in flavor. Stir occasionally, until it becomes brown.
Next, in a small bowl, mix the ginger, salt, cardamom, nutmeg, and lemon zest. In a liquid measuring cup, measure out the milk. Once the butter turns brown, turn off the heat and add the spice mixture, stirring well to toast the spices and flavor the butter. After 30 seconds, slowly add the milk, as it will bubble up and foam, just as cream does when added to a caramel sauce. Stir the pot, infusing the flavors together. Let the mixture sit until it cools to at least 120°F.
In the bowl of an electric mixer, add the all-purpose and malted barley flour, along with the sugar and dried yeast. Add the cooled spiced brown butter to the dry ingredients and fit the electric mixer with a paddle attachment. Turn the mixer on low speed to incorporate the ingredients. With the mixer running, crack the eggs into a small cup, adding the vanilla extract. Use a fork to whisk them together until they're blended. Add the egg mixture to the mixing bowl and let the dough knead for about 10 minutes. Remember: This isn't your standard bread dough. It has much more of a scone-like texture, with a soft crumble to it.
Transfer the dough to a large bowl that has been greased with butter or non-stick spray. The dough should be around 80°F. Form it into a ball and cover the bowl with a damp towel. Allow it to ferment for 1 1/2 – 2 hours at room temperature (65 – 80°F) or place into a lightly warmed oven. Since stollen is heavy with butter, it won't rise or double in volume, as many other breads do.
After the dough has rested, add it back into the mixer bowl, along with the soaked fruit. If you want to add nuts, add them now. Using a paddle attachment, mix until the fruit is just incorporated. Remove the dough to a lightly floured work surface. Ready a sheet tray lined with a Silpat baking sheet or parchment paper. Divide the dough into two equal pieces. Form each dough ball into an oval shaped loaf, about 7 – 8 inches long.
If you're adding Malted Marzipan, divide the marzipan into two equal portions, rolling it out into a log about the same length as the loaf. Spread out the dough into a slightly wider loaf, placing the marzipan down the center. Fold the dough over the log, forming an oval-shaped loaf again. This will create a tube of marzipan inside your finished stollen.
Cover the loaves with plastic wrap or a clean, slightly damp tea towel and place in a warm area to continue fermenting for another hour.
Remove the wrapping and place the formed loaves into a preheated 350°F oven. Bake 30 – 40 minutes, or until the center of the loaf reaches 205°F. The outside of the bread will be golden brown, yet the inside should be moist and almost scone-like.
Finished Bread Coating Directions
While the bread is still hot from the oven, use a pastry brush to paint the top and sides of the loaf with the melted butter. Do this several times, so the butter soaks into the crust. Repeat this process with the second loaf, using all the remaining butter. Next, use a sieve to sprinkle a healthy coating of powdered sugar or Malt Powered Sugar over each of the loaves, leaving a snow-like dusting. Cool the loaves to room temperature, then wrap each loaf in a plastic bag. Let them rest for at least a day before eating. These loaves will keep for up to 3 weeks.
To eat, slice the stollen into 1/2 inch thick pieces with a serrated knife and arrange onto a platter. Stollen can be served alongside a cup of tea, coffee, coffee-infused Stout, or holiday ale.
Malted Marzipan
This delicious almond paste can be used in many holiday desserts as well as marzipanstollen.
Makes: 12 ounces
Ingredients
1 1/2 cup almond flour, super fine, such as Bob's Red Mill
1 1/4 cup powdered sugar
2 tbsp liquid malt extract, such as Pilsner- or Munich-flavored
1 tsp almond extract
1 pinch kosher salt
1 egg white, from an extra large egg
Directions
In the bowl of a food processor, add the almond flour, powdered sugar, malt extract, almond extract, salt, and egg white. Pulse the mixture several times to incorporate the ingredients together into a ball. Purée the mixture another minute. Remove the malted marzipan to a clean work surface and knead it lightly. Form it into a log and wrap with plastic wrap. Refrigerate until ready to use. Because of the egg white this will keep for about a month. ■