Beer News
News
by
Jim Landry
| Apr 2009 | Issue #27
Beer Wars Fights its Way onto the Big Screen
On April 16th, Beer Advocates across the nation will be gathering at local cinemas to catch Beer Wars. The film aims to shed some light on the hardships presented to small brewers with our nation's three-tier system—a system put in place at the end of the Prohibition era that was originally intended to prevent market dominance of a single brewer by utilizing distributors as a middle person between brewer and retailer.
Anat Baron, the film's director, tells BA, "I made this film hoping to start a conversation about the future of the beer business in America. One of the biggest issues facing small brewers is access to market." She continues, saying how small brewers face a number of challenges like "how to get to consumers through the maze of the three-tier system, shelf-space restrictions and the power of the big brewers and distributors."
Baron says it isn't her love of beer, but rather the state of the market that stirred her passion. "I'm allergic to alcohol. So … my interest was never in the beer itself. This liberated me to focus on the business."
The film centers on the stories of Dogfish Head founder Sam Calagione, as well as Rhonda Kallman, founder and CEO of New Century Brewing Co. and co-founder of Boston Beer Company, the brewer of Sam Adams. Several other industry figures are interviewed as well, ranging from liquor store owners and distributors, to Anheuser-Busch's vice president of brewing, John Serbia, and BA founder Todd Alström.
South Carolina Microbrewers Fight for their Right to Sell
South Carolina is home to local craft brewer Coast Brewery, as well as some laws that make it difficult for microbrewers to thrive in the state.
As a three-tiered system of laws enacted in 1933 mandates, the brewer distributor and retailer operate as three separate entities. This means that currently, microbrewers such as Coast can't sell their own product on premises, or even offer free tastings. Any beer made must be channeled through a distributor and sold elsewhere.
Many legislative efforts allowing on-site sales have been opposed by the South Carolina Beer Wholesalers Association, the statewide network of distributors. State Rep. Bill Herbkersman agrees the system is not microbrewer friendly, telling BA, "You can't sell anything in the state without going through them. Really, they're protecting turf, and that is not allowing for a free market." On March 10th, House Bill 3693 was introduced to the State Judiciary Committee. If passed, the bill will allow for tastings to be conducted on brewery grounds, but still prohibits sales.
Coast Brewing's blog says that while it's a step in the right direction, it just isn't enough. "Instead of keeping the ball rolling and becoming a true craft beer state and tourist destination, we are being held down, treated unfairly and not listening to what the people want. Forty-plus other states that allow some sort of direct brewery sales have reaped the benefits, why not our state?"
Penn Brewery Staying Home
After preparing to move out, Penn Brewery, a landmark brewpub located on Pittsburgh's North Side, will be staying right where it's been since 1986. For months, it seemed a dispute with the landlord had left them with no choice but to close shop, but a last-minute agreement was reached between the two, allowing the brewer to stay.
E and O Partners, the building's owner, had planned to triple the monthly cost of the brewery's lease; increasing the brewery's square footage, they more than doubled the space from 13,000 square feet to 28,000, by including the outdoor beer garden and loading dock. As it stood, the restaurant was prepared to move to a new location and had even stopped brewing their beer on site back in December.
Penn Brewery CEO Len Caric is happy that a new deal was struck, explaining, "The North Side is a wonderful neighborhood for us, a great community, and we're real glad we can stay."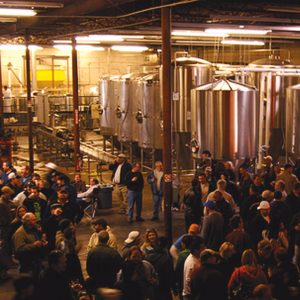 Compromise Plan Could Allow Texas to Buy Beer Direct from Brewers
Similar to South Carolina, Texas microbreweries have been running under a three-tiered system involving brewers, wholesalers and retailers. Their system also prohibits the direct sale of their product from the brewery, but that could soon change.
Texas state Reps. Jessica Farrar and Lon Burnam have proposed and endorsed, respectively, a bill that, if passed, would enable limited direct sales. The Texas Beer Alliance, one of the two lobbying arms of the distributors, has expressed interest in making a compromise in order to help the brewers.
Under the proposed compromise, a craft brewery could utilize a tiered pricing structure for tours, and depending on the price paid for the tour, visitors would be able to take varying quantities of beer home—up to two cases.
While breweries like Rahr & Sons would be thrilled with such a legislative step forward, not everybody shares their enthusiasm for the bill's passage. The Wholesale Beer Distributors of Texas have expressed disapproval of any such move, saying it could hurt small brewers and that a change might even violate federal interstate commerce law.
A Tale of Two Budweisers
The latest round of the epic Anheuser-Busch versus Budejovicky Budvar trademark battle has ended, and not in A-B's favor. The Luxembourg-based European Court of First Instance, the European Union's second-highest court, upheld a 2007 ruling in favor of Budvar—agreeing the original European trademark of "Budweiser" and "Bud" names for beer belong to the Czech brewery.
This is the latest in a 100-plus-year string of disputes between Anheuser-Busch and Budejovicky Budvar. A-B InBev spokesperson Marianne Amssoms said, "Filing this community trademark application … was merely an effort to further extend our Budweiser rights and gain additional protections. … All of our Budweiser and Bud rights remain; none are canceled by this action. A-B InBev owns the right to the Budweiser or Bud trademarks in 23 of the 27 European Union member states."
The ruling affirms that in several European nations, American Budweiser must be sold under a different name. However, from nation to nation, each brewer's beer names vary due to previous trademark rulings within individual countries.
Homebrewing Legalized in Utah
On March 24th, Utah Governor Jon Huntsman Jr. signed House Bill 51 into law, legalizing homebrewing in the state of Utah. The bill officially goes into effect on May 12th, and it makes Utah the 46th state to legalize the practice.
Brewers and pub owners alike are excited for the passage of HB 51. Jennifer Talley, brewmaster for Squatters Pub Brewery/Salt Lake Brewing Co. in Salt Lake City, mentions the passion shared by homebrewers. "Homebrewing is truly an art, and most professional brewers I know were once homebrewing in their kitchen. Utah beer enthusiasts will now have the freedom to express their deepest beer desires through perfecting the craft of homebrewing in their own kitchens."
According to the American Homebrewers Association, the only states where homebrewing remains illegal are Kentucky, Oklahoma, Mississippi and Alabama. However, a legalization movement is already taking place in Alabama, and the few remaining states may follow suit. ■
Previous:
Beer 3.0
Next:
Beer and the Recession