Beer News
News
by
Jim Landry
| Nov 2009 | Issue #34
Rock Art Brewery Wins Monstrous Legal Battle
Morrisville, Vt.-based Rock Art Brewery crafts 19 different beers, but one particular brew, a Barleywine dubbed "The Vermonster," has become a symbol of small business' victory over "corporate America," as Rock Art founder Matt Nadeau describes the brewery's legal win in a national trademark debate.
Situated in Corona, Calif., Hansen Beverage Company is widely known for their Monster Energy drink. Hansen learned Rock Art was trying to federally trademark the name "Vermonster" (which had already been state-trademarked by Rock Art in 2006), and on September 14th, they issued a cease-and-desist letter to Rock Art, claiming that use of the name "Vermonster" will "undoubtedly create a likelihood of confusion and/or dilute the distinctive quality of Hansen's Monster marks."
Nadeau disagreed with Hansen and promised to fight for his brand as long as he could afford to. In a video statement posted on Rock Art's website, Nadeau stated, "A company with a lot of money will buy justice. … They're at the point where they can purchase court system time … and get the result they want. That's scary."
While Rock Art didn't have the finances to fund a drawn-out legal dispute, the press picked up the story, eventually leading to national coverage and activists taking to Facebook and Twitter to protest Hansen and support the small brewery. After the media maelstrom, local beverage stores and allies of craft beer pulled Monster Energy from their shelves. Hansen finally backed down.
The two companies signed a contract that will allow Rock Art to continue brewing the The Vermonster, the brewery's 10th anniversary beer from 2006, and Nadeau has posted a timeline of events and a statement of gratitude to the people who helped save The Vermonster "from certain death."
In an official statement, Hansen replied to criticisms of bullying Rock Art. "Hansen has not, and does not, target or single out one company over any other, nor distinguish between big or small companies or individuals when enforcing our trademarks. The size of the third party misappropriating or infringing the Hansen's trademark rights is irrelevant."
Nadeau says he's "pressing forward for trademark law reform at the national level."
"This is a huge issue for all craft brewers as they grow, and small business in general."
Legendary Craft Brew Pioneer Greg Noonan Passes Away at age 58
After a brief battle with cancer, Greg Noonan, one of craft brewing's founding fathers, passed away at home in his sleep the morning of October 11.
Noonan, 58, was the author of several influential books, including Brewing Lager Beer and its 2003 reissue, New Brewing Lager Beer: The Most Comprehensive Book for Home and Microbrewers as well as a book on brewing Scotch Ale. His books are widely regarded to have helped to jumpstart the homebrewing scene and influence many other brewers, including Otter Creek and Magic Hat.
He was also responsible for opening the landmark Vermont Pub & Brewery in Burlington, Vt., in 1988. According to the VP&B website, the esteemed brewpub has won numerous festival awards for their beers, which include Burly Irish Ale, Forbidden Fruit and Handsome Mick's Smoked Stout. In addition, they were dubbed "one of the nation's top 25 craft brewers" in 1997 by the book America's Best Brews.
Noonan will be remembered fondly by his family, and will continue to be revered in the world of craft brewing.
BrewDog's Nanny State Keeps Drinkers off the Naughty Step
After brewing Tokyo, a strong ale with a hefty ABV of 18.2 percent, Scottish brewery BrewDog has come under fire from both the Scottish Parliament and the Portman Group, an organization that demands social responsibility in alcoholic-beverage marketing. Both groups want to ban the sale of Tokyo in the UK.
BrewDog co-founder James Watt defends the drink in the brewery's blog, saying,"Tokyo was all about the craft, the challenge and pushing the boundaries of beer and the perception of beer in Britain. We constantly cited the fact that BrewDog is all about educating the consumer and about promoting safe consumption through information and a responsible pricing strategy. It appears our well-reasoned arguments fell on deaf ears."
After facing such harsh condemnation, BrewDog decided to brew something a little safer: Nanny State. Watt continues, "Nanny State is our quiet and dignified response to the ongoing controversy surrounding Britain's strongest-ever beer, Tokyo. Nanny State is a 1.1-percent ale. We have gone from making Britain's strongest beer to a brew so low in alcohol, it is below the legal classification of beer and not strong enough to be subject to beer duty."
Responsibility advocates have praised the crafting of a quality, low-alcohol brew, but feel slighted by the name.
To this, Watt concludes, "I guess you really just can't win with some people."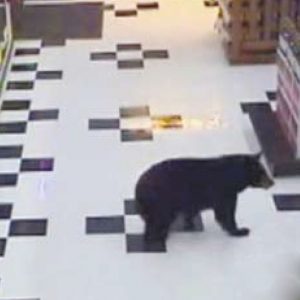 Bear's Beer Run Results in Blackout
At the Marketplace Food Store in Hayward, Wis., the evening of October 15 seemed like just another Thursday night shift. All the familiar faces were coming in to purchase their food and beverages—with the exception of one new face.
Around 8:15 p.m., a young black bear sauntered into the store. He didn't make a beeline for the honey or try to snag some fish—he headed straight to the store's walk-in beer cooler.
Once inside the cooler, he climbed a 10-foot-high shelf and sat idly on top until animal control officers arrived on the scene. The bear was quickly tranquilized, removed from the store and released unharmed into the wild the following day.
Marketplace jokes about the occurrence now, reminding customers to "stock up on their hibernation needs." ■