Beer News
News
by
Jim Wells
| Jan 2011 | Issue #48
Anheuser-Busch Sues Major League Baseball
On November 12, Anheuser-Busch (A-B) filed a lawsuit against Major League Baseball. This may seem odd, given that A-B sponsors 26 of the 30 MLB teams, and has been the official beer sponsor of the league for over 30 years.
A-B alleges that in April, a sponsorship agreement was reached with MLB that was confirmed in multiple written and verbal communications, and all that remained was drafting and signing a formal contract.
Shortly afterward, on May 4, A-B announced they would become the official beer sponsor of the National Football League, starting in the 2011 season. This move took a six-year sponsorship valued at over $1 billion from MillerCoors, one of A-B's biggest rivals.
At the time of this announcement, a contract between A-B and MLB still had not been signed.
A-B alleges that MLB then reneged on the arrangement reached in April, and demanded an "exponentially higher" sum for their sponsorship rights, claiming "the marketplace dynamics had changed."
In an official statement, A-B's vice president of marketing, Keith Levy, explains to BA, "In April, Budweiser accepted MLB's offer and renewed our official beer sponsorship of the league.  We are asking the court to recognize our sponsorship agreement reached last spring. We value our long-term relationship with the league and entered into an agreement that was mutually beneficial to both parties."
Levy adds, "As our renewal with MLB begins with the 2011 season, a timely resolution is important, and we hope to resolve this issue as quickly as possible. Major League Baseball remains a top priority for our Budweiser brand and is important to our plans."
An MLB representative could not be reached for comment.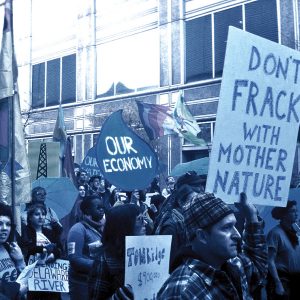 Brewery Ommegang Teams with Activists to Achieve Gas-Drilling Moratorium
Cooperstown, N.Y.'s Brewery Ommegang has become a key protestor of proposed natural gas drilling throughout Otsego County, N.Y. The gas would be obtained using a procedure known as high-volume hydraulic fracturing, or "hydro-fracking," which could potentially pollute the brewery's water supply.
Ommegang, along with local activists Otsego 2000 and environmentalist group Citizens Campaign for the Environment, has communicated their evidence to New York's state government that hydro-fracking is a risky procedure that would yield minimal gains, and could potentially contaminate local environments and water supplies with toxic chemicals and radiation.
Energy companies have been eager to tap into New York's region of the Marcellus Shale, an underground rock formation that sits roughly a mile below the surface and extends as far south as West Virginia. But the organizations' environmental advocacy has helped convince the state Assembly to pass a moratorium on hydro-fracking until May 2011. Governor David Patterson is expected to sign it into law, which will enable an in-depth environmental impact study to be carried out.
Larry Bennett, Ommegang's director of public relations, tells BA via email, "Our water, Cooperstown and Otsego Lakes, and Otsego County's water is pristine and we want to keep it that way. Our goal is to stop any drilling before any potential for compromising the water can happen."
Nicole Dillingham, board president of Otsego 2000, adds, "Anything that damages the supply of water to the brewery is clearly a significant threat to their business as much as it is to all of the people who live and work in Otsego County and the Susquehanna watershed. … How much more could we all lose if polluted water is what upstate New York becomes known for?"
Moonshot Banned in Wake of Caffeinated-Beverage Probe
On November 17, the FDA and Alcohol and Tobacco Tax & Trade Bureau issued warning letters to companies responsible for a number of caffeinated alcoholic beverages. This letter labeled their products a "public health concern," and caused a number of states to pull the drinks from shelves even before federal regulations banning their products from sale went into effect.
The products under scrutiny included brands of sugary, 9-12 percent ABV tallboy cans such as Four Loko, Joose and Core High Gravity. One other drink targeted by the FDA was New Century Brewing's Moonshot, a 5 percent ABV lager sold in 12-ounce six-packs.
According to FDA & ATTTB correspondence, the brew was targeted solely because it "contains caffeine that has been directly added … and packaged in combined caffeine and alcohol form." In other words, since Moonshot was simply adding pure caffeine to their beer (rather than it coming from naturally occurring sources like coffee), the FDA viewed it as an "adulteration" of the drink.
New Century founder Rhonda Kallman explains her situation to BA via email, noting, "I expected that Moonshot Beer, with 69 milligrams of caffeine and 5.0 percent ABV, would fall way below acceptable levels. … What [about] caffeinated vodkas … that have 9–40 percent ABV?"
Kallman also explains that while there are other brews in the works for New Century, the chances of Moonshot landing back on shelves in the foreseeable future are slim.
"I will not 'reformulate' without the caffeine. I specifically made Moonshot for beer lovers who want a caffeinated choice. The reason why I deliberately add caffeine is because caffeine is tasteless and odorless and when added separately—it doesn't mask the [taste of the] beer. "
Kallman pledges, "I will work towards getting the FDA to make a determination of what levels of caffeine added to alcohol are actually safe, regardless of whether I 'adulterate' beer with caffeine or use ingredients where the end result is still caffeine + alcohol." ■
Previous:
"Craft Brewer" Just Got Bigger
Next:
I Don't Do Denial