Creating a Mashed Potato Bar
Cooking with Beer
by
Sean Z. Paxton
| Jun 2011 | Issue #53
Photo by Sean Z. Paxton
Mashed potatoes can be one of the most versatile starches on any menu. They complement just about any protein or vegetable, and can be served with countless sauces. But what if the main item on the plate became the mashed potatoes, and the protein took a back seat? We all like creating our own combinations of flavors, so why not make a mashed potato bar that has a few of the classic potato accoutrements, and then add beer cuisine sauces and additional items to make your next get-together something really special.
Basic Mashed Potatoes
Classic, simple and perfect on its own, this recipe will be the centerpiece of your mashed potato bar. Try to use a few different types of potato choices to create a great dialogue at the bar amongst friends.
Serves: 4–6 guests
Ingredients:
2 lb. potatoes, washed, either peeled or not, cut into 1-inch cubes
cold water to cover by 2 inches
sea salt to taste
2/3 – 1 cup cream, heavy, warmed
2–5 tbsp. butter, unsalted, warmed
kosher salt to taste
white pepper (optional)
Directions:
For best results, start with really high-quality potatoes. There are over 3,000 varieties of potatoes in the world. Each has its own best use. Yellow and Gold varieties (e.g., Yukon Gold, German Butter Ball and Sierra Rose) are higher in starch and a great choice for a mashed potato. Russets are also good—however, they're better steamed because they're even higher in starch, causing them to absorb water and hold onto it, which results in a more mealy texture if boiled. Purple potatoes are also good for mashing, while adding a great color to the buffet.
Wash the potatoes and remove any root growth or dark spots. If the potato has green areas, do not use them, as they can give a bitter flavor. Potatoes can be peeled or not, depending on the taste and texture desired for the finished mashed potatoes. Cut the potatoes into equal-sized, 1-inch cubes for even cooking. Add the prepared potatoes to a large pot and cover with cold water, allowing the potatoes to cook evenly from the outside to the core. Add enough sea salt to make it taste like ocean water. Place over high heat and bring to a boil. Cook the potatoes until they are just fork tender and not falling apart. Check the potatoes after 18–22 minutes.
Drain the cooked potatoes through a colander, removing as much water as possible. Let them sit for a minute to allow some of the steam to dissipate, leaving less moisture in the potatoes. There are many options for mashing the potatoes for the final recipe. Here are a few choices:
• A potato ricer or food mill will create a super fine and ultra-creamy mashed potato, sure to have no lumps and no gummy texture. Just place the cooked potato into the ricer or food mill, and process in batches back into the cooking pot.
• Add the cooked potatoes back to the cooking pot, then use a potato masher to mash the potatoes until you reach the desired texture (chunky or smooth) before adding any cream or butter. Adding the fat earlier in the process is counterproductive to mashing the potatoes correctly, as the fat will coat the potatoes and create some lumps that will not dissolve.
• An electric mixer can be used with caution, as over-mixing will add gluten to the potato, causing a gummy, pasty finished product.
• A food processor can also be used, but as mentioned above, be careful not to over-mix.
Once the potatoes are mashed to the desired texture, add the warm cream and butter, folding with a spatula to incorporate completely. More or less butter can be added to make a richer mashed potato. Some restaurants use equal parts potato to butter (and just a touch of cream) to create the ultimate decadent mashed potato. Season with salt and pepper to taste. Transfer to a bowl or pan, serving immediately, or place in a chafing dish or warming tray. Potatoes placed in a serving bowl can also be covered with plastic wrap, then aluminum foil, and placed into a 225˚F oven for up to an hour before serving, if needed.
Variations:
• Instead of butter, try adding other fats, like bacon fat, duck fat, extra virgin olive oil, barbecue pork fat, rendered dry age steak fat or goat butter for a twist.
• Try making a few different varieties of mashed potatoes, keeping them simple so the toppings steal the show and the flavors don't clash. This is where color and texture will shine.
• Add a bottle or two of beer in place of some of the cooking water when the potatoes are raw. Amber, Pale Ale, Bock, Blonde, Tripel, Quad, Smoked Porter… the flavor combos are endless.
• Add a few tablespoons of fresh beer to the mashed potatoes to highlight hops, malt or other beer style flavor profiles (roast, chocolate, sour, citrus, etc.).
• If milk allergies are an issue, try using goat milk instead of cream.
Cherry Wood Smoked Bacon, Cheddar & Oatmeal Stout Sauce
Bacon, cheddar and Stout go hand in hand. Mixing these ingredients into a sauce to pour over mashed potatoes brings the combination to new levels, as the smoky bacon, sharp cheddar and creamy Stout blend together.
Makes: 5 cups of sauce
Ingredients:
6 oz. bacon, cherry wood smoked, thick cut, or other smoked bacon
1 tbsp. olive oil
2 each shallots, peeled and minced (about 1 cup total)
3 tbsp. flour, all purpose
24 oz. Anderson Valley Oatmeal Stout or other Stout-style ale
1 tsp. beer mustard
1 tsp. brown sugar
2-3 each bay leaves, preferably fresh
12 oz. Tillamook Sharp Cheddar cheese, grated
season to taste with salt and pepper
Directions:
In a heavy-bottom, medium-sized pot placed over medium heat, add the lardons of bacon and oil, cooking (and stirring) until the fat has rendered and the meat becomes slightly crisp, about 8–10 minutes. Remove the cooked bacon with a slotted spoon, leaving behind the fat, and place into a bowl and set aside. Add the shallots to the bacon fat and cook until they are lightly caramelized, about 3–4 minutes. Add the flour, and, using a whisk, combine with the fat to make a roux (mixture of flour and fat). Cook the flour/fat paste for 3 minutes to lightly color the roux and cook the flour. Whisk in the Stout, breaking apart any small bits of the roux, and remove any lumps. Add the beer mustard, brown sugar and bay leaves, cooking the sauce for 8–10 minutes to thicken it and cook out the flour flavor of the roux.
When the sauce is thick, turn off the heat and whisk in the grated cheddar cheese a little at a time, so that the cheese is incorporated into the sauce and doesn't become a cheese blob. Season the sauce with salt and pepper, adding a touch more brown sugar if the bitterness is out of balance (depending on the Stout being used). Keep the sauce warm until ready to use.
Other uses:
• Pour this sauce over pomme frites to make a variation of a poutine. Garnish the dish with extra grated cheddar cheese over the top, allowing it to melt under a broiler.
• Use this sauce in place of sour cream on a baked potato.
• Try this sauce over a grilled or smoked steak.
• Use as a fondue sauce.
Hallertauer Hop-Infused Crème Fraîche
Sour cream is a typical go-to ingredient when making any potato dish, but you'll impress your friends with this specialty crème fraîche made especially for beer lovers.
Makes: 2 cups or as much as needed
Hallertauer Hops Infusion Ingredients:
10 grams Hallertauer hops, cones or plugs that have been separated
150 grams vodka or other neutral spirit over 40 proof
Hallertauer Hops Infusion Directions:
To make the Hallertauer Hop Infusion, start with an 8-ounce canning jar, preferably the wide mouth type. Add the hops (any variety will work, just depends on the desired flavor) and cover with the plain alcohol. As the hops are dried, they will absorb some of the alcohol over time. Seal with a tight-fitting lid and let sit for at least 24 hours, if not up to a week or more.
Crème Fraîche Ingredients:
2 cup cream, heavy, preferably only pasteurized, not ultra pasteurized
2 tbsp. buttermilk
Crème Fraîche Directions:
Place the cream into a saucepan over low heat, bringing the temperature of the cream to 100˚F. Add in the buttermilk and swirl the pan to combine and mix the two ingredients, warming up the buttermilk in the process. Pour the mixture into a clean, quart-sized canning jar or bowl, and cover with a piece of cheesecloth or leave open if insects are not an issue. Let sit for 18-36 hours, depending on the room temperature and level of sourness desired.
Start checking the mixture after 18 hours by tasting and testing the consistency. The final product should be rich, with a velvety smooth texture, while nutty and slightly sour on the palate, with the viscosity of yogurt. Once the desired resulted is achieved, seal with a tight-fitting lid and refrigerate for up to 10 days.
*If timing is an issue, this can be purchased at many health food stores, grocery markets or specialty shops/aisles.
Hallertauer Hop-Infused Crème Fraîche Directions:
Add the crème fraîche to a bowl and, using a whisk, add a few drops of the Hop Infusion (extract) as needed to get the flavor of the hop, while still having the tang and bite of the crème fraîche. A pinch of salt can also boost the flavor.
Uses:
• Try as a replacement for sour cream on a baked potato.
• Use crème fraîche in place of cream in an ice cream recipe for a unique sourness. Add strawberries macerated with Kriek or Framboise for a topping.
• Add to a stroganoff recipe in place of sour cream.
• Add sugar, honey, maple syrup or candi syrup to the crème fraîche and whip to make a frosting for cakes or cupcakes, or to garnish a dessert. Flavor with the Hop Infusion made with the hops used in the beer chosen to pair with the dish.
Creamed Leeks, Cuisine à la Bière Style
Leeks cooked in Gueuze with Crème Fraîche. The sour farmhouse funk flavors from the beer blend perfectly with the savory leek and tang from the crème fraîche to make a versatile sauce that works great over mashed potatoes, or over Blonde bière-poached white fish or roasted chicken.
Makes: 3–4 cups
Ingredients:
2 each leeks, light green to white part only, cut in half lengthwise and cleaned
3 tbsp. butter, unsalted
8–10 oz. Gueuze or straight Lambic, like Cantillon Gueuze or Oud Beersel Oude Lambic
1 cup Crème Fraîche (see recipe above), unflavored
kosher salt and white pepper to taste
Directions:
Start by preparing the leeks, washing away any dirt that might have been caught between the leaves. Slice the leeks into half crescents and add to preheated sauté pan over medium-high heat. Add the butter and sauté the leeks until they are slightly transparent and wilted, about 5–7 minutes. Add the Gueuze and reduce the heat to medium. Cook until the beer has almost reduced to a glaze over the leeks (about 8 minutes), then add the crème fraîche, stirring to coat the leeks evenly. Remove from heat, and season with salt and pepper.
Porcini Porter and Rosemary Sauce
Rich in umami, the earthy and fragrant mushroom blends with the Porter's roasty flavor, along with the slight pine from the rosemary.
Makes: about 2 1/2 cups
Ingredients:
1 oz. porcini mushrooms, dried
1 cup water, 180˚F
3 tbsp. butter, unsalted
1 each onion, yellow, medium, peeled and chopped (about 2 cups)
4 each garlic cloves, peeled and minced
12 oz. Porter-style beer, like Deschutes Black Butte Porter or Founders Porter
2 tsp. rosemary, fresh, minced fine
1 cup stock, beef, chicken or vegetable
1 cup cream, heavy, or crème fraîche (see recipe)
1 tbsp. soy sauce or tamari
black pepper to taste
Directions:
In a small bowl or liquid measuring cup, add the dried mushrooms (preferably porcini, but other varieties, like morels, shitake or matsutake, will work) to the hot water, using a fork to press the mushrooms into the water and mixing to coat. Let the mushrooms sit for an hour to rehydrate.
Place the butter in a medium-sized sauce pot over medium heat, and let melt and foam slightly, creating an almost browned butter. Add the onions and sauté until lightly caramelized, about 8 minutes. Add the garlic and sauté until the aroma fills the room. Add the Porter, rosemary and stock, and bring to a boil. Remove the mushrooms from the water, lightly squeezing the fungus to remove any dirt. Place the mushrooms into the pot while draining the liquid into the pot as well, but leaving any sediment behind in the bowl. Reduce the liquid by half, about 10–15 minutes, then add the cream or crème fraîche. Bring back to a boil and simmer till the sauce thickens. Season with the soy sauce and keep the sauce warm until ready to use.
Potato Toppings
Other great items to have in bowls for the mashed potato bar.
• black truffle oil
• sun-dried tomatoes
• crème fraîche, sour cream or yogurt
• pancetta, cooked
• smoked gouda, grated
• basil pesto
• roasted red bell peppers, sliced
• smoked tomatoes, chopped
• roasted corn kernels
• goat cheese, crumbled
• roasted garlic purèe
• artichoke hearts, cooked
• chives and/or mixed herbs ■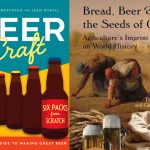 Previous:
Books
Next:
Crow Peak Brewing