Beer News
News
by
Jim Wells
| Oct 2013 | Issue #81
Photo by Lynn Ketchum
Oregon State University Receives $1.2 million to expand Fermentation Sciences Program
Shortly before the 2013 state legislative session drew to a close, Oregon lawmakers approved a $1.2 million cash infusion to help Oregon State University enhance its Fermentation Sciences program.
"That money will help support university research in all aspects of the production of high-value fermented foods," explains OSU pilot brewery manager Jeff Clawson. "Our focus has been beer, wine, cheese, and bread—this new funding will support a faculty position in distillation."
The addition of a research distillery will make OSU the first university in the US to simultaneously operate a winery, brewery and distillery.
The program currently enrolls approximately 220 students, around 140 of which are concentrating specifically on fermentation science ("primarily brewing," says Dr. Thomas Shellhammer, a well-known professor in the program). The money will also fund efforts in hops and grains breeding, and meeting the agricultural challenges of farming and fermenting.
It's Clawson's hope that the program will further strengthen the local economy. Fermented products such as craft beer, wine and cheese add significant economic value to locally grown hops, grains, grapes and milk.
"The bulk of the funds will be used to advance research in the areas of commodities that support the fermentation industry," Clawson says. "This should have a strong impact on local growers and suppliers to the brewing industry in Oregon."
Australian Researchers Test a "Hydrating" Beer
Need to keep your body hydrated, but would prefer to drink more beer and less water? According to a recent study conducted by researchers at Australia's Griffith University School of Public Health, beer can be engineered to help you do just that.
In the study, GU scientists added sodium (an electrolyte) to two different commercially available brews—one at 4.8 percent ABV, and a light beer at 2.3 percent ABV—with the intention of helping to counter the dehydrating effects of a normal beer.
For the study, seven male volunteers pedaled on exercise bikes, and were served a volume of beer equal to 150 percent of the body mass lost during their routine. The scientists then examined the amount of water retained by consumers of the original brews compared to those who drank the enhanced versions. The enhanced light beer proved most hydrating; the enhanced 4.8 percent option did not provide much boost to overall retention.
"The results generally matched our hypothesis, but it is always nice to have the evidence to prove the concept," explains associate professor Ben Densbrow, whose interest in the topic stems from a concern for the health of labor-workers who end a day's work with a beer.
Densbrow says that the topic had been on his mind for quite some time. "I've had this idea for about 15 years, but wanted to do my Ph.D. first, and these studies didn't fit in. I figured it was best to have my qualifications in place for when the beer trials went public."
Densbrow notes that while these recipes are commercially feasible, the study was intended solely as a proof of concept. That means he won't be taking this idea to the bank any time soon.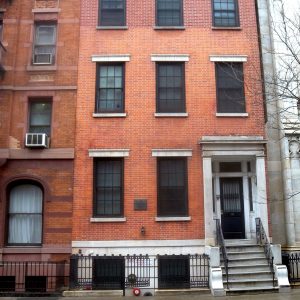 "Stoop Drinking" a Surprise Topic of Interest in NYC Mayoral Debates
During an August 21 Democratic primary debate in New York City's mayoral race, candidates were asked: Should people be able to drink alcohol outdoors, on their home's stoop? All but one candidate responded, "Yes."
Unfortunately for New Yorkers, a gray area of the law says that the front stoop is considered public property, and outdoor imbibers are subject to ticketing by police officers.
"New Yorkers already suffer from too many rules and regulations as it is," John Catsimatidis, a Republican who ran and lost in September's primary race, tells BA. "Of course they should be allowed to drink a beer on the stoop of their home, and hopefully they'll pick a beer brewed right here in New York City."
However, fellow former Republican candidate George McDonald explains to BA that he is opposed to legalizing stoop drinking: "The fact is most people can have a beer on their stoop today without fear of harassment, and many do. The status quo works fine, and we don't need to create another artificial barrier for the police to keep order when the need arises."
Republican mayoral nominee Joe Lhota could not be reached for comment, and Democratic nominee Bill DeBlasio said during the debate that he was in favor of legalizing stoop-drinking.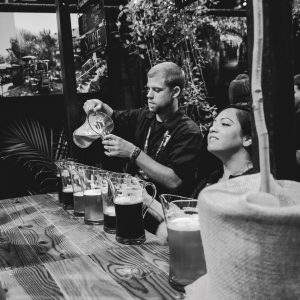 Tragic Accident Takes Life of Stone Brewer
On August 24, Stone brewer Matthew Courtright died from injuries sustained when the forklift he was operating rolled over at Stone's Escondido, Calif., brewery. Matt—who was 27 years old—is remembered by family and friends not only as an exceptionally gifted brewer, but also for his contagious happiness, passion for brewing and readiness to help others.
"Matt was a very talented, creative and skilled brewer who quickly worked his way through all the brewing positions at our Escondido brewery," Stone brewmaster Mitch Steele says. "Most recently, because of the remarkable pilot brews he made, he was the first of our Escondido brewing team selected to spend three months developing recipes and brewing on the new 10-barrel brewhouse at Stone Brewing World Bistro & Gardens – Liberty Station."
He continues, "Matt was innovative, hard-working and a great friend to the entire team as well as an advocate for, and an ambassador within, the craft brewing community. His sense of humor, positive outlook, enthusiasm for craft beer, work ethic and generosity in helping others less fortunate was inspiring to us all."
Stone founders Greg Koch and Steve Wagner also tell BA that they are still determining ways to properly honor Matt's memory.
This incident comes at a time when safety in the craft brewing industry is under scrutiny, with critics claiming smaller breweries need to put a stronger emphasis on workplace safety. According to a recent Reuters study, four deaths occurred at craft breweries between 2009 and 2012, while two deaths at macrobreweries took place over the same period. ■
Previous:
Unseasonal Releases
Next:
Crafting a Nation