Dance the Can-Can: Canning a Homebrewed Saison
BYOB
by
Drew Beechum
| May 2016 | Issue #112
Illustration by Ellen Crenshaw
How the world has changed. It wasn't that long ago that cans were "low class." Now, breweries are getting their can-can on regularly, while us lowly homebrewers are left in the packaging dustbin doing our bottle waltz.
Have you ever wondered how Joe's Shoestring Nano is able to can when the gear is so expensive? Well, in a landscape accepting of gypsy brewers, there are also gypsy canners who'll pull up to your brewery to drop your precious suds into gleaming cylinders of love.
These rigs work best with barrel-plus volumes. So, sadly, it's still not practical to can most homebrew batches. The process is finicky, requiring careful dialing-in and a heartbreaking—for homebrewers—amount of spillage.
My club did it anyway and created a beer-canning project. Specifically, we canned a Saison inspired by "figolla," a Maltese Easter cookie that's infused with almond paste, orange and lemon. Unlike my traditional Saison, this one uses three "toasty" malts to lend a baked character. Then we add lemon zest, blood orange zest and juice, and a tiny amount of almond extract.
For this project, our local mobile canner, Beer Monks, volunteered and swung by a club meeting. They took four of our kegs and hand filled containers via a Beer Gun because of the small volumes and rougher carbonation. The resulting cans were passed down the line to seal and label. I cannot express how awesome cracking open a fresh can of your beer truly is. Try contacting your local canning crew to give it a shot!
Saison Figolla
For 10 gallons at 1.057 OG | 1.009 FG | 26 IBU | 6.4% ABV
Malt
13.75 lbs German Pilsner
3.25 lbs German Munich malt
1.25 lbs Caravienne malt
0.67 lbs Biscuit malt
Mash
Single infusion at 148°F for 60 minutes.
Mash out at 168°F for 20 minutes.
Hops
0.8 oz Magnum | 12.9% AA | 60 minutes
0.5 oz Crystal | 4.2% AA | 5 minutes
Extras
1 lemon, zested, added at knockout
2 blood oranges, zested and juiced, added at knockout
19 ml almond extract, added at packaging
Yeast
Wyeast 3711 French Saison ■
Previous:
Canadian IPA Circa 1900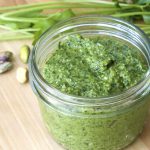 Next:
Celebrate Spring with an IPA Pesto