33 Beers
Innovation
by
Lisa Morrison
| Apr 2010 | Issue #39
It's a common problem at beer festivals, tastings and beer vacations: You start out strong, taking precise notes of each beer you taste, but eventually, you fall prey to the dreaded malady known as ABDD—Adult Beverage Distraction Disorder.
Victims of ABDD exhibit the same symptoms: Their notes grow sloppy or, worse yet, downright unreadable. In extreme cases, ABDD victims abandon their notes altogether. But now there is hope for victims of ABDD: 33 Beers. No, drinking more beer isn't going to help you take better notes. But a little journal named 33 Beers promises to help fight the onset of ABDD and give its victims a chance to keep track of those tasty brews they sample.
Created by a beer lover, Dave Selden, who also has been a longtime sufferer of ABDD, 33 Beers was born out of frustration and a Zen-like need to "be in the moment" at beer festivals.
"I've been that guy at beer festivals with a color-coded, tablet-sized spreadsheet meticulously printed out the day before," Selden says. "It wasn't fun [taking notes], and despite good intentions, I ended up abandoning the effort mid-festival anyway. … I wanted something that made recalling the beers and their flavors easy, but something that didn't require a lot of time while at the festival. You see, I like to drink beer, too, not just write about it."
33 Beers is a booklet that holds enough pages to record tasting notes for … wait for it … 33 beers. At a mere 3.5 by 5 inches, it slips into the back pocket of a pair of jeans or shorts perfectly, and handy checkboxes and lines help you organize the information of each beer you taste.
But the key feature, the one that makes 33 Beers so beautifully simplistic to use, is the "flavor wheel." This diagram, which looks a bit like a dart board with words around it, lets the user quickly jot down a beer's main flavor characteristics with just a few dots from his or her pen. For low values of a given characteristic, you simply fill in a dot near the wheel's center. The farther out from the bull's eye the dot lies, the more the beer exhibits that quality. There are 16 different characteristics common to beer on the flavor wheel—properties such as fruity/estery, fruity/citrus, floral, body, toffee, malty, astringent and sour, for example—which allows for some pretty detailed flavor profiles.
"The flavor wheel and simple checkboxes make note-taking easy. No need to describe each beer long-hand, and no trouble deciphering a less-than-steady hand the next morning. Just make a few ticks, and you're basically done," Selden says. "This satisfies my desire to be a more conscientious beer taster, but allows me to hang out with not-so-geeky friends and still be in the moment."
The booklet has only been available since late last year, but Selden says plans already are in the works for more 33 products. "I get asked almost every day about an iPhone app, so there's that. But I want to make it something beyond just a simple re-creation of the book. I think it needs to do more," Selden says. "I'm also planning on this becoming a series. 33 Wines is in the works and will likely be followed by 33 Beans [coffee tasting] and 33 Cheeses, which seems a natural companion to the beer books."
In the meantime, 33 Beers is available for purchase online at 33beers.com at the budget-friendly price of $4 for each booklet, $10 for a three-pack or $90 for 10 three-packs—a relatively small price to pay to prevent the heartbreak of ABDD. ■
Previous:
Three Threads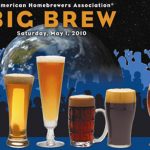 Next:
Brewing Big for National Homebrew Day