Beer News
News
by
Jim Wells
| Jul 2012 | Issue #66
Chicago's Baderbräu Pilsener Resurrected After 10 Years
Launched in 1989, Baderbräu was Chicago's premier craft beer offering. The brand amassed a devoted local following during the '90s, but went out of business in 1997. Production resumed for a few more years after Goose Island purchased the brand, but brewing of the Baderbräu Pilsener ceased altogether in 2002.
A few years later, Chicagoan Rob Sama decided to find out what happened to the brand he'd loved in the '90s. He looked into who owned the beer's trademark and the baderbrau.com domain, thinking maybe he'd build a fan site; after learning they were both available, Sama snatched them both.
More research led Sama to Doug Babcook, who developed Baderbräu's original recipe. Babcook gave Sama the recipe, and helped him obtain the brew's proprietary yeast strain. After these pieces fell into place, Sama enlisted his colleague, Joe Berwanger, to assist with the business side.
After about seven months of brewing and fine-tuning, the beer was publicly unveiled during Chicago Craft Beer Week. Business thus far has been brisk, and the fans are still as devoted as ever. Berwanger tells BA via email, "We've had people actually bring their 20-year-old glassware, bubble-wrapped, down to our launch events for their first taste. The fans are ecstatic, and they say the beer is tasting as good as they remember it."
Berwanger says they can currently brew 80 barrels per month, and if it continues to sell, "We will absolutely increase production." He continues, "We would like to really focus on Chicago and get our fans and our home market happy with us and our beer before expanding elsewhere. This is really their beer, and we want to do this right by them. Eventually, we hope demand will be strong enough for us to grow and distribute further … but right now we're focused on making good beer and pleasing our fans here first and foremost."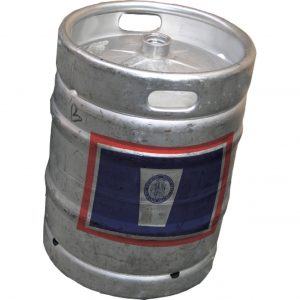 14 Wyoming Breweries Collaborate on Official State Beer
Thankfully, the adage "too many cooks spoil the soup" doesn't apply to brewing beer. Fourteen Wyoming breweries gathered to brew an "official" state beer in time for National Craft Beer Week. This collaboration produced an IPA—dubbed "Wy-P.A."— to represent the state of Wyoming.
The idea came to Steve Simpson, of Saratoga's Snowy Mountain Brewery, in June 2011. Simpson tells BA via email, "At my brew festival [in August] 2011, which only allows Wyoming breweries, I brought the idea to all the brewmasters. All jumped at the idea, but at that time it was only an idea." Wind River Brewing, in Pinedale, later offered their brewery space to Simpson for the effort.
Tim Harland, vice president of sales & marketing for Snake River Brewing Co., tells BA that logistics were ironed out over a series of conference calls leading up to the brew day. Each brewery was assigned to bring hops, malt or both. Harland explains that the night before the brew day, they all got together and discussed which malt and hop profiles would fit the guidelines of an American IPA. "The brew day consisted of every brewer adding ingredients to the brew and manipulating the beer into its fermenter."
Each brewery received only two kegs to distribute, and donated the proceeds to charity. According to Harland, "The response to [Wy-P.A.] was electric. Promoting our statewide collaboration beer, while educating people about craft beer during American Craft Beer Week, went hand-in-hand exceptionally well."
There hasn't been any formal recognition by the state of Wyoming yet, but the brewers hope to collaborate again next year in honor of Wyoming's brewing tradition and American Craft Beer Week.
Molson Coors Purchase of StarBev Formally Approved by ECC
On June 7th, the European Commission on competition formally approved the sale of major Eastern European brewer/distributor StarBev (brewer of Staropramen) to Molson Coors for approximately $3.54 billion. The acquisition is seen as mutually beneficial, but Molson Coors in particular found this deal to be the best way to expand brand presence in developing markets overseas.
Molson Coors president and CEO Peter Swinburn explains via press release, "The Central and Eastern European beer market is attractive, with strong historical trends and upside potential as the region returns to its pre-economic-crisis growth rates."
StarBev will continue to run as a separate corporate entity from Molson Coors, remaining headquartered in Prague. StarBev employs about 4,100 people and, in addition to Staropramen, brews over 15 other brands primarily sold throughout Central and Eastern European nations. StarBev CEO Alain Beyens, who's leaving the company, says, "We are delighted to become part of one of the world's largest brewers. … I am convinced Molson Coors will take StarBev to the next level of development and growth."
Legislation Brewing
Alabama: Unfortunately for Alabamians, House Bill 354, which would have legalized homebrewing in the state, died at the end of the year's legislative session despite a promising run. Grassroots organization Alabama Homebrewing states on their website, "There is something to say about the bill dying because time ran out, rather than being voted down. We progressed farther down the legislative process this year than ever before, and yes, we will be back in 2013."
On the bright side, Gov. Robert Bentley signed the Gourmet Bottle Bill into law, which will take effect August 1st. This law permits the sale of bottles up to 25.4 fluid ounces in size, meaning locals will finally be able to purchase 22-ounce and 750-milliliter bottles at retail locations, opening up a wealth of previously unavailable selections.
New York: After the recent New York brewery tax ruling [Beer News, issue #65] that resulted in New York breweries having to pay taxes they had previously been exempt from, the state government announced that they were hard at work creating a new set of tax benefits for in-state breweries to help offset the added costs. Legislation has already passed the state Senate that would provide New York brewers (producing fewer than 6 million barrels per year) a 14 cent-per-gallon tax credit for the first 200,000 barrels made each year. The bill needs to clear the Assembly before the session ends on June 21st, but legislators and brewers are optimistic.
Virginia: Virginia has declared itself "for craft beer lovers," as two new bills were officially signed into law. The first, House Bill 359, allows brewers to lease a portion of their brewhouses to smaller breweries, similar to contract-brewing situations. The second, Senate Bill 604, permits retail sales and sampling of beer within brewery premises. Gov. Bob McDonnell states via press release, "The legislation … will make it easier for our breweries to serve as destinations for potential customers and allow some of our talented small-scale brewers to lease space from established brewers and overcome some of the significant start-up costs." ■