Iron Horse Brewery
From the Source
by
Sean Lewis
| Aug 2012 | Issue #67
Photo by Photonuvo
For inexperienced industry newcomers, the process of opening a brewery or a brewpub is a lengthy one. Neophytes have to develop relationships with distributors, equipment manufacturers and elected officials as they maneuver the tedium of getting started. Many seek out other brewers as consultants, and tour breweries in their area to get a sense of what is required.
But when Greg Parker opened Iron Horse Brewery in Ellensburg, Wash., along with his father, Gary, and friend, Ross Chalstrom, all he knew was that he liked beer.
Fragile Foundations
Greg Parker was working at a deli counter in Montana, mulling a return to college, when he came across a notice for a brewery for sale.
"At the time, I was making beer in my garage in Montana, and saw that the brewery [went up] for sale," Parker says. "I was able to talk my dad into helping me buy a brewery, even though neither of us had any commercial brewing experience."
The brewery was a small operation called Iron Horse, founded by Jim Quilter in the summer of 2004.
"He liked the beer, but he wasn't big into selling beer," Parker says of Quilter. "He kind of hung out and waited for people to show up, and not enough showed up for him."
The Parkers came in and took over management of Iron Horse in March of 2007. By July of the same year, they were the official owners. Greg was going to lead the day-to-day operations, but they brought in Chalstrom, a college friend of Greg's, to manage sales—despite the fact that he had as much experience in sales as he did in the beer industry—which was none.
"It was kind of random," Chalstrom admits. "We had been friends for a long time, and after him getting married and moving to Montana, we didn't talk that much." Chalstrom had his sights set on becoming a college professor around the time Greg moved back to Washington. "I helped him move, and he told me what he was doing. At that point, I liked craft beer and stuff, but … I look back and think of how little I knew.
"I think for me it was a little different just because I focus mostly on sales," Chalstrom continues. "I brewed a little bit, but if I was brewing our beer, we'd never sell any beer. The learning curve for me was more that I had never really sold anything. I tried to understand what is it about craft beer that makes it unique, and what's a good way to go about it."
Fresh Perspectives
According to Greg, the move to Washington and the financial hardships that followed put pressure on his relationship with his wife, Natalia, who was eight months pregnant with their second child at the time.
"Apparently, she's got as bad of judgment as I do," Parker says with a laugh. "I think probably she's a selfless person and realized I had a job I didn't like, and I had identified a career path that was of interest to me. Even though it wasn't good timing or necessarily a guaranteed path to success, she wanted me to pursue it."
The couple stuck it out, and so did the business. When Greg took over in 2007, Iron Horse produced about 500 barrels per year. Today, they make more than that in a month. Although Greg acknowledges things would have been easier had he entered the business with more experience, he credits the team's fresh perspective as crucial to their growth and success.
"We stumbled through the logistical side of it, the distributor relationships and behind-the-scenes stuff. We fumbled more than we scored," Greg says. "Rather than coming from inside and wanting to do things the established way, we didn't know what it was, so we just did it our way.
"I think that really made the difference, because we took beers to market that didn't have styles, didn't meet expectations and were kind of their own thing. It allowed us to create a signature. We recognized that as our greatest strength, in that we didn't know what we were doing. You have to learn something unless you want to keep suffering, but we try to ignore as much as we can about the industry and continue to put our take on it rather than the industry take."
The same went for Chalstrom, who was trying to introduce himself to the community while learning the ins and outs of salesmanship.
"It's changed now. There's more of a kind of a developed idea of how you sell beer and how you market it," Chalstrom says. "I remember when we started, not many breweries had sales reps. I think by getting out there, a lot more people understood that we were young, and we were unpolished and a little different. That gave us some uniqueness a little in the beginning."
Rules? What Rules?
If you want to taste a refined Czech Pilsner or a mild English Porter, then Iron Horse Brewery is not for you.
"We don't try to hit styles necessarily," head brewer Tyson Read says. "We try to do things that are a little different that don't quite get a category."
That approach is perhaps best typified by Iron Horse's top-selling beer: Quilter's Irish Death, a tribute to the brewery's founder. Not quite a Porter, not quite a Stout, the beer defies classification—or, as Greg calls the dark, smooth ale, "beer candy."
"It's kind of an anomaly beer," Read says. "It doesn't really fit anywhere. It's got some of everything in it. Low hoppiness, dark in color. A lot of people like it, especially people who are new to craft beer."
Read, who unlike his employers was trained in brewing at UC Davis and was no stranger to the industry when he became the head brewer at Iron Horse in 2010, can execute straightforward beer styles if he wants too. But with Greg at the helm, Read is able to experiment and stretch the limits of what styles should look like.
That's just the way they do things at Iron Horse. Don't blame them though … they don't know any better.
BREWHOUSE
15-bbl, 2-vessel* direct-fire system built by JV Northwest
4 15-bbl fermenters
3 30-bbl fermenters
* Iron Horse is currently moving into a new, larger, location and will upgrade its brewhouse to a three-vessel system.
What's on tap
Quilter's Irish Death: Iron Horse's most popular beer. A "dark, smooth ale" with sweet flavors and low hoppiness. – 7.8% ABV
Iron Horse IPA: An approachable IPA, with almost 60 IBUs coming from Cascade and Centennial hops.
509 Style: Iron Horse's version of a session ale. Low in bitterness, primarily hopped with Cascades and dry-hopped with Cascades to boost the aroma. – 5% ABV
High Five Hefe: A ginger honey wheat beer with subtle notes of ginger and honey as well as a strong fruit character.
Light Rail Ale: A variation on the Cream Ale style, hopped with Fuggles to add a faint hop aroma. – 5% ABV
Double Rainbow: A cross between a Red Ale, an IPA and an Imperial IPA, it's a hoppy beer loaded with Cascade, Centennial and Amarillo hops. – 7% ABV
What He Said
"We've gotten past the scary phase where it's 'how am I going to pay my next bill' and 'how am I going to get the next sale.' We're stable. We're still wondering how we're going to pay the next bill, but mostly it's the cash flow issue and not a survival issue. The first couple of years took a while though." – Iron Horse co-owner Greg Parker ■
Previous:
Ryan Michaels of McKenzie Brew House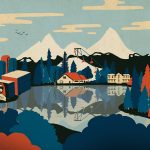 Next:
Bend, Oregon