The Victory Lap
BYOB
by
Drew Beechum
| Mar 2013 |
Issue #74
Illustration by Ellen Crenshaw
This month, we track an entry from a BeerAdvocate member, Ward G. Walkup IV (aka barfdiggs), through the 2013 Doug King Memorial Competition.
I sat down before a wide-ranging flight of 22 bottles awaiting me in Fruit/Vegetable, Herb/Spice beers; everything from Strawberry Saison to Haberno Cream Ale. Four teams tackled the entries, and in the middle of my panel appeared Ward's Vanilla Chai Strong Milk Stout.
In this main round, the first bottle impressed my partner and me enough to advance to the mini-Best of Show (BoS). There, it unanimously took first place from all the judges. It was rich, sweet and chocolaty with enough spice to balance a lactose-enhanced body. I've never before sat at a mini-BoS where all of the judges instantly agreed on 1st, 2nd and 3rd.
I was invited to judge the Best of Show round with two Grand Master++ judges and Eagle Rock Brewery's brewers. With a sober lunch's distance between the morning and us, we sat down to reevaluate the category winners.
Best of Show is a brutal, quick bloodbath with beers getting knocked out for tiny flaws. Each winner gets a quick tasting with note. After a complete re-tasting, the judges discuss each entrant.  Ward's was eventually eliminated because the second bottle was more aggressively minty and anise flavored than the bottle I'd had in the morning.
Regardless of missing in the BoS round, it is an absolutely fantastic beer, and Ward was kind enough to share his recipe. Ask him for other variants!
MATRIMONIAL MILK STOUT V4
For 5.5 gallons at 1.090, 50 SRM, 29 IBU
Malt / Grain / Sugar
13.25 lb. Thomas Fawcett Maris Otter malt
1.25 lb. Thomas Fawcett pale chocolate malt
0.75 lb. Castle Special B
1.25 lb. Simpson's Golden Naked Oats
0.6 lb. Weyermann Carafa III
0.6 lb. Simpson's chocolate malt
2.0 lb. lactose (added during boil)
Mash Schedule
Saccharification rest at 154°F for 60 minutes. Mash out 168°F 10 minutes.
Hops
29 IBU East Kent Goldings, first wort hopped
Yeast
Wyeast 1968 London ESB
Other
– 5.0 oz Chai Masala Blend, steeped in whirlpool for 10 minutes
– 1 vanilla bean (added for one week after primary fermentation)
Cold crash (chill the beer for about a week to achieve clarity) and keg. If flavor isn't sufficient, use a chai tincture (1.5 oz chai + 2 vanilla beans in vodka) to adjust. ■
Previous:
Imperial Mild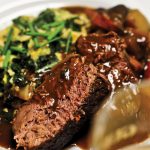 Next:
Beyond Corned Beef & Cabbage