Beer News
News
by
BeerAdvocate staff
| Jan 2016 | Issue #108
Excavation Uncovers Shakespeare's Brewhouse
In an excavation of New Place in Stratford-upon-Avon, England, the site of William Shakespeare's family home, archeologists from Staffordshire University have discovered evidence of a brewhouse where beer was made and food was pickled and salted. Built around 1490, Shakespeare purchased the property in 1597 and lived there the last 19 years of his life.
Big Bend Brewing Founder Steve Anderson Dies at 53
Texas craft brewing pioneer Steve Anderson died from prostate cancer on November 25 at age 53. Anderson came to Austin in the '80s when he spent his time homebrewing and performing in several punk bands. After attending the Siebel Institute in Chicago, Anderson and his friend Billy Forrester successfully lobbied the Texas legislature and opened Austin's first brewpub, Waterloo Brewing Co., in 1993. When Waterloo closed in 2001, he spent 10 years as head brewer at Live Oak Brewing Co. before leaving to found Big Bend Brewing Co. in Alpine with his wife in 2012.
Magnolia Brewing Co. Files for Bankruptcy Protection
On November 30, roughly 18 months after opening Smokestack, its highly anticipated brewery and barbecue restaurant, San Francisco's Magnolia Brewing Company filed for Chapter 11 bankruptcy protection. According to owner Dave McLean, Smokestack, the original brewpub, which opened on Haight Street in 1997, and the Alembic, McLean's beer forward bar and restaurant, will remain open as the company seeks to restructure its debt.
George Washington's Small Beer Recipe Digitized
A recipe for "small beer" was found in a notebook from June 1757 that belonged to 25-year-old George Washington while he was stationed at Fort Loundoun in Winchester, Va. "Take a large Sifter full of Bran Hops to your Taste—Boil these 3 hours," writes Washington. "Put in 3 Gallons Molasses while the Beer is scalding hot … Then put in a quart of Yeast if the weather is very cold cover it over with a Blanket. … Let it work in the Cooler 24 hours then put it into the Cask. [L]eave the Bung open til it is almost done working—Bottle it that day." The recipe is believed to describe wartime preparation. The entire notebook can be viewed via The New York Public Library Digital Collections.
Pretty Things Beer & Ale Project Closes
After seven years of brewing creative German, English and Belgian-style beers, Pretty Things Beer & Ale Project owners Dann and Martha Paquette announced on November 24 that they had ceased production. Based in Somerville, Mass., and best known for Jack D'Or Saison, Pretty Things beers were brewed at Buzzards Bay Brewing in Westport, and will be available through January.
Mikkeller to Open San Diego Tasting Room
Finalizing plans announced in March 2015 (News, issue #99), Mikkeller founder Mikkel Borg Bjergsø and AleSmith Brewing Company owner and brewmaster Peter Zien have entered into an agreement to establish Mikkeller San Diego, a brick-and-mortar facility in AleSmith's original 30-barrel Miramar brewery, where both men hold an ownership interest. AleSmith-Mikkeller IPA and AleSmith-Mikkeller APA are currently on tap at various locations in San Diego, and more beers will be available once the tasting room opens early this year. The new brewery plans to invite brewers from around the globe to collaborate on envelope-pushing beers, building on relationships established during Bjergsø's travels as a gypsy brewer. ■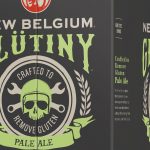 Previous:
More Breweries Add Gluten-Sensitive Products
Next:
It's All Fizzics