Beer News
News
by
Jason Feifer
| Jan 2007 | Issue #1
PBR on NPR? What the Hell?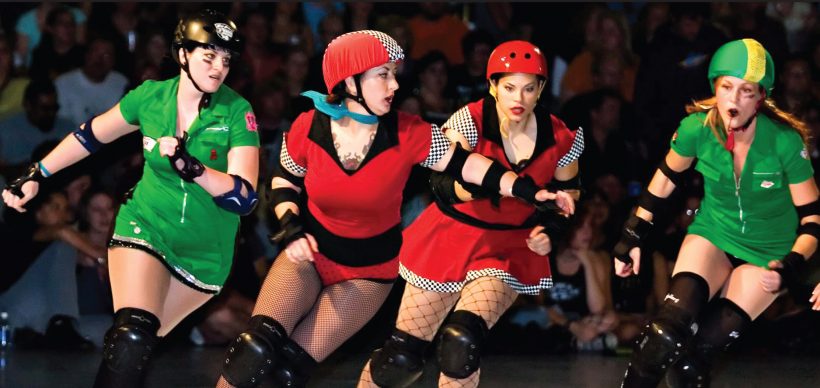 Rose City Women's Roller Derby | Photo by Lenny Gotter
Pabst Blue Ribbon's unexpected resurgence has been fueled by the thrifty, kitsch-loving habits of urban hipsters. So what's the brand doing by courting its drinkers' parents? Since January, PBR has been an NPR sponsor, beginning with its live concert series and now being credited on All Things Considered, Car Talk and Wait, Wait … Don't Tell Me.
It's a bit jarring to hear cheap beer hold court next to traditionally heady sponsors such as the MacArthur Foundation, but some in the marketing and beer industries see sense in the strategy. "It could be that they're looking to generate word-of-mouth among people because it's so unusual to hear Pabst Blue Ribbon on NPR," says Ami Bowen, director of marketing for Copernicus Marketing Consulting. "Because it's so unusual, it might break through the clutter."
The move fits small-budgeted Pabst's modus operandi. It shuns traditional in-your-face beer marketing, and instead sponsors small events such as women's roller derby and a fraternity at Oregon State University. And NPR, for what it's worth, is the king of un-hype. But how understated can a company's marketing get? Pabst executives did not return messages seeking comment.
Families Encouraged to Spread Holiday Beer
Gather the family 'round for the holidays, serve that juicy turkey and crack open a cold one for grandma. As a new Brewers Association campaign insists, there's no better time. The organization—a trade group representing small and medium-sized brewers—is trying to get people to pair food with beer the way they've traditionally done with wine.
To help people make the connection, it has launched beerandturkey.org and distributed suggested food and beer pairings to hundreds of breweries. Its first targets are the big, yearend holiday feasts, which it claims are full of flavors complementary to beer.
But what about vegetarians and their Tofurkey? Must they stay sober?
"You start looking at ingredients of Thanksgiving dinner, it's a list populated with wine and food pairings that are diffi cult," association spokesman Ray Daniels says. (The wine industry begs to differ, of course: "Turkey, mashed potatoes, green beans, whatever the standard—those things are all really easy to pair with wines," counters Tania Dautlick, executive director of the American Wine Society.)
Traditional roast turkey? Try strong Golden Ale or a Vienna-style Amber Lager. Ham? The fruity clove notes in a Weizen or Weizenbock match its preparation. The Association's list is long and thoughtful, and covers most holiday meats. But what about vegetarians and their Tofurkey? Must they stay sober? "Well, I guess we didn't talk about that very much," Daniels admits. "I suppose that's something we'll have to add in next year."
Steel City Worried About Its Iron City Beer
Pittsburgh Brewing—the local institution behind Iron City Beer and IC Light—has been through this before: It entered Chapter 11 bankruptcy in 1997 and emerged in 2001. But this time, after spending a full year in its second bankruptcy, observers are starting to wonder if the brewer's last call is coming. "I think Iron City has a lot of equity. I think it's a brand you could do something with," says Peter V.K. Reid, editor of the trade magazine Modern Brewery Age. "But you need money, you need resources, and the current operation is fighting so desperately just to keep the doors open."
In the past month, the 145-year-old brewer's court troubles have become daily news in Pittsburgh. A federal bankruptcy judge has said Pittsburgh Brewing needs about $12 million in new investment to come out of Chapter 11; the brewer says it only needs $7 million, according to the Pittsburgh TribuneReview. Either way, investors aren't lining up. Pittsburgh Brewing is "part of the identity of the city," says Dave Groll, an organizer of the annual Pittsburgh Brewfest.
He'd hate to see it go, and he's not alone. Still, the company hasn't exactly endeared itself to the city's new generation of beer drinkers. Unlike some mid-sized brewers, such as nearby Yuengling, which staved off trouble with a fresh new image, Pittsburgh Brewing sticks to basics. "They're playing against Bud, Bud Light," Reid says. "It's a deadly place to be."
Drinking on the Job Is Encouraged
Instead of the ol' standard of hotel bars—Budweiser on tap and karaoke Thursdays—Four Points by Sheraton is classing up its watering holes with imports and locally brewed beer. Now it's looking for someone to tie it all together—and it could be you. The chain is searching for a Chief Beer Officer, a brew-knowledgeable person to attend promotional events and help choose beer selections for individual hotel bars.
It's a largely ceremonial position—the lucky drinker will be paid in free beer and hotel perks—but it's attracted a flood of interest. The search was announced on November 15; by the 17th, six hundred people had applied. Craft beer's popularity is rising—growth was up at least 11 percent this year, and nine percent last year—and Four Points wants to be along for the ride. Senior Vice President Hoyt Harper said the small-name beers make his bars unique and more comforting, and give visitors a local flavor. Beer officer hopefuls can apply at fourpoints.com/cbo.
The selection process starts in January. So far, the hotel has been thrilled with the response, although there was one glitch: It initially forgot to tell employees they are ineligible. "Once we told them they couldn't qualify," Harper says, "everybody had a friend that would be perfect for the job."
Enter Site, Take Out ID
When Harvard University announced it would end its early admission program, it received the most surefire confirmation that an idea is a good one: Its peers, including Princeton, quickly followed suit. But when Anheuser-Busch recently announced it will hire a company to weed out underage website visitors, its peers had a very different reaction: some quiet shrugs and a lot of pooh-poohing.
Does that mean it's unrealistic, or that nobody else wants to go through the trouble? It may be a little of both. "It is going to be a marketing nightmare for them, but it is definitely do-able," says Teri Schroeder, CEO of the nonprofit internet safety group i-SAFE America. That's because, to properly check for age, sites must demand the kind of personal data that could turn people off, she says. That's hardly what happens now. Typical brewery websites only ask visitors for a date of birth, but it's not verified and easy to lie about.
The Budweiser folks have yet to hire their e-bouncer company, and said they can't discuss the mechanics of their system until that happens. But it appears to be a closed case, as far as its competitors are concerned. Miller and Heineken did not return calls seeking comment, and Molson Coors outright said the effort's worthless. "Of the options we have reviewed, people who choose to fill in false information can still do so," it said in a statement. ■