Beer News
News
by
Jim Landry
| Feb 2010 | Issue #37
Photo by Flickr user infomatique / William Murphy
Two Firefighters Injured Fighting Blaze at Dublin's Guinness Brewing Facility
At approximately 12:10 p.m. on Monday, December 21, a fire broke out on the roof of a building in the Guinness Brewery Complex in Dublin. The blaze took 15 firefighting units more than three hours to get under control, and sent two firefighters to the hospital to be treated for inhaling what was believed to have been ammonia gas.
The roof of the building, which held nothing more than empty containers and old machinery, was in the process of being repaired when the fire broke out. The roof was partially made of felt, which helped fuel the ignition.
The tourist center and main brewery are located roughly a kilometer away, so brewery operations could continue normally while the fire was brought under control.
The Guinness facility, in addition to being a main tourist destination in Dublin, brews their flagship Stout, in addition to Carlsberg lager and Budweiser.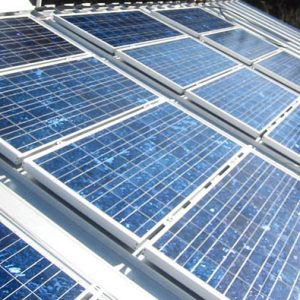 Breweries Going Green and Heating Things Up
It's been a banner year for eco-friendly brewing, and the green movement continues with the help of three more brewers who are turning over a new leaf: Colorado's New Belgium and Odell breweries, as well as Wisconsin-based Central Waters.
All have recently utilized solar energy to offset their general electricity usage and to help heat water. Each individual setup has managed to cut energy and resource consumption considerably. Many of these projects were also financed in part by grants from local energy conservation groups.
On January 9, Odell announced an 11,000-square-foot, 76.8-kilowatt setup, which will help cover as much as 39 percent of their on-site energy needs.
In addition to electricity, Central Waters is using solar energy to help heat water for brewing. Their solar hot water system heats the water to around 135˚F, and then uses natural gas to finish heating the water to the required temperature of 165˚F.
In another forward-thinking implementation, New Belgium activated a 200-kilowatt array that is even tied into the local grid using Smart Grid technology, enabling them to provide electricity to the town's main grid at peak times.
The Big Get Bigger: Heineken Buys Mexico's Femsa Cerveza
In a move to increase profits and gain more control of the expanding Latin American beer markets, Heineken announced on January 11 that they would acquire Femsa Cerveza, Mexico's second-largest brewer and the maker of such brands as Dos Equis and Tecate.
The buyout is moving forward after SABMiller, who had also been in lengthy discussions with Femsa, ended up declining on making a deal.
Still saddled with debt after their purchase of Scottish & Newcastle in 2008, Amsterdam-based Heineken N.V. is planning on paying for this transaction entirely in Heineken stock valued at around $7.6 billion. Heineken will create around 86 million additional shares to make the purchase, giving Femsa a 20-percent stake in the company. In addition, Femsa will get two seats on the company's supervisory board.
Once the acquisition is finalized (in second quarter of 2010), Heineken's market share in many of the world's biggest beer markets will greatly increase. They will become one of Brazil's top three brewers, second only to Grupo Modelo in Mexico, and will become even bigger in the United States.
In addition, Heineken projects they will end up with around $217 million in annual savings after four years.
Brewpubs and Blood Donors Going Pint for Pint
Blood donations are needed more than ever, and Tacoma, Wash.-based Cascade Regional Blood Services is appealing to a new crowd of donors with an offer too good to refuse. They're teaming up with local restaurants and brewpubs, giving donors who give a pint of blood a free pint of beer.
Those who give their blood will get a coupon for their free beer, but it can't be redeemed for at least six hours. According to Washington state law, alcoholic beverages can't be given away for free, so Cascade pre-pays each venue at a reduced cost to obtain a certain number of vouchers for their donors.
Dan Schmitt, director of donor resources for Cascade, tells BA via phone interview, "We look at this as a way to involve others in the community who wish to support our mission in any way they can."
Cascade coordinates around 100 regional blood drives each month, and the pint-for-pint sessions usually take place once per month. According to Schmitt, the pint-for-pint sessions are just as popular as the other drives, but they reach a different demographic, helping Cascade reach their desired number of donors.
Schmitt adds, "It's been a lot of fun for us, but it's also given us a chance to bring the importance of donating blood to the forefront. Hopefully we encourage some people to donate who hadn't really thought about it before." ■