Beer News
News
by
Jim Wells
| Jun 2011 | Issue #53
George Washington's Beer Recipe Discovered, Brewed
A recent discovery by the New York Public Library has provided a rare glimpse into the history of American small-batch brewing. George Washington's personal beer recipe was discovered within his "Notebook as a Virginia Colonel," which is dated with the year 1757.
Shmaltz Brewing Co., in San Francisco, has partnered with the NYPL to brew a 25-gallon batch of "Fortitude's Founding Father's Brew" to help commemorate the centennial of the library's Stephen A. Schwarzman building on 42nd Street. The brew is not an exact re-creation of Washington's Molasses Porter, but rather has been given a couple of slight hop and malt variations. An authentic clone of Washington's brew is also being attempted by Shamltz's brewers.
Shmaltz founder Jeremy Cowan explains via press release his excitement about this opportunity. "The New York Public Library has offered Shmaltz Brewing Company … a chance to bring history, culture, and the written word from revolutionary times into today's craft beer evolution. We are thrilled to transform Washington's recipe into an even more complex and flavorful robust porter … to produce a truly spectacular celebration for the contemporary beer connoisseur."
Cowan also tells BA that while the initial batch was very limited, widespread interest in the brew may inspire a significantly larger future release. "Over 30 pages of Google hits … suggest perhaps we'll be thinking about releasing this at some point for wider consumption."
The NYPL's collection includes several other centuries-old notes and personal effects from Washington, including his handwritten "Farewell Address," and can be viewed in the library's manuscripts and archives division.
Washington's recipe reads:
"To Make Small Beer, Take a large Siffer [Sifter] full of Bran Hops to your Taste.
Boil these 3 hours then strain out 30 Gall[ons] into a cooler put in 3 Gall[ons] Molasses while the Beer is Scalding hot or rather draw the Melasses (sic) into the cooler & St[r]ain the Beer on it while boiling Hot.
Let this stand till it is little more than Blood warm then put in a quart of Yea[s]t
If the Weather is very Cold cover it over with a Blank[et] & let it Work in the Cooler 24 hours then put it into the Cask – leave the bung open till it is almost don[e] Working – Bottle it that day week it was Brewed."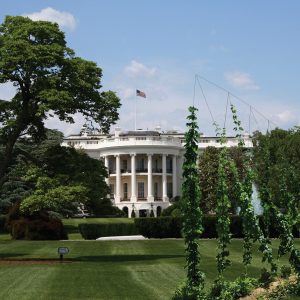 California Hops Held Up by Secret Service
It's a well-known fact that President Obama has enjoyed a beer from time to time since his 2009 inauguration. He's even homebrewed his own Honey Ale (with some help from the kitchen staff), using honey from the White House's beehive.
Sierra Nevada spokesman Bill Manley, inspired by the commander in chief's quaffings, approached brewery founder Ken Grossman with the idea of sending some of their locally grown hops to Washington DC to be planted in the White House garden and used in a future brew. Grossman agreed with Manley's idea, and got in touch with Rep. Peter DeFazio (D-Oregon), co-chair of the House Small Brewers Caucus, a collective of representatives that gives a political voice to the craft brewing community.
Grossman sent the Cascade hop rhizomes to the White House, pre-planted in small pots. However, the plants didn't receive the warm welcome the senders had anticipated.
"Ken very generously sent two, unfortunately previously planted, rhizomes," explained Rep. DeFazio in an address to the 2011 Craft Brewers Conference attendees. "But then we ran into the Secret Service bureaucracy. Somehow they think somewhere in that soil, Ken has planted something that might be the demise of democracy," he joked.
Since Grossman's hops were turned away by the Secret Service, they have been transplanted to Rep. DeFazio's DC office, where they are flourishing. Grossman and DeFazio plan to try again by working more closely with the Department of Agriculture to deliver some non-potted rhizomes for presidential plantings.
UPDATE: Two Proposed Texas Beer Laws Killed
Texas craft breweries are crestfallen yet again, as House bills 602 & 660 [as reported in issue #50] were effectively killed by the Texas state Senate. HB 602 would have allowed breweries producing under 75,000 barrels annually to charge a fee for brewery tours, then let visitors take home up to 48 12-ounce bottles of beer.
HB 602 was passed by the House, but unfortunately met protest by Anheuser-Busch InBev after it was voted out of committee. Mark Bordas, an ABI representative from Austin, claimed the bill was unfair to ABI due to the stipulation that only brewers producing fewer than 75,000 barrels were able to offer the take-home bottles, and if ABI were to begin offering tours at their Texas facilities, they would be excluded.
House bill 660 aimed to permit off-site sales for brewpubs, but it also went down the drain due to staunch opposition from Wholesale Beer Distributors of Texas. WBDT voiced that HB 660 was too much of a change to the omnipotent three-tier system and would hurt Texas distributors.
Stone Announces $26.6 Million Expansion Plans
Bringing a whole new meaning to the term "beer destination," Stone announced on May 18th plans to spend an estimated $26.6 million to further develop its existing holdings and newly acquired property throughout San Diego County.
The proposed plans include an 18.7-acre organic produce farm, a 20,000-square-foot beer garden and brewery, a 400-seat restaurant, bocce courts and an outdoor film-screening area, and a 50-room boutique hotel, complete with an event space and a barrel-aging room.
Stone social media coordinator Jacob McKean explains via a May 20 post on the Stone blog, "Sometime in 2013, we will be able to direct them to the most beer friendly hotel in the world, a perfect launching pad for a tour of America's best beer city. Yeah, we're pretty excited about this one."
Stone's projected endeavors also include doubling the footprint of its brewery in Escondido, Calif., and vastly increasing brewing capacity. Stone estimates they will sell 150,000 barrels in 2011, and will be able to handle production of up to 500,000 barrels per year once the expansion is completed.
The project is also expected to add roughly 250 permanent jobs to the San Diego area. ■
Previous:
How to Be a Beer Fest Pro
Next:
Thinking Small