Married, With Beer
Party-Gyle
by
Cathy Erway
| Aug 2012 |
Issue #67
Bottle openers by hammeronsteel.etsy.com
Have the wedding invitations been accumulating on your refrigerator door all spring? Planning to tie the knot yourself soon? It's high season for holy matrimony in late summer and early fall. Whether attending or planning a wedding, you can make creative use of your favorite craft beers at the ceremony.
Beer has been integral to weddings and other festivities throughout history, much more so than champagne. In fact, the word "bridal" derives from "bride ale," in which "ale" meant a ceremonious feast or merry-making (with ale) in the Middle English sense of the word. You could take that literally and brew a special batch of ale just for the bride as a wedding present. Pike Ale Brewery of Seattle even brews a "Bride Ale," which you can pre-order bottles of with customized labels for your wedding. If your favorite local brewery accepts special orders, you can discuss customizing memorial labels on their bottles as souvenirs or wedding gifts, too. Or have some designed in the theme of your choice to stick on bottles of a homebrew.
Perhaps more useful than creating keepsake beer bottles that will eventually get emptied (or go stale) is custom beer glassware that guests can keep. Make a logo for your wedding (it could just be both initials) and emblazon it on glass beer steins, pint glasses, Pilsner glasses or footed snifters for both serving at the wedding and taking home. This would eliminate the need to rent glassware, and the groom can even stomp on one for a "Mazel tov!" in a Jewish ceremony.
As for getting a custom brew for a wedding fête, think of ingredients that might symbolize the couple's union. Did they meet in Florida, land of oranges? Go to a Thai restaurant as a first date? Creating a beer for a wedding can be just as fun and creative as a cake. Or, you can just make a cake—try adding a rich Stout or Porter into the batter to add a tinge of sweetness and extra lightness; pair with the drinks of the evening.
Because late summer and early fall mark the annual hop harvest, you can also decorate the tables with fresh hop garlands. These fragrant green flowers on leafy vines can be arranged in bouquets or wreaths—or boutonnieres for the grooms and groomsmen. And a fitting venue for a party like this would be a whole brewery, rented out, instead of a regular banquet hall.
There will be plenty of occasions for the newlyweds to knock one back together during the rest of their lives. A shared celebration with friends and family might as well be the best ever, with well-chosen beer playing an essential part. So treat your guests—or the happy couple—to something they've never tasted before, and turn your wedding into the best pop-up beer bar of the year.
Wedding guest souvenir ideas:
Customized beer bottles, glassware and bottle openers
Wedding gifts:
Beer tour experiences, beer gift certificates, homebrews for the happy couple
Decorative accents:
Hop garlands, hop bouquets, craft beer bottle vases, "sand art" bottles with different shades of barley malt ■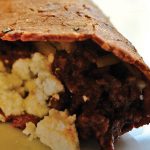 Previous:
Beer Tacos
Next:
Novare Res in Portland, Maine