All Hallows' Beer
Party-Gyle
by
Cathy Erway
| Oct 2012 | Issue #69
Can't make a flight to Munich in time for Oktoberfest? Well, you can always revel in this country's great October holiday: Halloween. Whether you love or hate Halloween, you're doubtless going to be asked to participate in some way. Anyone can find something to like about the holiday, no matter how opposed you may think you are. For one thing, it comes around at the time of year when wet-hopped beers made with fresh hops (from late fall's annual harvest) can be found.
Here's a party formula that no one can resist: fun, scary movies and very good beer. What better way to watch Pumpkinhead than with a cold bottle of Shipyard's Pumpkinhead Ale in hand? Why not calm the chills of watching Cujo with the comforts of Flying Dog's Raging Bitch IPA, Smuttynose's Old Brown Dog Ale or Evil Twin's Mad Dog Pale Ale? How about sitting back and laughing at Day of the Dead with Rogue's Dead Guy Ale?
This concept led to one of the greatest Halloween parties I've ever hosted, when, dressed as Waldo from the iconic children's book, I screened the original Night of the Living Dead in black-and-white from a shitty 12-inch TV to a roomful of friends. We freaked out, gorged ourselves on popcorn, and some fell asleep on the floor after one too many rounds of beer. But those who were still very much alive throughout the movie were shouting at the characters, telling them to do this and that, now!
Of course, a good, rollicking party is always the best way to start out the night before the evening's feature presentation. Flesh out the scene in your home with some fine accouterments in addition to well-themed beers to pair with your premiere.
Decorations for a Decidedly Devilish night:
• Candles that are already dripping with wax should be pulled out of the closet for the party. No candles? A few hours before the event, let some wax tapers ooze aesthetically onto mini carved-pumpkin holders, plastic skulls or Magic 8-balls.
• A bucket of ice is needed for keeping bottles and cans chilled, but a bucket overflowing from gases rising from dry ice is much better. Obtain a brick of dry ice from an ice distributor, and have them wrap it in foil beforehand so you can place it wherever you like, and create rolling fogs from there.
• A fake severed hand hanging from the ceiling as mistletoe is sort of cute and sick at the same time. I applaud this effort, much more so than cotton cobwebs.
---
Food is a must at any party, and here are some simple hors d'oeuvres of the season:
"Bloody Beet Soup"
A savory or sweet, borscht-like concoction can easily be made by boiling beets down with good stock and perhaps some tomatoes to turn its color even more fitting for the occasion.
Chilled Noodle Salad (aka "Brains in a Bowl")
Remember the cold pile of spaghetti that was supposed to feel like brains when you were blindfolded at Halloween parties as a kid? Revamp this idea with a cold pasta salad with plenty of oil, and squiggly, shredded vegetables mixed in for extra flavor.
Deviled Eggs
Need I say more?
---
Finally, here are some of the best beers with the creepiest-sounding names and some suggestions for corresponding horror flicks:
• Great Lakes Nosferatu | Nosferatu or any Dracula-themed flick
• New Holland Brewing's Ichabod Pumpkin Ale, or Iron Hill's Imperial Pumpkin Ale | Sleepy Hollow
• Left Hand Brewery's Chainsaw Ale | Texas Chainsaw Massacre
• Alesmith's Evil Dead Red | The Evil Dead
• Three Floyds' Apocalypse Cow | 28 Days Later or other zombie-pocalypse movie
• Fuller's London Pride | An American Werewolf in London
• Your own homebrew using corn | Children of the Corn ■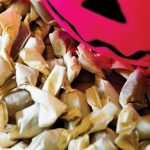 Previous:
Beer Caramels
Next:
APEX in Portland, Oregon