Beer News
News
by
Jim Wells
| Apr 2014 | Issue #87
Droughts Force California Brewers to Reevaluate Water Sources
Northwestern California has been stuck in a drought for the better part of two years, with 2013 being California's driest year on record, threatening the Russian River's water supply and the brewers who depend on it.
Bear Republic, for one, recently installed the EcoVolt wastewater-to-power conversion system, which will significantly reduce water usage. Rich Norgrove, Bear Republic brewmaster and COO, tells BA that other contingency plans include trucking water in from other locations and moving production to another county.
Norgrove adds that he refuses to use groundwater, citing the possibility of agrarian chemicals creeping into the source. "There's no consistency of mineral content in the water, which affects yeast management and hop profiles. There's no control of quality."
But for Lagunitas, which also sources from the Russian River, treated well water is on the table. "Switching to the well system would require [reverse osmosis] to replicate our current water supply," says Lagunitas' Ron Lindenbusch, head of marketing, lamenting that it would be an expensive and somewhat wasteful route.
Russian River Brewing Co.'s Vinnie Cilurzo says his brewery is getting by so far. Santa Rosa's wells are a backup, and while "it would change the makeup of our water, I'd rather have this than no water at all," Cilurzo says.
Smaller breweries that already use well water are also taking measures to reduce usage. "The answers aren't always technology and infrastructure," says Seth Wood, founder and brewer of Woodfour Brewing Co. in Sebastopol. Using squeegees instead of hoses, reducing wash cycles on their oak barrels and running only full loads in the dishwasher are a few ways Woodfour is conserving.
Southeastern Politicians Seek to Reinforce Three-Tier System
On March 3, Florida state Rep. Ray Wesley Rodrigues filed House Bill 1329, supported by AB-InBev and a state association of large distributors. The bill moves to require breweries to have a distributor, and also prohibits breweries from selling bottled beer at their brewery for off-premise consumption (though 64-ounce growler fills will finally be permitted).
"It sure looks like it is trying to restrict Florida craft beer lovers from being able to go to a place that is now legally selling some great craft beer, and fill up a growler and take it home to enjoy," says Bill Knepper, who manages the Facebook account Bill's Florida Growler. "How is this going to help craft breweries?"
Meanwhile, in Georgia, a state Senate committee has recommended against permitting the sale of growlers or bottles on-site, unless the establishment also serves food; although, in order to jibe with a law that allows consumers to take home unfinished bottles of wine from restaurants, the growler must be partially consumed at the brewpub.
"I just think that there is a lack of understanding [of differences] between craft beer and wine," Southbound Brewing Co. co-founder Carly Wiggins says. As for the bill only applying to brewpubs, "I have no interest in providing food. Why not have a food truck or stand come in and set up? Let another business benefit from the tour attendance. Our main focus is making beer."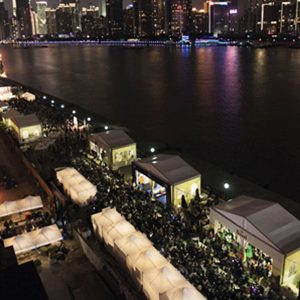 Shanghai Beer Festival Spotlights China's Growing Craft Scene
The third Shanghai International Craft Beer Festival, to be held April 18–20, is projected to be just as successful as October's, which hosted 23,000 attendees and 100 breweries.
"This year, the people behind SIBF are pushing for more craft beer education, including tasting tents, brewmaster panels and an official craft beer import competition with a panel of nine judges flown in from different parts of the world," says Kathryn Grant, managing editor of Shanghai-based Hops Magazine (which, along with the Brewers Association, is a sponsor of the fest).
"There's a lot of interest and a lot of enthusiasm," says Carl Setzer, owner of Great Leap Brewing in Beijing and co-founder of the China Craft Brewers Association. "The oldest craft brands here are only four or five years old." (Great Leap does not support the festival.)
Grant attributes craft beer's rise in China to the country's growing luxury market (high import taxes make beer quite expensive). "It cannot be denied that status symbols also play a very large role in Chinese consumption," she adds, citing the popularity of Belgian beers in China.
The nature of the craft beer scene varies between cities. Shanghai's market is dominated by Western expat brewers who run medium- to large-scale establishments, such as Boxing Cat Brewery, The Brew and Shanghai Brewery. "Although Beijing also has a few professional breweries, Great Leap and Slow Boat being examples, the majority of brewers in Beijing are Chinese and brewing on a smaller scale," such as Panda Brewery and Malty Dog, says Grant, adding that Beijing's "creative, DIY community" also fosters among Chinese locals a stronger homebrewing movement than in Shangahi.
But even that's changing. Hops is holding Shanghai's first homebrew competition in May, which Grant says is garnering a lot of local interest.
While the Chinese brew mostly Western styles, many are putting a regional stamp on their beers by using local ingredients. Setzer, of Great Leap, incorporates indigenous additions like Chinese cinnamon, Shandong date honey, brown rock sugar and Sichuan peppercorns. April's beer festival will point to what's next for this growing market.
Cigar City's Joey Redner on Hunahpu's Snafu
Cigar City Brewing's fifth annual festival celebrating the release of Hunahpu's Imperial Stout ended in chaos and the cancellation of future Hunahpu's Days.
Cigar City founder and CEO Joey Redner explains to BA, "Ultimately, I just didn't make the right calls." Redner says that he gave in to fans' demand that tickets not be tied to a photo ID, which fueled online sales of thousands of phony tickets. Then problems with ticket-scanning logistics slowed admissions to a crawl. "Eventually, to speed the line up, we started getting lax on the scanning. It was the wrong call," Redner says.
By late afternoon, the crowd was almost double anticipated levels. Then Hunahpu's ran out, and that's when crowds turned angry, forcing Cigar City to evacuate the premises. Redner adds, "I personally witnessed some very ugly things shouted at our employees."
Redner plans to brew another 60-barrel batch of Hunahpu's for registered attendees who got shut out, and is offering refunds to all who bought legitimate tickets.
"I'd like to offer my heartfelt apology. We don't throw events to ruin people's day, though that clearly was the outcome for some," Redner says. "We should have been more strict at the gate and in sticking to our original Name On Your Ticket Policy and utilizing the police to move out the few rowdy people in line that refused to move aside for people who had yet to get any bottles."
Next year's release will see retail distribution in Cigar City's home market. ■
Previous:
Licensed to Brew?
Next:
The Great Northeast Brewery Tour