Beer News
News
by
Jim Wells
| May 2011 |
Issue #52
Citing "Quality over Quantity," Several Brewers Scaling Down their Markets
Over 1,750 breweries are operating in the US—the most since the mid-1800s. Demand for craft beer is at an all-time high, and brewers are doing everything they can to keep up. However, sustained rapid growth presents logistical challenges to breweries struggling to deliver a steady stream of beer to their customer base. In order to maintain consistent quality standards and keep up with increased demand, several breweries have announced plans to scale back their existing markets and cease distribution in a few geographic regions—at least until they can increase their production levels.
Dogfish Head, Great Divide, Avery and Allagash have all recently announced plans to cut back to varying degrees, much to the dismay of their fans, who will see these brands leave their regions.
Sam Calagione, founder and CEO of Dogfish Head, explains the plight in a blog post, stating, "Recently, the most taxing component of this challenge is that having demand so far in front … we are not even close to meeting the requests from our … distributors. This is frustrating to them … and to our retailers and to you." Calagione continues, "Yes this sucks. The glass-half-full view is that we (and a handful of other US craft breweries making similar moves) have to do this because … the number of drinkers buying and enjoying craft beer are growing so quickly!"
Each brewery has different distribution footprints, so they all plan on scaling back differently. Dogfish Head is exiting from four states: Indiana, Rhode Island, Tennessee and Wisconsin. Calagione adds via email to BA, "Our distribution and growth decisions are based around celebrating the breadth of our portfolio. We needed to focus a bit more on getting a larger volume of our core year-round beers closer to home. But we want to make sure a lot of our seasonals and specialties are available throughout our distribution network."
Avery is leaving eight states (overlapping with Dogfish in Rhode Island) and cutting support for seven regional markets. Avery Brewing president and founder Adam Avery states via press release, "We all feel terrible about having to pull out of these markets. No matter how you cut it, it is disappointing that we'll no longer be able to serve our loyal fans in these areas."
Great Divide has also been making similar distribution cuts (including in Indiana, Rhode Island and Tennessee), as has Allagash, as demand continues to outpace brewing capacity. However, each brewery is planning on eventual re-entry into these markets once production can catch up.
Flying Dog Raging Against MI State Liquor Control Commission Ban
On March 25th, Flying Dog Brewery filed suit against the Michigan State Liquor Control Commission, citing an alleged violation of First Amendment rights. Since 2009, the MSLCC has denied Flying Dog a license to sell their Raging Bitch Belgian-style IPA throughout the state, claiming the brew's label, which is illustrated by famed artist Ralph Steadman, is "detrimental to the public health, safety, and welfare."
Flying Dog CEO Jim Caruso explains via the brewery's blog why there's more to this suit than mere words on a label, saying, "It's about regulators gradually morphing into self-appointed thought police. We believe not only in freedom of speech and artistic expression for both businesses and individuals, but also in the individual's fundamental right to choose or reject books, art, literature, artisanal craft beer, and other forms of artistic expression based on their personal preferences."
Raging Bitch was a limited-edition release in 2010, brewed in celebration of Flying Dog's 20th anniversary. It quickly became the brewery's most celebrated offering, winning numerous critical awards and becoming Flying Dog's new top-seller, and was made a permanent addition to the brewery's lineup. The lawsuit also seeks to recover an unspecified amount of punitive damages due to the resulting loss of sales.
Caruso hopes the courts will throw them a bone, adding, "We believe in free choice. We do not believe that Michigan citizens deserve government regulators arbitrarily deciding what their beer should be called."
Brews with other "vulgar" names are available throughout Michigan; they include sayings like "Dirty Bastard" (Founders) and "Bad Ass" (Michigan Brewing Company). A similar ban on Raging Bitch was also issued by the state of New Hampshire; Texas banned Flying Dog's Road Dog Porter because the company's slogan, "Good beer. No shit," was deemed offensive—but there has been no word of any litigation against these bans from Flying Dog.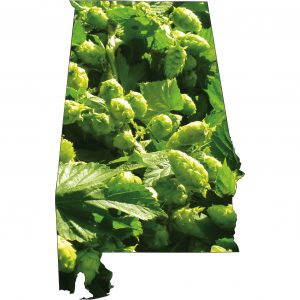 Free the Hops Calling for Boycott of ABI Wholesaler's Products in AL
Alabama grassroots organization Free the Hops is carrying on with their mission to bring expand brewing freedoms in Alabama with two new legislative bills. The first, the Gourmet Bottle Bill, aims to allow the sale of 22-ounce and 750mL bottle sizes throughout the state. The second, the Brewery Modernization Act, seeks to enable breweries to operate taprooms and ease restrictions around brewpubs.
The bills have been facing heavy opposition from Anheuser-Busch InBev lobbyists throughout the state. In response, Free the Hops called for a boycott of all products offered by ABI's distributors, effectually polarizing opinions of their organization amongst craft breweries and drinkers alike. The contentious aspect of this boycott stems from the fact that ABI's distributors in several parts of Alabama are the sole providers of many popular craft brands, like Avery, Great Divide and Back Forty. This means that for much of the state, boycotting the distributor could have a negative impact on the very brewers who have supported the objectives of Free the Hops.
Dan Roberts, vice president of legislative support for Free the Hops, clarified via blog post, "We are not boycotting Back Forty, Great Divide, Avery, or any other craft brewery. We are boycotting a group of distributors that are working against the interests of craft beer. … Unfortunately, [these distributors] carry these breweries in Alabama, so they are getting caught in the crossfire. We hate that, and it was not an easy decision." Roberts continued, "We only pulled the lever on this when it became clear that these distributors were either intentionally stalling us or, at best, that they were not willing to compromise … with regard to the Brewery Modernization Act."
Update: At press time, Free the Hops and ABI had met and agreed on an amended version of the Brewery Modernization Act, ending the boycott. In a blog post, Dan Roberts writes, "We regret that some of the focus, especially outside of Alabama, was directed toward some great breweries that were caught in the middle. This was not our intention, and in hindsight it was an unfortunate, unintended consequence of our decision." ■
Previous:
Boycotting Craft Beer
Next:
The Rebirth of Local Beer