Beer News
News
by
Jim Wells
| Mar 2012 | Issue #62
AB-InBev and MillerCoors Want a Piece of the Apple Cider Pie
After a set of announcements from MillerCoors and Anheuser-Busch InBev, it seems the hard cider market will be bearing some new fruit. Both of the global brewers have announced their plans to enter the quickly expanding market.
MillerCoors announced via press release on February 6 that they have acquired Minnesota-based Crispin Cider, which is currently the third-largest hard cider brand in the US. Crispin will be added to the growing brand portfolio of Tenth & Blake, a craft-oriented division of MillerCoors that also includes brands such as Blue Moon and Leinenkugel's.
Meanwhile, ABI plans to release Michelob Ultra Light Cider later this year, which will be billed as a less sweet, lower-calorie option within the hard cider sphere.
CAMRA Vancouver FUSS-ing Over Standardized Pours
Campaign for Real Ale (CAMRA) Vancouver is frothing mad about inconsistent pour sizes in local restaurants and pubs, so they've launched a campaign called "Fess Up to Serving Sizes" (FUSS) to bring the issue to light.
Canada legally defines a sleeve as 14 ounces (414 milliliters) and a pint as 20 ounces (591 milliliters). Despite these official size definitions, an investigation by Vancouver Sun reporter Larry Pynn found the standards are almost universally ignored. Pynn ordered sleeves and received pour sizes anywhere between 12 and 16 ounces, and any pints ordered fell in the range of 14- to 19.5-ounce servings. None of the bars visited declared the sizes of their pours on drink menus.
Some of CAMRA's corporate members have already added serving sizes to their menus. CAMRA is also asking for signatures on an online petition that will be sent to the BC Liquor Control and Licensing branch. CAMRA Vancouver says on its website, "This campaign is not about getting licensees to serve specific serving sizes—i.e. pints instead of sleeves—and is focused solely on getting licensees to declare exactly what the actual serving size of their draft beer serving is. By doing so the licensee allows the consumer to make an informed choice before ordering. If FUSS is successful the misrepresentation of serving sizes, whether intentional or not, will be eliminated."
CAMRA Vancouver also notes that this is a matter of consumer safety. "By declaring exactly what amount of draft beer is being served, the licensee allows the consumer to accurately gauge [how] much alcohol they are ingesting. In today's world of stronger beers and the strict drinking & driving restrictions, it is important for consumers to know exactly how much alcohol they are consuming. … How can a consumer know whether they are receiving a 341ml (12oz) or a 454ml (16oz) sleeve, a difference of 25% volume, if the actual volume is not declared?"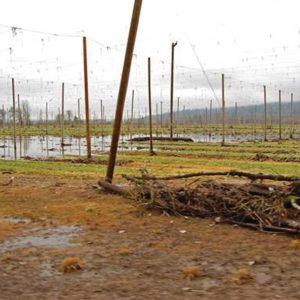 Chatôe Rogue Cleaning Up After Massive Floods
On January 17, Independence, Ore., was subjected to a nasty one-two punch from Mother Nature: Melting snow paired with torrential rainfall resulted in severe flooding of the Willamette River, and the intense deluge submerged the area surrounding the river—which included the 40-acre Chatôe Rogue hopyard and farm—under more than 6 feet of water.
Not only was the farm declared a disaster area, but the high water levels trapped Natascha and Josh Cronin, the farm's caretaker and brewer (respectively), in their farmhouse for 10 days until the waters lowered enough to travel the roadways. The Cronins did receive warning though, so they were amply prepared for the long stay at home. According to Rogue's website, Natascha stated, "I am the captain of this ship and I will not leave my post."
Now that the waters have receded, Rogue is in the process of assessing and cleaning up the property in order to grow more hops in time for next spring's growing season. The hops grown at Chatôe make up roughly 20 percent of Rogue's total supply.
Brett Joyce, president of Rogue, tells BA, "It's impossible to precisely peg the damage. We are just crossing our fingers for good weather in hopes that the hops will grow and flourish."
Belgium Celebrates Trappist Breweries with Postage Stamps
The Belgian Post has issued a set of postage stamps honoring the nation's authentic Trappist breweries. The set of first-class stamps features the Trappist breweries that reside within Belgium—Achel, Chimay, Orval, Rochefort, Westmalle and Westvleteren. Each of the six stamps shows the bottle, cap design and a perfectly poured chalice full of ale.
While this is the first time all of Belgium's Trappist breweries have been collectively honored via stamps, Belgian stamps have featured beer before: One previous stamp featured Trappist ales and another, a nod to the Geuze style of beer.
The United States has yet to depict beer or wine on any of their postage stamps—though they did have a stamp depicting the enforcement of Prohibition as part of a set highlighting historic American events.
Oglala Sioux Tribe Suing Brewers, Wholesalers, Retailers
A lawsuit filed on February 9 by the Oglala Sioux Tribe seeks $500 million in damages from some of the nation's largest breweries, several local alcohol wholesalers and four retail shops in the town of Whiteclay, Neb. The OST alleges that each of the defendants knowingly facilitated and contributed to the tribe's rampant alcoholism rates by shipping a highly disproportional volume of beer and malt liquor to Whiteclay, which is located just south of the OST's territory, Pine Hill Indian Reservation, home to 40,000, about half of whom are tribal members.
Whiteclay has a population of only 14, but contains four liquor stores, which sold nearly 5 million cans of beer in 2010. Since alcohol is illegal on the reservation, its residents often find their way to Whiteclay and smuggle it back home. The Sioux claim the brewers, wholesalers and retailers were fully aware of the situation and the grave problems alcoholism causes the tribe, and sought to exploit it for profit.
The suit declares, "The illegal trade in alcohol could not occur without the knowing cooperation and assistance of every Defendant in the chain of supply. Each and all of the Defendants have profited over the years by supplying vast volumes of alcohol that they knew or should have known was the essential element in an on-going illegal activity. The effects of their common enterprise and cooperation have made that illegal trade in alcohol possible and have caused devastating injuries to the Lakota people and massive financial damages to the OST."
No individuals are named as plaintiffs in the case, so any financial award would go to the tribal government to fund an array of social services. In addition to the monetary award, the Sioux are demanding limits be placed on the quantity of beers Whiteclay retailers can sell.
Breweries named in the suit were Anheuser-Busch InBev, SAB Miller, MolsonCoors, MillerCoors and Pabst.
Virginia, Mississippi Attempting to Pass More Brew-Friendly Laws
A couple of new brew laws are up for debate in Virginia and Mississippi. Both bills stand to benefit brewers and consumers alike.
In Virginia, Republican state Sen. Jeffrey McWaters is sponsoring Senate Bill 604, which aims to legalize the sale of beer to visitors for consumption on brewery premises, and grant permission to sell closed containers of their beverages directly to consumers for off-site consumption. This means people taking a brewery tour would be able to buy a serving to consume at the brewery, and buy bottles directly from the brewery to bring home.
In a letter asking for citizens' support, Virginia Craft Brewers Guild chairman Mike Killelea writes that the bill would put the state's brewing industry on level footing with the wine industry, provide more money for breweries to hire and expand, and promote tourism.
Meanwhile, in Mississippi, state Rep. David Baria is attempting to revive some legislation that has been killed by inactivity the past three years. The Democrat is reintroducing three bills this legislative session to help usher the state's beer laws into the modern age.
First, Baria hopes to increase the state's legal limit on alcohol content from 5 to 8 percent alcohol by weight (from 6.25 to 10 percent ABV). The existing 6.25 percent ABV cap is the lowest in the country, meaning in-state consumers are prohibited from enjoying many of the world's best brews.
Baria also seeks to loosen restrictions on Lazy Magnolia Brewing Company, Mississippi's only brewery, by allowing visitors to sample beers and permitting them to contract-brew beers stronger than the state's current legal limit—as long as they are shipped and sold out of state. He says Lazy Magnolia is having to turn down business offers from other breweries because of the state's strict laws. Finally, Baria wants to legalize homebrewing.
Both legislators are hoping the projected economic benefits will be enough to persuade skeptics to pass the bills, though Mississippi has been historically reluctant about loosening their alcohol laws. ■
Previous:
Join the Discussion!
Next:
Celebrating Simplicity