Beer News
News
by
Jim Wells
| Jun 2012 | Issue #65
Shelton Brothers: The Bane of New York Breweries?
Specialty-import distributor Shelton Brothers has unintentionally become an adversary of breweries throughout New York, in the aftermath of a 2006 lawsuit against the New York State Liquor Authority (SLA) that originated over a beer label, but also questioned the fairness of the state's tax and fee regulations. The suit alleged that New York's tax exemptions and label registration fee waivers for in-state breweries were unconstitutional because they gave preferential treatment to in-state breweries. Under the law, New York breweries paid no excise taxes on the first 200,000 barrels of beer produced, and didn't have to pay the $150 per label registration fee. Shelton Brothers had hoped the courts would agree, and get rid of the taxes and fees altogether.
On April 10, the courts officially sided with the Sheltons—the exemptions were deemed unconstitutional—but decided to immediately apply these taxes to the local brewers, rather than get rid of them. The SLA states, "The agencies' decision was based on a long line of United States Supreme Court decisions that prohibit a state from giving preferential treatment to items produced in the state."
Naturally, this result triggered a lot of frothy exchanges between local brewers and the Sheltons. Water Street Brewing Company, of Binghamton, N.Y., explains in a Facebook post, "Any increase in tax levies reduces the amount of revenue available for reinvestment in equipment, personnel and expansion. For any start-up, any significant, unexpected and enduring cost increase naturally hurts. This applies to us directly as we've only been open for 2 months—all we can do at this point is absorb the cost increase."
Debates are ongoing regarding how much this will ultimately cost brewers and consumers. Estimates have ranged from pennies per pint sold, to $500,000 of a brewery's annual budget. The cost depends on how much beer is produced and sold in-state by the brewery.
In an official statement sent to BA, Shelton Brothers writes, "[It] was left to the State – not us – to decide how this discrimination against out-of-state breweries would be remedied… This tax discrimination … wasn't the focus of our case." They say that they didn't know about the new tax laws until they received hate mail, adding, "There are plenty of ways to help in-state small brewers that don't involve totally screwing out-of-state small brewers."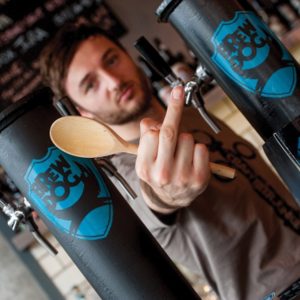 Diageo Pressures BII to Bamboozle BrewDog, Gets Pinched
Beverage giant Diageo found itself at the center of a storm of controversy following events that transpired at a Scottish awards event. At the British Institute of Innkeeping (BII) Scottish Awards dinner, BrewDog had been told they'd be presented the "Bar Operator of the Year" award for their local chain of BrewDog bars.
BrewDog founder James Watt explains what happened in a blog post: "However we were not announced as winners of the award. This disappointment was further compounded when one of the judges (seated at our table) told us in disbelief  Events took a further twist when the people who got given [sic] the award refused to accept it as it clearly had 'BrewDog' engraved on the trophy as winners."
A senior official at Diageo—the main sponsor of the event—reportedly did not want BrewDog to win the award. According to BII Scotland chairman Kenny Mitchell, Diageo threatened to pull sponsorships from all future BII events and to keep their representatives from presenting any awards that evening.
Mitchell is quoted in BrewDog's blog: "There was a serious misjudgment by Diageo staff… in relation to the Bar Operator of the Year Award, which does not reflect in any way Diageo's corporate values and behaviour. We would like to apologise unreservedly to BrewDog and to the British Institute of Innkeeping for this error of judgment and we will be contacting both organisations imminently to express our regret for this unfortunate incident."Watt ponders in a subsequent post, "Although we can but speculate as to the reasons for the behaviour we can only assume that even a company as large as Diageo are scared at just how much the beer market is changing."
Shipping of Beer via USPS Now Allowed for Licensed Agents
The United States Senate has approved the Postal Service Reform Bill, which allows the shipping of beer, wine and spirits via the United States Postal Service. Don't pack up your whales just yet though, traders—only a "duly authorized agent" (i.e., retailers) are allowed to ship or accept delivery of these precious liquids. Beer traders will still have to use other shipping methods to conduct their business.
The bill is being hailed by the US Legislature as a bipartisan effort, but has drawn ambivalent reactions from both postal workers and the beer community. Beer retailers could possibly stand to benefit from the bill by having a new shipping option, but how competitive the USPS' rates are compared to existing methods is yet to be determined. Postal worker unions, on the other hand, feel the bill is flawed because it still calls for a reduction in services and jobs, and limits the Postal Service's ability to reduce spending.
While the government is optimistic that the legislation will keep the Postal Service running, time will ultimately tell how much of an impact these new laws will have on the USPS' bottom line.
Michigan Brewing Company Losing Some Ground
It appears Michigan Brewing Company is experiencing some difficult times. MBC's brewpub in Webberville recently fell into foreclosure due to lack of payments received by Zions First National Bank. The property was then purchased by another company, Highview Enterprises, which attempted to rent to MBC. A lease agreement could not be reached and on April 24, MBC was evicted from that location.
Shortly after that eviction took place, the nearby town of Fenton withdrew from plans to help MBC renovate an old fire station into a new brewpub, and has since received new proposals from four other companies interested in the property.
MBC's brewpub in nearby Lansing does remain open for business. However, MBC has been tight-lipped on the situation and did not reply to BA's requests for comments.
Tragedy Strikes Redhook
On April 24th, Redhook in Portsmouth, N.H., lost one of their own in a tragic accident. Ben Harris, who was 26 years old and had worked at Redhook for over seven years, was killed when a plastic keg failed. The keg exploded into two pieces at close range while it was being filled with air during a cleaning operation, striking Harris in the head and chest, and sending him into cardiac arrest.
In an official statement, Andy Thomas, Redhook's vice president of commercial operations, says, "Ben was a wonderful man, a dedicated member of our team and a friend to all who knew him. We are heartbroken by this tragedy and are grieving with the family."
Investigations by both Redhook and the Occupational Safety and Health Administration are ongoing, and it could be several months before the precise circumstances surrounding the incident are known. Thomas continues, "It is extremely important to us that we understand exactly what happened before we share additional information about this tragedy. There is an evaluation in progress and we can assure you that we will issue further information when the report is complete. In the meantime, we ask for continued thoughts and prayers for Ben's family, friends, and everyone touched by this accident."
Harris, a newlywed, and his wife, Alysha Miller-Harris, were also expecting a child. Miller-Harris is also a server at the Redhook pub. A memorial fund has been established in Harris' honor to benefit the unborn child. Contributions can be sent to: The Alysha Miller Harris Baby Fund c/o TD Bank, 20 International Drive, Portsmouth, NH 03801. ■