Turn Your Backyard Into a Biergarten
Party-Gyle
by
Cathy Erway
| Jun 2012 | Issue #65
'Tis the season for dining outdoors. It's warm, and the bugs aren't too voracious just yet. This month also marks the entry of many summer beers on the American craft beer market, often dominated by wheat styles—we'll see Hefes, Witbiers and Weissbiers from Europe come into play around this time of year. So make like the Germans do, and enjoy them outside. Here are five simple steps to transforming your yard, deck or any outdoor space you can camp out on into a welcoming, biergarten-esque atmosphere.
Get some good glassware. This task might sound costly, but actually, cobbling together your own collection from secondhand stores and flea markets can be a lot of fun. My dad boasts a sizable collection of beer steins with logos from all different breweries thanks to church rummage sales and such. Randomly collected, non-matching glassware enlivens the look of your party table, and the individual breweries stamped on each one are conversation-starters. So look out for tall, hourglass-shaped Weissbier glasses with logos like Weihenstephan or Erdinger to start out, and supplement them with plain glasses if needed.
Get a long table. This can be done easily by pushing two picnic tables or folding tables together lengthwise, with a cloth thrown over them. You might be surprised how much this set-up adds to the atmosphere; also an efficient use of space, a single, long table for all party guests encourages communal feasting, drinking and talking rather than small pockets of conversation scattered about. You can always move around from seat to seat, but as long as there's a pitcher at one end of the table and a thirsty drinker at the other, no one needs to get up for a refill.
Serve sausages, sauerkraut, mustard and pretzels. Whether you go with weisswurst warmed through in a pot of water on the stove, or you sear some brats on the grill, sausages require very little work for a main course. I'll venture to say that making your own sauerkraut is just as easy too, if you're used to fermenting things (it's much simpler than a homebrew). But if you're wary of attempting sauerkraut at home and opt for a store-bought kind, be sure to get one in the refrigerated aisle. These will likely still have active lactobacilli rather than ones that have been pasteurized and jarred. This is just the tastiest (and healthiest) type of sauerkraut to eat, and the Germans wouldn't have it any other way. Finally, bake some good bread or German-style soft pretzels—or buy some frozen—to dip in an appropriately sweet Bavarian mustard.
Make some music. Bring a friend or two who can play a tune on the guitar, and sing along toward the end of the night. Create percussion instruments out of spoons and benches, and woodwinds from empty bottles. There ought to be some sort of folk music to be enjoyed with a large-enough crowd, and enough beer to fade shyness away.
Get great beers. If spritzy, summery wheat beer is what you crave, either go traditional (German) or nouveau (American craft) with your offerings. Mix it up a little and see what types you prefer. (There's a reason why some of the beers from Bavaria have been around for hundreds of years, though!)
Beer Suggestions:
Weihenstephaner Hefeweissbier (Germany)
Andechser Weissbier Hefetrüb(Germany)
Schneider Weisse Hefeweizen(Germany)
Victory Brewing Co. Sunrise Weissbier (Pennsylvania)
Sixpoint Apollo Kristallweizen (New York)
Live Oak Brewing Co. HefeWeizen (Texas) ■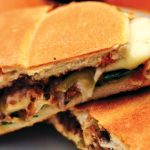 Previous:
Mexican Tortas with Beery Fillings
Next:
Hopleaf in Chicago, Illinois