Beer News
News
by
Jim Wells
| Dec 2012 | Issue #71
New York's Brewers & Wholesalers Scrambled by Hurricane Sandy
At the end of October, Hurricane Sandy left numerous Northeast breweries and wholesalers—particularly those located along the Long Island coast—reeling in her aftermath.
One of the hardest hit was Barrier Brewing, in Oceanside, N.Y. "We had over 4 [feet] of ocean surge throughout our entire brewery, and the salt water damaged the majority of our equipment beyond repair. Most of it will need to be replaced altogether," brewer & co-owner Craig Frymark tells BA. Frymark anticipates staying shut down until early 2013. "This was a brand-new brewhouse and cellar that we had installed this past spring and had only been brewing on for about four months before the storm hit us," he says.
Another brewer knocked offline was Brooklyn's Sixpoint, which didn't lose any beer, but saw damaged equipment and a prolonged lack of power. Sixpoint president Shane Welch says, "We had about two weeks of downtime, but that actually allowed us to repurpose this lost time towards projects that were being neglected for too long."
Shmaltz Brewing's Coney Island Brewing Co. also took a hit. Shmaltz proprietor Jeremy Cowan tells BA that their main production facilities in Saratoga Springs escaped unscathed, but "the mini-brewery in Coney Island was transformed from 'The World's Smallest Brewery' into the 'World's Messiest,' and then 'Emptiest.' Although nothing was salvageable … we're unbelievably lucky." Cowan adds that the Coney Island brewery will be rebuilt and ready for the next summer season.
Two local wholesalers, Beehive Beer Distributors and Union Beer Distributors, reportedly lost a significant portion of their warehouse inventories to Sandy's mucky floodwaters.
The local craft beer community has rallied to support the brewers set back by Sandy. Brewery Ommegang, which weathered the storm without incident up in Cooperstown, has offered their assistance to any brewery that needs it, and Barrier's Frymark says that "several area breweries from Long Island to Maryland have reached out to offer their support in all kinds of ways, from cold storage to spare equipment to producing some beer for us while we're down."
"We are so fortunate to work in an industry defined by camaraderie," Cowan says. "This storm has reminded us that the craft beer community at large is remarkably generous."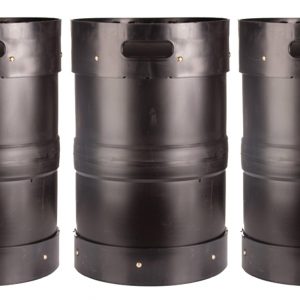 In the Months Following Tragedy, Brewers Increasingly Skeptic about Plastic Kegs
As many small-scale brewers seek to reduce overhead costs, plastic kegs had been viewed as a viable alternative to stainless-steel kegs. They're lighter, they won't be stolen and sold to scrapyards, and they cost significantly less. These points combined make a very compelling case for plastic.
However, the kegs run a risk of causing serious bodily harm to their handlers. Last April, a plastic keg at Portsmouth, N.H., brewery Red Hook exploded during a routine cleaning operation, killing 26 year-old employee Ben Harris.
The Red Hook tragedy, combined with increasing reports of keg explosions from breweries, has compelled the Brewers Association to conduct their own investigation into the safety of plastic kegs. In the meantime, many breweries using plastic kegs have taken additional precautions, such as installing plexiglass shields to house kegs during cleaning and filling operations.
The majority of the plastic kegs used in the industry come from a single company: CypherCo, a British company that also manufactures and sells domestically under the name Plastic Kegs America. The Plastic Kegs America website declares their kegs are just as durable as stainless, reading, "They will withstand a maximum of 275 degrees Fahrenheit @ 25 PSI freeflow, the same as you would normally operate on with a metal keg."
Another exploding keg incident is explained in detail in a report on the US Consumer Product Safety Commission website, saferproducts.gov. An unnamed brewery reports, "During standard cleaning procedures, we had a plastic 1/6 barrel keg manufactured by PKA, Plastic Kegs of America, explode at the seams. This has happened to us twice with individual kegs." The post goes on to say that a built-in safety feature failed to activate.
The Brewers Association investigation is ongoing.
UPDATE: North American Breweries Sold to Cervecería Costa Rica
Rumors had been circulating in recent months that KPS Capital Partners, parent company of North American Breweries, was looking to sell the NAB family of brands. On October 26, it was revealed that KPS had indeed found a buyer. Cervecería Costa Rica, a subsidiary of Costa Rica's Florida Ice and Farm Company, is picking up the tab on NAB's brands (which include Genesee, Magic Hat, Pyramid and Labatt, among others) for approximately $388 million in cash.
Two Minneapolis Brewers Embattled in Trademark Dispute
Two Minneapolis, Minn., craft brewers have found themselves ensnared in a trademark dispute. Northbound Smokehouse & Brewpub has reportedly issued cease and desist letters to Northgate Brewing, claiming their name is too similar and is causing confusion for local beer drinkers.
Northbound, a brewpub that opened this September, had been communicating the issue with Northgate, a production brewery slated to open in December, since the summer. Northbound had allegedly asked Northgate Brewing to remove the words "North" and "Brewing" from their name, which Northgate thought was excessive. The two never reached a mutual agreement.
Northgate co-founder Adam Sjogren believes this level of legality is unwarranted, considering the size of their respective operations. In a Northgate blog post (that has since been removed), Sjogren wrote, "In a market where the biggest craft brewers don't produce as much as Budweiser spills, I think it's shameful that a small brewpub is trying to litigate like a big-timer."
Northbound co-owners Jamie Robinson, Bryce Strickler and Amy Johnson replied with their own statement, explaining, "We have an obligation to protect our trademark, otherwise we'd lose it. We have only asked that the owners of the yet-to-be-opened Northgate Brewing tweak their name to reduce the number of instances of confusion that have already happened."
Both sides want an amicable end to this dispute. The two companies have since pledged to keep the matter between themselves, and not discuss it any further with the media.
C&C Group Purchases Vermont Hard Cider for $305 Million
On October 23, Vermont Hard Cider Company announced they had agreed to be purchased by C&C Group. C&C—the Irish company behind popular UK brands Magners, Bulmers and Tennent's—is paying $305 million for VTHCC, which produces the Woodchuck brand of ciders (they also produced Strongbow until selling the brand to Heineken in August).
Under the terms of the agreement (which is still subject to competition and regulatory approvals), VTHCC will become a wholly owned subsidiary of C&C, and continue to operate fully out of its existing location in Middlebury, Vt., Bret Williams will remain as president and CEO, and no jobs will be lost. Additionally, C&C has agreed to continue with an already-planned cidery expansion project.
Stephen Glancey, C&C CEO, states via press release, "We recognize what Vermont Hard Cider has done to support and grow the cider industry in the United States. The cider category wouldn't exist today, if not for the hard work they have put in over the last two decades. Their ability to innovate rare and limited batch ciders serves to push the category forward in the years to come. It is an exciting time to be in the cider business and we are excited to be leading the way." ■
Previous:
Beer in the Next Haab
Next:
Allagash: The Cookbook